'THE SPONTANEOUS JOTTINGS AND CONFIDENCES OF TWO MEN INSTINCTIVELY DRAWN TO ONE ANOTHER,
THOUGH SEEMINGLY AS DIFFERENT AS TWO PEOPLE COULD BE'
GRAVES, Robert von Ranke and Terence Alan 'Spike' MILLIGAN. Dear Robert, Dear Spike. The Graves-Milligan Correspondence … Foreword by Spike Milligan. Edited by Pauline Scudamore. London: The Bath Press for Alan Sutton, 1991.
Octavo (234 x 153mm), pp. xlvii, [1 (blank)], 141, [1 (blank)], [2 (blank l.)]. 12 half-tone plates with illustrations recto-and-verso, numerous facsimiles in the text, illustrations after Anna Malni. Original blue boards, spine lettered and decorated in gilt, dustwrapper, not price-clipped. (Lower corners lightly bumped, dustwrapper slightly rubbed and creased at edges.) A very good, fresh copy.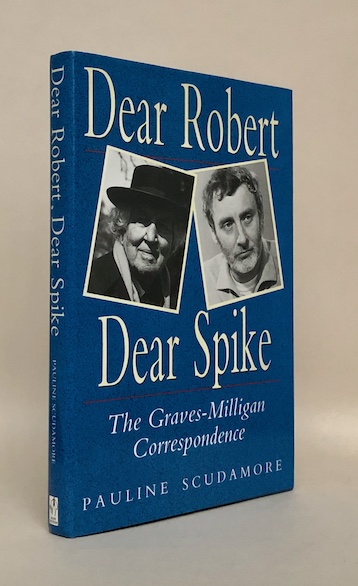 First edition. The collected correspondence of Robert Graves (1895-1985) and Spike Milligan (1918-2002) edited by Pauline Scudamore, who was a friend of both and the biographer of Milligan.
The correspondence began in 1964 after Graves had appeared on the BBC programme 'Muses with Milligan' and continued for more than ten years, and this volume collects the complete correspondence 'from one poet-friend to another, the spontaneous jottings and confidences of two men instinctively drawn to one another, though seemingly as different as two people could be: the one erudite, a classical scholar and writer and ex-Professor of Poetry at Oxford; the other, the apparently half-crazy ex-Goon. Yet in many ways they were extraordinarily well-met: fellow poets, both unconventional, and at once outlandish and exceptionally funny, yet deeply intuitive and serious. Here is Robert on his muses, on art and literature, on Majorca, on education, on winning medals and awards, on his life in Deya, on growing old; here is Spike on his life in England, on the theatre and acting, on conservation and saving the Kensington Gardens Elfin Oak, on his passion for archaeology; and here are both on the past, on war, on poetry, on fame and love and family life' (dustwrapper blurb).
£19.50
· · · · · · · · · · · · · · · · · · · · · · · · · ·
UK orders
To order this book post-free within the UK, either use the button below to pay using PayPal or a credit card (using PayPal Guest Checkout), or email us: enquiries@typeandforme.com.
International orders
To order this book internationally and learn about the available delivery options, please contact us: enquiries@typeandforme.com.

Our Terms & Conditions apply.