WILLIAMSON'S CLASSIC TALE OF TARKA THE OTTER, ONE OF A LIMITED EDITION OF 100 NUMBERED COPIES,
SIGNED AND WITH SMALL DRAWING BY WILLIAMSON
WILLIAMSON, Henry William. Tarka the Otter. His Joyful Water-Life & Death in the Country of the Two Rivers … With an Introduction by the Hon. Sir John Fortescue K.C.V.O. London: Chiswick Press, 'Privately printed for subscribers only', 1927.
Octavo (241 x 163mm), pp. [4 (blanks with signature on first p.)], [2 (blank, limitation), [2 (half-title, verso blank)], [3 (title, imprint, dedication)] [1 (blank)], ix-xii, [2 (section title, verso blank)], 3-255, [1 (colophon)]. Printed in brown and black 'on English handmade paper', title with Williamson's wood-engraved owl device printed in brown, wood-engraved printer's device on colophon printed in brown, initials, foliate paragraph marks and marginal paragraph titles printed in brown. (Scattered light spotting, heavier on deckles and first l.) Original full vellum, gilt brown leather spine label with central foliate decoration and framed with gilt rules, top edges gilt, others uncut and retaining all deckles, modern cloth slipcase. (Very light marking, minor scratching on lower board, spine label lightly rubbed, corners very lightly bumped.) A very good copy.
First edition, no. 69 of 100 copies signed by Williamson, with a small ink sketch of an owl by him on the limitation statement. 'Dimmity on meadow and water, the eve-star shining above the hill, and Old Nog the heron crying kra-a-ark! as his slow wings carried him down to the estuary. A whiteness drifting above the sere reeds of the riverside, for the owl had flown from under the middle arch of the stone bridge that once had carried the canal across the river' (p. 3). Thus begins this first, limited edition of Henry Williamson's classic story following the birth, 'joyful water-life' and death of Tarka, an otter, in the 'country of two rivers' (the Taw and the Torridge in North Devon).
Henry Williamson (1895-1977) had been a sensitive child who loved roaming the countryside. The First World War was a life-changing experience for him 'particularly his participation in the Christmas truce of 1914 [which] affected him deeply' (ODNB), and he emerged from the War determined to be a writer, retreating to north Devon after a difficult adjustment to post-war life in London. His first novel, The Beautiful Years, was published in 1921, but it was the story about the life of an otter, the classic novel Tarka the Otter, published in 1927, that brought him fame and won him the Hawthornden Prize of 1928.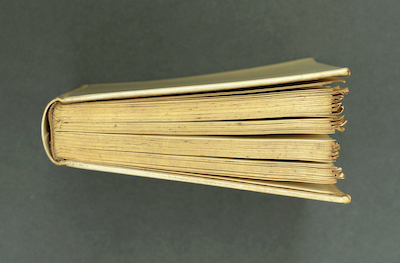 When he started work on the book, 'Williamson had learnt the ways of the otter hunt, had written about otters and had developed his narrative skills to the point where he was ready to undertake a whole book about one animal. The result was to become both influential and a classic of English natural history. In Tarka Williamson does not preach, or rant, or promote a cause, he simply tells a story and leaves the reader to form his own response – though he had his own ideas as to what that response would be. In a notebook for 1925 […] he wrote: "The Otterhunters will say, we have no use for this man; he is one of those people who are half inclined to be our enemies … The Anti-Hunting Humanitarians will say, we have no use for this man; he is half-inclined to side with the otter-hunting beasts … The Otters will say, Nothing, for they will not know anything of it; and perhaps at the End of this Planet they will say, He understands us, Perhaps not…"[.] It was perhaps because of this innate "understanding" that the book had a greater impact than Williamson ever expected or intended. He had not set out to influence ecological thinking, but the book did, and there can be little doubt that it contributed at least indirectly to the eventual return of the otter to its native territory in the West Country and elsewhere. The writing took more than three years, part of them spent looking after a sick wife and baby (William) who was failing to thrive, and many drafts, but when it was finished his papers show that he sensed he had produced something special and was determined to get the best possible deal from a publisher' (Matthews).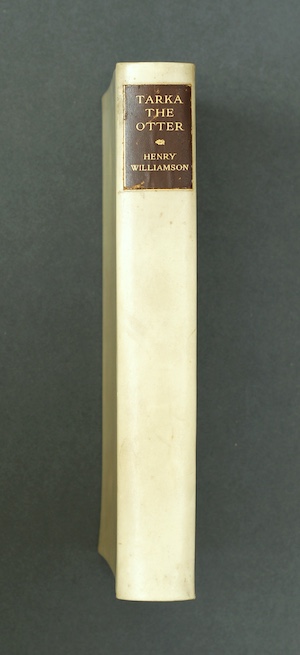 Tarka the Otter established the friendship between Williamson and T.E. Lawrence: Edward Garnett, the well-known critic and reader for Jonathan Cape, to whom a draft of Williamson's Tarka had been sent by Sir John Galsworthy for appraisal; in turn, Garnett, who was a close friend of Lawrence, sent the latter a copy to his station at Karachi with the Royal Air Force in 1928. Lawrence found Tarka '[t]he best thing I've met for ever so long. Fresh, hopeful, fecund, and so, so, careful. It is heartening to see a writer caring much for his words and chasing and chiselling them with such firmness. […] I'll read [Tarka] many times yet' (letter from T.E. Lawrence to Edward Garnett, 20 January 1928). Indeed, Lawrence would also shape future editions of Tarka to some extent: both he and Sir John Fortescue thought that the first word of the first chapter, 'Dimmity', was too precious, so that it was changed to 'Twilight' in later editions.
This handsomely produced first, privately published edition was issued in August 1927 in 100 copies and sold – as detailed in the four-page prospectus advertisement – with 'a brief description of the book, a short history of its numerous drafts, quotations from Sir John Fortescue's Introduction, and an order form' (Matthews) by 'Mr. Williamson, At the Sign of the Owl, Georgeham, North Devon'. The owl is a motif throughout Tarka (who is described as having been born in 'Owlery Holt', the character of 'Old Nog' is a white owl, and a snowy owl from the Arctic features in the chapter 'The Great Winter'), so that Williamson's hand-drawn addition of his owl device to the limitation statement is a particularly apt touch. The first trade edition was eventually published by Putnam in October 1927 in a large-paper edition of 1,000 copies, followed by a cheaper issue in the same month.
I. Waveney Girvan, A Bibliography and a Critical Survey of Henry Williamson, pp. 30-31; Hugoe Matthews, Henry Williamson. A Bibliography, A8 (1927a).
£1,950
· · · · · · · · · · · · · · · · · · · · · · · · · ·
To order this book and learn about the available delivery options, please contact us: enquiries@typeandforme.com. Our Terms & Conditions apply.