A SIGNED COPY OF 'THE FINE AND RICHLY ILLUSTRATED EXHIBITION CATALOGUE'
OF CORNWALLIS HARRIS'S 'LIVELY AND LAVISH WATERCOLOURS'
HARRIS, Sir William Cornwallis – Simon Douglas KEYNES (editor). Ethiopian Encounters. Sir William Cornwallis Harris and the British Mission to the Kingdom of Shewa (1841-3). Cambridge: The Burlington Press for The Fitzwilliam Museum, 2007.
Quarto (255 x 208mm), pp. 72. Colour-printed illustrations after Harris, Martin Bernatz, Rupert Kirk, et al., 3 double-page and 12 full-page. Original printed wrappers, reproducing a watercolour by Harris on the upper cover. A very good, clean copy.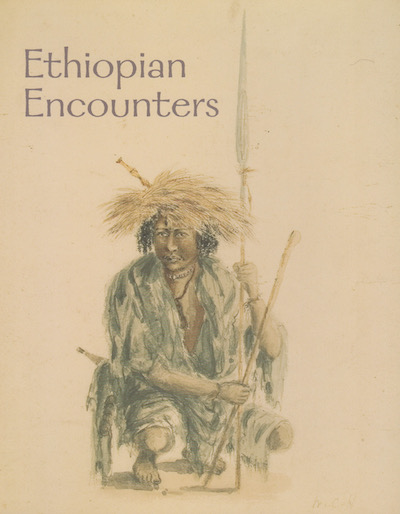 First edition, signed by the author on the title-page. A catalogue published to accompany the exhibition of 31 previously-unpublished watercolours, oil sketches, and drawings by Harris, from the collection of Quentin Keynes (1921-2003). These remarkable images were created in the course of Harris' 1841-1843 diplomatic mission to the Kingdom of Shewa, which was undertaken to establish a treaty of amity and commerce between Queen Victoria and Sahla Sellasie, King of Shewa. The catalogue of the exhibition by Jane Munro and Simon Keynes is prefaced by essays on 'The Kingdom of Shewa in the 1840s' (Cedric Barnes), 'Sir William Cornwallis Harris' (Simon Keynes), and 'Harris: Visual Chronicler of Ethiopia and its Inhabitants' (Jane Munro), and an 'Appendix' by Simon Keynes catalogues all of the 79 watercolours and drawings by Harris acquired by Quentin Keynes.
Although not the diplomatic success that was hoped for, 'Harris's mission did provide a wealth of information at a particularly important moment in Ethiopia's interaction with the outside world, and at an especially brilliant moment in the history of the Kingdom of Shewa' (p. 15), and he 'kept a visual as well as a written record of the country and its people, recording the ethnic diversity of the indigenous population, their distinct physiognomy, costume, coiffure and body adornment. The lively and lavish watercolours, one of the most important visual records of Ethiopia and its inhabitants to survive from the period, were acquired by Keynes in the late 1950s. Prior to the exhibition and the catalogue they were unpublished and unstudied; they have now been placed on long-term loan at the Fitzwilliam. The fine and richly illustrated exhibition catalogue, edited by Professor Simon Keynes, includes significant scholarly essays by Jane Munro, Cedric Barnes and Simon Keynes' (The Book Collector, vol. 57 (2008), p. 108).
£29.50
· · · · · · · · · · · · · · · · · · · · · · · · · ·
UK Orders
To order this book within the UK, either use the button below to pay using PayPal or a credit card (using PayPal Guest Checkout), or email us: enquiries@typeandforme.com.
Postage

UK: FREE for items above £45 (otherwise £4.50 per item, added at checkout)

Rest of World: please contact us for a quote: enquiries@typeandforme.com

Multiple orders: we may be able to reduce postage costs! Please enquire: enquiries@typeandforme.com
Our Terms & Conditions apply.