'THE MOST PROFOUND AND THE BEST-BALANCED OF ALL PORTRAITS OF MY BROTHER' (A.W. LAWRENCE), FROM THE LIBRARY OF JEREMY WILSON
OCAMPO, Victoria. 338171 T. E. (Lawrence of Arabia) … Translated by David Garnett. New York: E.P. Dutton & Co., Inc., 1963.
Octavo (186 x 125mm), pp. 128. Original orange cloth, spine lettered in black, dustwrapper with design after 'Hoot V.Z.' [i.e. Hoot von Zitzewitz], not price-clipped. (Extremities lightly rubbed, top edge of lower board bumped, dustwrapper faded on spine, slightly rubbed and marked, edges creased, chipped, and with short tears.) A very good, clean copy.Provenance: Jeremy Michael Wilson (1944-2017, booklabel on upper pastedown).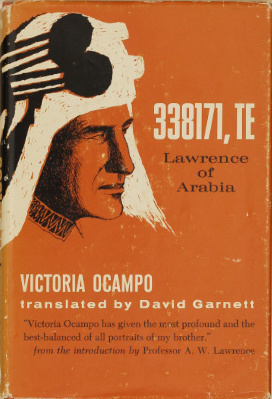 First American edition. An important biography of Lawrence by the distinguished Argentinian writer and publisher Ocampo (1890-1979), which was originally published in French (the author's first language) under the imprint of her journal Sur as 338171 T.E. in 1942. This English edition was the work of Lawrence's friend David Garnett, who explained in his prefatory 'Note' that he had translated the original French text into English, replaced the translated quotations from Seven Pillars of Wisdom with the original English text, and integrated the notes added to the 1963 Spanish translation. The work is prefaced by an introduction by Lawrence's brother and literary executor A.W. Lawrence, who judges that Ocampo's biography, 'gave the most profound and the best-balanced of all portraits of my brother; I had, and still have, no doubt of its accuracy (and I knew him, I think, quite well). Other books have since been published, and there are some which utilised personal knowledge of him, but hers retains its pre-eminence, and fresh evidence has in no way affected its validity' (pp. [13]-14). Garnett's translation was first published in Britain by Victor Gollancz in July 1963 and Dutton's American edition then followed in October 1963.
This copy was previously in the collection of the distinguished Lawrence scholar Jeremy Wilson, the author of the National Portrait Gallery catalogue T.E. Lawrence: Lawrence of Arabia (London, 1988) and the authoritative biography Lawrence of Arabia: The Authorised Biography of T.E. Lawrence (London, 1989); in both of these works he singled out Ocampo's biography for praise, writing in the former that 'Lawrence's life has intrigued many intellectuals, and has provoked several very thoughtful studies, notably by André Malraux and Victoria Ocampo' (no. 361, viii). Jeremy Wilson was also the co-founder, with his wife Nicole, of the Castle Hill Press, which has published scholarly editions of works by Lawrence and the definitive series of Lawrence's letters.
O'Brien E154.
£49.50
· · · · · · · · · · · · · · · · · · · · · · · · · ·
UK Orders
To order this book post-free within the UK, either use the button below to pay using PayPal or a credit card (using PayPal Guest Checkout), or email us: enquiries@typeandforme.com.
Postage

UK: FREE for items above £45 (otherwise £3.95 per item, added at checkout)

Rest of World: please contact us for a quote: enquiries@typeandforme.com

Multiple orders: we may be able to reduce postage costs! Please enquire: enquiries@typeandforme.com
Our Terms & Conditions apply.