'THE NATIONAL LAWRENCE FROM THE UNASHAMEDLY DORSET PERSPECTIVE' FIRST EDITION, FROM THE LIBRARY OF JEREMY WILSON
LEGG, Rodney. Lawrence of Arabia in Dorset. Sherborne and Wincanton: Dorset Publishing Company and Wincanton Press, '1988' [but 1987].
Octavo (249 x 173mm), pp. 109, [3 (index)]. One double-page map and illustrations in the text, some full-page. Original printed wrappers. (Spine faded, extremities very lightly rubbed and creased, price-sticker on lower wrapper.) A very good copy. Provenance: Jeremy Michael Wilson (1944-2017, booklabel on inner upper wrapper).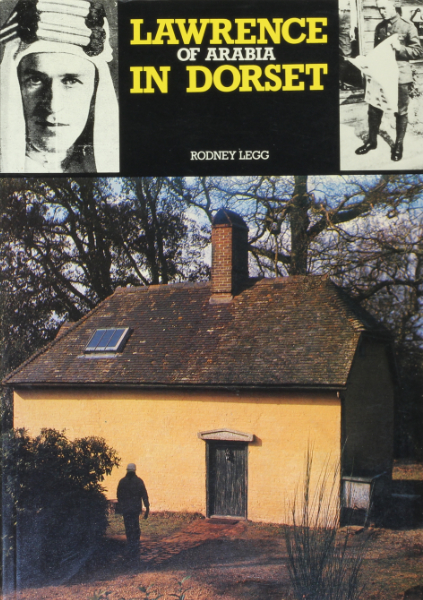 First edition. Legg's book opens with a brief account of Lawrence's early life, his service during World War I, and his life in the immediate postwar period, before embarking on a comprehensive account of Lawrence's years in Dorset, beginning with his arrival at the Tank Corps' Bovington Camp and concluding with his death in 1935, funeral, and 'Effigies – Sequels – Legends'. Contending that many of Lawrence's biographers had approached their subject from a metropolitan viewpoint, Legg sought to redress the balance, as he explains at the end of the book: '[h]ere […] you have the national Lawrence from the unashamedly Dorset perspective' (p. 109). A second, revised and expanded edition of this work was published in 1997 under the title Lawrence in Dorset, and it was followed by Legg's Lawrence of Dorset: from Arabia to Clouds Hill (Wincanton, 2005), which, according to a statement on the verso of the title-page, '[i]ncorporat[es] and expand[s] material from Lawrence of Arabia in Dorset (1988) and Lawrence in Dorset (1997)'.
This copy was previously in the collection of the distinguished Lawrence scholar Jeremy Wilson, the editor of T.E. Lawrence's Minorities (London, 1971), and the author of the National Portrait Gallery catalogue T.E. Lawrence: Lawrence of Arabia (London, 1988) and the authoritative biography Lawrence of Arabia: The Authorised Biography of T.E. Lawrence (London, 1989). Jeremy Wilson was also the co-founder, with his wife Nicole, of the Castle Hill Press, which has published scholarly editions of works by Lawrence and the definitive series of Lawrence's letters.
Although the colophon states that the book was published in 1988, O'Brien comments that 'copies were […] on sale in Dorset shops in November 1987'.
O'Brien E407.
£25
· · · · · · · · · · · · · · · · · · · · · · · · · ·
UK Orders
To order this book within the UK, either use the button below to pay using PayPal or a credit card (using PayPal Guest Checkout), or email us: enquiries@typeandforme.com.
Postage

UK: FREE for items above £45 (otherwise £3.95 per item, added at checkout)

Rest of World: please contact us for a quote: enquiries@typeandforme.com

Multiple orders: we may be able to reduce postage costs! Please enquire: enquiries@typeandforme.com
Our Terms & Conditions apply.