SECOND BRITISH EDITION OF REVOLT IN THE DESERT, ILLUSTRATED WITH EDWARD BAWDEN'S WAR-TIME SKETCHES OF ARABIA, FROM THE LIBRARY OF JEREMY WILSON
LAWRENCE, Thomas Edward. Revolt in the Desert … Introduction by Raleigh Trevelyan[.] Photographs by T.E. Lawrence and Others[.] Sketches by Edward Bawden. London: The Bath Press for The Folio Society, 1986.
Octavo (233 x 154mm), pp. viii, 326. Half-tone portrait frontispiece and 9 half-tone plates after Lawrence, Edward Bawden, et al. (Very light marginal cockling on pp. 5/6.) Original binding of Ernstmeir Buchleinen Mattleinen cloth by The Bath Press decorated with a design after Bawden, spine lettered in gilt on dark-brown panel, top edges stained brown, light-yellow map endpapers, slipcase. (Extremities minimally rubbed, small mark on spine, slipcase lightly marked and with small tear on lower face.) A very good, fresh copy. Provenance: Jeremy Michael Wilson (1944-2017, ownership signature on front free endpaper).
Second British edition. Revolt in the Desert was an abridgement of Seven Pillars of Wisdom, which was undertaken by Lawrence to defray some of the significant expenses incurred by the lavish and painstaking production of the 'subscriber's' or 'Cranwell' edition of Seven Pillars of Wisdom, that had escalated from an initial estimate of £3,000 to some £13,000. The abridgement 'was undertaken in 1926 by Lawrence himself with the help of some of his fellow servicemen, the earlier attempt by Edward Garnett having been set aside. Taking a set of proofs of the Cranwell edition and using a brush and purple ink, Lawrence marked out sections of the text. Whole chapters and large portions of others were dropped. […] [O]f 652 pages 211 were omitted entirely' (O'Brien, p. 77). Revolt in the Desert was first published in March 1927 and it enjoyed great success in both Britain and America – by May 1927 more than 90,000 copies had been sold, which enabled Lawrence to pay off the costs of Seven Pillars and to exercise his contractual right to forbid Cape to print any further impressions of the work in Britain.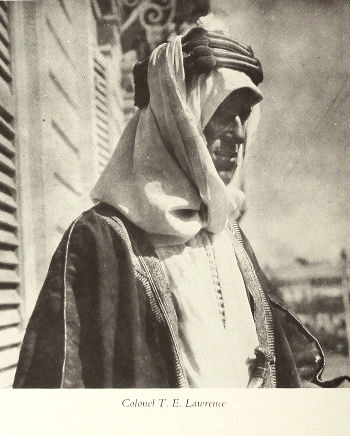 Under the prevailing British copyright legislation, the copyright in Revolt in the Desert lapsed 50 years after Lawrence's death in 1935, thus allowing the Folio Society to publish this second British edition in 1986 – the first edition to appear in Britain for nearly 60 years. The present edition has a new preface by the author, historian, and publisher Raleigh Trevelyan (1923-2014), who had served with the British army in Algiers and Italy during World War II, and is illustrated with photographs by Lawrence and his contemporaries, together with sketches by Edward Bawden. These drawings were made while Bawden 'was serving as official war artist to the British Army in Arabia between 1939 and 1945. It was felt that, although the sketches are not contemporary with Lawrence's experiences, they evoke very effectively the unchanging landscape through which the Arab forces made their way to Damascus' (p. vii).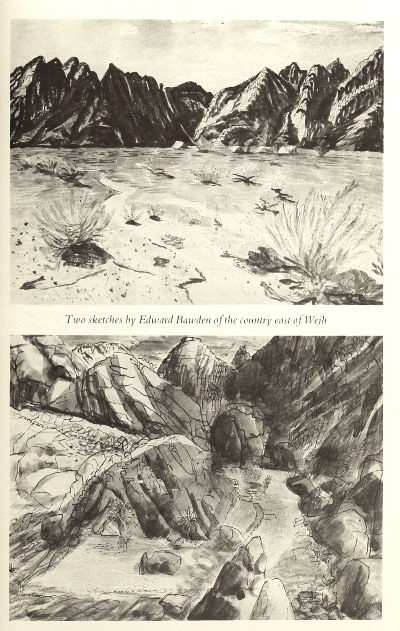 This copy was previously in the collection of the distinguished Lawrence scholar Jeremy Wilson, the editor of T.E. Lawrence's Minorities (London, 1971), and the author of the National Portrait Gallery catalogue T.E. Lawrence: Lawrence of Arabia (London, 1988) and the authoritative biography Lawrence of Arabia: The Authorised Biography of T.E. Lawrence (London, 1989). Jeremy Wilson was also the co-founder, with his wife Nicole, of the Castle Hill Press, which has published scholarly editions of works by Lawrence and the definitive series of Lawrence's letters. One of the later publications of the Castle Hill Press was War in the Desert (Salisbury, 2016), which was the first publication of the abridgement of Seven Pillars of Wisdom begun by Lawrence and Edward Garnett in 1922, which was abandoned and then supplanted by Revolt in the Desert.
O'Brien A104.
£49.50
· · · · · · · · · · · · · · · · · · · · · · · · · ·
UK Orders
To order this book post-free within the UK, either use the button below to pay using PayPal or a credit card (using PayPal Guest Checkout), or email us: enquiries@typeandforme.com.
Postage

UK: FREE for items above £45 (otherwise £3.95 per item, added at checkout)

Rest of World: please contact us for a quote: enquiries@typeandforme.com

Multiple orders: we may be able to reduce postage costs! Please enquire: enquiries@typeandforme.com
Our Terms & Conditions apply.