'TO ASSURE YOU OF MY GRATITUDE FOR THE MANY KINDNESSES WHICH PUBLICKLY, AND PRIVATELY, YOU HAVE SHEWN':

LYON SEEKS TO DEDICATE A BOOK TO JOHN TAYLOR
LYON, George Francis. Autograph letter signed ('Geo. F. Lyon') to John Taylor ('My dear Sir'), 19 Beaumont Street, Devonshire Place, [London], 12 April 1827.
One page on a bifolium with integral address panel, quarto (226 x 185mm), watermarked 'Whatman 1826'. Folded for despatch, address and traces of seal on l. 2v, tipped onto later album l. (Small holes caused by removal of seal, later repairs.) Very good condition overall. Provenance: late-19th/early-20th-century manuscript label with description of the letter – late-20th-century typed [?bookseller's] description of the letter.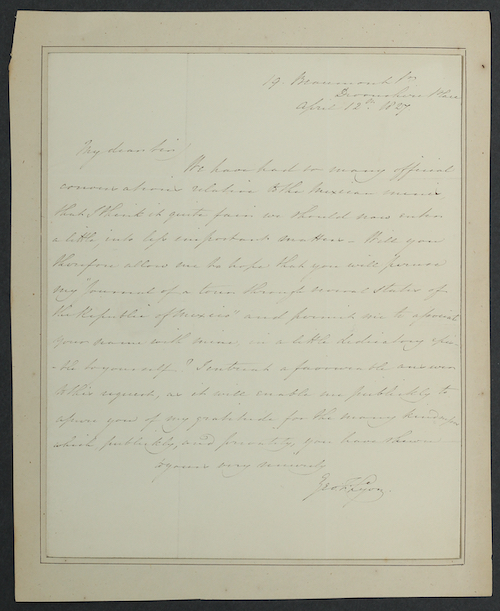 A letter from George Lyon to the mining engineer and geologist John Taylor, requesting the latter's permission to 'associate your name with mine, in a little dedicatory epistle to yourself' in Lyon's forthcoming bookJournal of a Residence and Tour in the Republic of Mexico in the Year 1826. With some Account of the Mines of that Country (London, 1828).
The explorer, naval officer, and writer Lyon (1795-1832) was educated at Dr Burney's Naval Academy, Gosport, Hampshire, entered the navy in 1808, and was commissioned as a lieutenant in 1814. After the end of the Napoleonic wars in 1815, in the course of which he saw much action, he embarked upon his first, celebrated expedition by chance: 'Lyon was at Malta in September 1818 when Joseph Ritchie […] arrived there on his way to Tripoli to begin his attempt to reach central Africa from the north. Captain Frederick Marryat, who was to accompany Ritchie, proved unable to do so, and Lyon volunteered to take his place […]. In November Lyon joined Ritchie at Tripoli. He already had some knowledge of Arabic, and for the next four months studied the language and religious and social customs of the Arabs, adopting the alias Said-ben-Abdallah. After long delays at Tripoli and a short expedition to the Gharian Mountains, they and a servant, transparently disguised as Muslims, left Tripoli for Murzuq, the capital of Fezzan […]. Lyon suffered from dysentery and the extreme heat, and on 20 November 1819 Ritchie died. Lyon, in poor health and the victim of Ritchie's mismanagement of the whole expedition, pushed on to Tajarhi, and thence managed to reach Tripoli in March 1820, and London in July 1820' (ODNB).
Lyon published his account of the journey as A Narrative of Travels in Northern Africa in the Years 1818, 19, and 20 (London) in 1821, the same year in which he was promoted commander and took the command of HMS Hecla as part of Captain W.E. Parry's expedition to search for a Northwest Passage in 1821-1823. This important Arctic expedition, which charted new territories and gathered much important ethnographical information, provided the subject for Lyon's second book, The Private Journal of Captain G.F. Lyon, of H.M.S. Hecla, during the Recent Voyage of Discovery under Captain Parry (London, 1824). It also led to the command of a further Arctic expedition on HMS Griper, with 'instructions […] to reach Repulse Bay by whatever route he judged best, and from it to examine the coast of the mainland westward to the point where John Franklin's voyage had ended its survey. [Lyon] sailed on 6 June, but the season proved unfavourable, and he returned to England in November' (op. cit.), where he published A Brief Narrative of an Unsuccessful Attempt to Reach Repulse Bay: through Sir Thomas Rowe's "Welcome," in His Majesty's Ship Griper, in the Year MDCCCXXIV (London, 1825). The remarkable achievements of the thirty-year-old Lyon were recognised not only by promotion in the navy, but also by the award of the freedom of his native city of Chichester in 1824 and an honorary doctorate from the University of Oxford the following year. On 5 September 1825 Lyon married Lucy Louisa, the eldest daughter of the soldier and Irish nationalist Lord Edward Fitzgerald, and shortly afterwards travelled to Mexico.
Following the end of the Mexican War of Independence in 1821, when the newly independent state needed to revive its economy, emissaries were sent to England to find businesses which would be willing to invest in the commercial exploitation of the country's mineral resources. An agreement was reached with the mining engineer and entrepreneur John Taylor (1779-1863), who established the Real del Monte and Bolaños Mining Companies and sent a series of commissioners and specialists to Mexico. Among the commissioners was Lyon, who embarked for Mexico on 8 January 1826, returning a year later, suffering the loss of his papers and mineral specimens when his ship was wrecked at Holyhead on 14 January 1827.
In this letter Lyon writes to Taylor: '[w]e have had so many official conversations relative to the Mexican mines, that I think it quite fair we should now enter a little, into less important matters', before asking permission to dedicate Journal of a Residence and Tour in the Republic of Mexico in the Year 1826 to Taylor, since 'it will enable me publickly to assure you of my gratitude for the many kindnesses which publickly, and privately, you have shewn […] Geo. F. Lyon'. Taylor evidently acceded to the author's request – Lyon's narrative of his 'personal adventures during a residence of eight months in various parts of that country' (I, p. [v]) was published in 1828 with a dedication to Taylor. Lyon returned to South America after his book was published, but ill-health caused him to sail from Buenos Aires for England on Emulous. He died at sea on 8 October 1832.
Autograph letters from Lyon are rare in commerce; we can only locate one example in ABPC.
£850
· · · · · · · · · · · · · · · · · · · · · · · · · ·
To order this manuscript and learn about the available shipping options, please email us: enquiries@typeandforme.com. Our Terms & Conditions apply.