A FINELY-PRODUCED FACSIMILE EDITION OF SIR ARTHUR CONAN DOYLE'S ARCTIC WHALING DIARY
DOYLE, Sir Arthur Ignatius Conan. 'Dangerous Work'. Diary of an Arctic Adventure. … Edited by Jon Lellenberg and Daniel Stashower. London: Great Wall Printing Co. Ltd for The British Library, 2012.
Quarto (250 x 214mm), pp. [8 (half-title, frontispiece on verso, title, imprint on verso, contents, acknowledgments, map, portrait)], 368. Full-page colour illustrations reproducing the bindings and manuscript of Conan Doyle's notebooks, illustrations and maps in the text. (A few very light marks.) Original black boards, spine lettered in gilt, printed endpapers, duswrapper with illustration after Conan Doyle on upper panel. (Dustwrapper minimally rubbed at edges and with some light indentations and creasing.) A very good copy.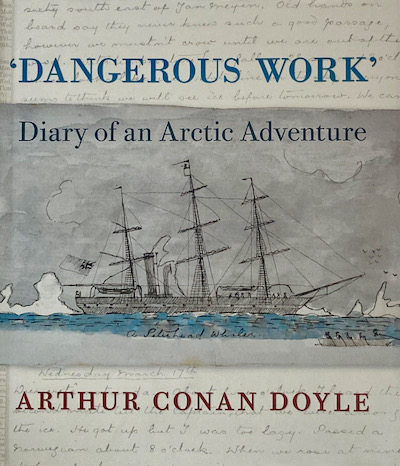 First edition, trade issue. 'Dangerous Work' was the young Conan Doyle's log, recording his experiences as a ship's surgeon aboard the Arctic whaler SS Hope on its voyage of 28 February to 11 August 1880. When Arthur Conan Doyle was a twenty-year old medical student at Edinburgh University, one of his fellow-students called Currie enlisted to serve as the surgeon on a whaling cruise to the Arctic. However, a last-minute change forced Currie to withdraw and to find a replacement – and Doyle took up his position. The Hope sailed from Peterhead and quickly found itself in the Arctic, where Doyle assisted with the whaling as well as undertaking the surgeon's duties, although his lack of experience on the ice led to a number of accidents, during which he fell through thin sheets into the freezing sea – these mishaps earned him the nickname 'The Great Northern Diver'. The experiences of the cruise remained with Doyle to the end of his life – indeed, the harsh life of the whalers provides a backdrop to some of the Sherlock Holmes stories, such as 'Black Peter' – and he would later recollect that, 'I went on board the whaler a big, straggling youth, I came off it a powerful, well-grown man' (Memories and Adventures (Ware, Hertfordshire, 2007), p. 37).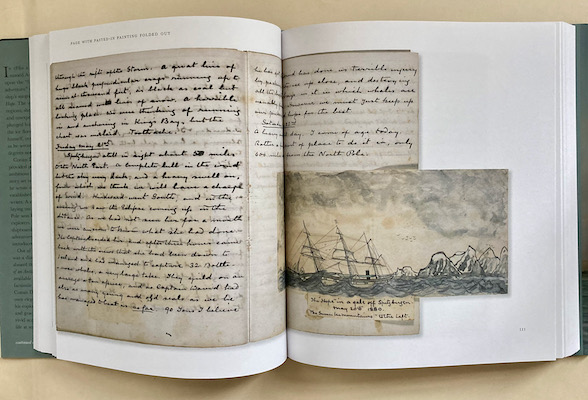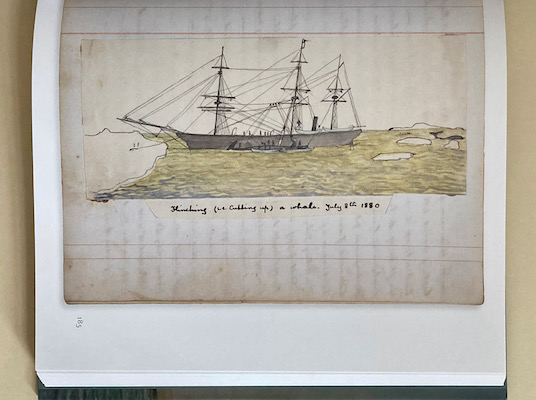 Doyle's two-volume manuscript log of the voyage remained in his family's possession until 2004, when it was sold at auction by Christie's London (The Conan Doyle Collection, 19 May 2004, lot 5), and it is reproduced here in a finely-printed colour facsimile, followed by an annotated transcription, and four pieces by Conan Doyle inspired by his Arctic experiences: 'The Glamour of the Arctic', 'Life on a Greenland Whaler', 'The Captain of the "Pole-Star"' and 'The Adventure of Black Peter'. This first edition appeared in two forms: a specially-bound issue limited to 150 copies and the present trade issue.
£29.50
· · · · · · · · · · · · · · · · · · · · · · · · · ·
UK Orders
To order this book within the UK, either use the button below to pay using PayPal or a credit card (using PayPal Guest Checkout), or email us: enquiries@typeandforme.com.
Postage

UK: FREE for items above £45 (otherwise £4.50 per item, added at checkout)

Rest of World: please contact us for a quote: enquiries@typeandforme.com

Multiple orders: we may be able to reduce postage costs! Please enquire: enquiries@typeandforme.com
Our Terms & Conditions apply.