'I WRITE ABOUT THINGS IN OUR PAST THAT APPEAR SIGNIFICANT TO ME, AND I DO SO AS ONE NOT WITHOUT SOME EXPERIENCE OF HISTORICAL AND VIOLENT EVENTS IN OUR OWN TIME'
CHURCHILL, Sir Winston Spencer Leonard. A History of the English-Speaking Peoples. Volume I: The Birth of Britain. [–Volume II: The New World; –Volume III: The Age of Revolution; –Volume IV: The Great Democracies]. London: William Clowes and Sons, Limited for Cassell and Company Ltd, 1956-1958.
4 volumes, octavo (241 x 153mm), pp. I: [2 (blank l.)], xxi, [1 (blank)], 416; II: [2 (blank l.)], xi, [1 (blank)], 344, [2 (blank l.)]; III: [2 (blank l.)], xi, [1 (blank)], 332, [6 (blank ll.)]; IV: [2 (blank l.)], xi, [1 (blank)], 322. Publisher's device on titles. 40 full-page maps and plans in the text by Perrin et al. and 5 full-page genealogical tables. (Some light spotting, mainly affecting fore-edge margins, occasional small marks.) Original burgundy cloth by The Leighton-Straker Bookbinding Company, Limited, spines lettered in gilt, top edges red, dustwrapper, not price-clipped. (Extremities lightly rubbed and bumped, a few light marks, dustwrappers faded on spines and with some minor tears or chips at edges, that of vol. IV with small holes.) A very good set.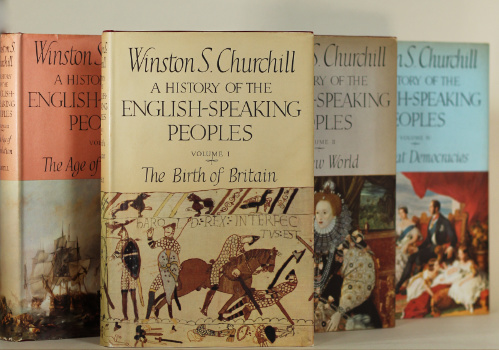 First edition. A History of the English-Speaking Peoples had been commissioned by Cassell in 1932, and Churchill (already a highly-paid, bestselling author) was given an advance of £20,000 by the publisher: '[s]etting himself a target of 1000 words a day, he began work on the book on 1 August 1938. By the outbreak of war in September 1939 […] there were 530,000 words in proof and the book was almost finished' (ODNB). Despite this impressive rate of work, Churchill's appointment as First Lord of the Admiralty on 3 September 1939 compelled him to suspend work on the project, which was not resumed until 1955, after the eighty-year-old Prime Minister had resigned the premiership on the grounds of ill health. Retirement from high office (although not from his duties as a member of parliament) permitted Churchill to devote his energies to projects which had been placed to one side, and he oversaw the funding and foundation of Churchill College, Cambridge (which was intended to be a British counterpart to the Massachusetts Institute of Technology) and resumed work on A History of the English-Speaking Peoples. As he explains in the preface to the first volume, '[d]uring nearly six years of war, and an even longer period in which I was occupied with my war memoirs, the book slumbered peacefully. It is only now when things have quietened down that I present to the public a History of the English-Speaking Peoples' (I, p. vii).
Spanning the period from the Roman invasion of Britain in 55BC to the beginning of the twentieth century, Churchill felt that his work had not become less relevant in the quarter century that separated the book's commission and publication:
If there was a need for it before, that has certainly not passed away. For the second time in the present century the British Empire and the United States have stood together facing the perils of war on the largest scale known among men, and since the cannons ceased to fire and the bombs to burst we have become more conscious of our common duty to the human race. Language, law, and the processes by which we have come into being, already afforded a unique foundation for drawing together and portraying a concerted task. I thought when I began that such a unity might well notably influence the destiny of the world. Certainly I do not feel that the need for this has diminished in any way in the twenty years that have passed (loc. cit.).
This first edition of A History of the English-Speaking Peoples was published by Cassell between 1956 and 1958 (the first volume appeared on 23 April 1956, St George's Day), and '[p]ublic and academic opinion was adulatory' (F. Woods, Artillery of Words: The Writings of Sir Winston Churchill (London, 1992), p. 145), while understanding that Churchill's work did not – as he stated in the introduction to the first volume – 'seek to rival the works of professional historians' but rather 'to present a personal view on the processes whereby English-speaking peoples throughout the world have achieved their distinctive position and character. I write about things in our past that appear significant to me, and I do so as one not without some experience of historical and violent events in our own time' (p. viii). Less overt, perhaps, was the author's intention of consolidating the 'special relationship' between the British Empire and an isolationist United States, a relationship which seemed of the greatest important in the face of the rising aggression of Nazi Germany as Churchill began working on the book in late 1930s and equally so when he finished writing it in the Cold War era – a time when he perceived Britain and the United States as democracy's great bulwark against the threat of communism (the phrases 'special relationship' and 'iron curtain' were both coined in Churchill's 'Sinews of Peace' speech given at Westminster College, Fulton, MO some ten years earlier on 5 March 1956).
Cohen A267.1(I).a, A267.1(II).a, A267.1(III).a, and A267.1(IV).
£195
· · · · · · · · · · · · · · · · · · · · · · · · · ·
UK Orders
To order this set post-free within the UK, either use the button below to pay using PayPal or a credit card (using PayPal Guest Checkout), or email us: enquiries@typeandforme.com.
Postage

UK: FREE for items above £45 (otherwise £4.50 per item, added at checkout)

Rest of World: please contact us for a quote: enquiries@typeandforme.com

Multiple orders: we may be able to reduce postage costs! Please enquire: enquiries@typeandforme.com
Our Terms & Conditions apply.