TRAVELS IN POST-COMMUNIST SIBERIA 'AMONG ANIMISTS, RADICAL CHRISTIAN SECTS,
REACTIONARY COMMUNISTS AND THE REMNANTS OF A SO-CALLED JEWISH STATE'
THUBRON, Colin. In Siberia. London: Biddles Limited for Chatto & Windus, 1999.
Octavo (232 x 152mm), pp. [10 (half-title, works by Thubron on verso, title, publication details on verso, dedication, blank, contents, verso blank, fly-title, verso blank)], 287, [7 (blanks)]. (Small marginal marks on dedication and p. 185.) Original blue boards, lettered in silver on the spine, map endpapers, original dustwrapper, not price-clipped. (Dustwrapper minimally rubbed and creased at edges.) A very good copy.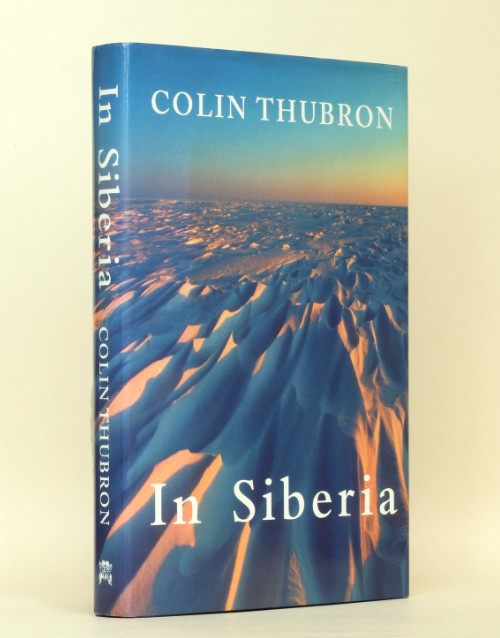 First edition, issue printed by Biddles (no priority established). Thubron's account of his 15,000-mile journey through Siberia: '[u]p the great Yenisei river to the Arctic, into the mountains abutting Mongolia, eastward to the Amur, the Pacific and the abandoned Gulags of Kolyma, he journeyed by train, river and truck among the people most damaged by the collapse of Communism and the breakup of the Soviet Union. He travelled among animists, radical Christian sects, reactionary Communists and the remnants of a so-called Jewish state; from the site of the last Czar's murder and Rasputin's village, to the ice-bound graves of ancient Scythians, to Baikal, deepest and oldest of the world's lakes' (dustwrapper blurb).
James J. Schramer wrote of Thubron's book that, '[w]ith its deeply moving passages on the deserted Russian gulags, In Siberia is a fitting addition to Thubron's examination of geographic space and the capacity of the human soul' (J. Speake (ed.), Literature of Travel and Exploration: An Encyclopedia (London, 2003), III, p. 1178). This is the issue printed by Biddles Limited with the endpaper maps printed on light blue/grey stock (as opposed to the issue printed by Creative Print and Design, with the maps printed on white stock).
£17.50
· · · · · · · · · · · · · · · · · · · · · · · · · ·
UK Orders
To order this book within the UK, either use the button below to pay using PayPal or a credit card (using PayPal Guest Checkout), or email us: enquiries@typeandforme.com.
Postage

UK: FREE for items above £45 (otherwise £4.50 per item, added at checkout)

Rest of World: please contact us for a quote: enquiries@typeandforme.com

Multiple orders: we may be able to reduce postage costs! Please enquire: enquiries@typeandforme.com
Our Terms & Conditions apply.