THE CONCLUDING VOLUME OF PATRICK LEIGH FERMOR'S CELEBRATED TRILOGY,
SIGNED BY ARTEMIS COOPER, FERMOR'S BIOGRAPHER AND ONE OF THE EDITORS
FERMOR, Sir Patrick Michael Leigh. The Broken Road. From the Iron Gates to Mount Athos … Edited by Colin Thubron and Artemis Cooper. London: Clays Ltd, St Ives plc for John Murray, 2013.
Octavo (234 x 152mm), pp. xxii, 362. 2 full-page maps after Rodney Paull and one illustration in the text, title-vignette and headpieces after John Craxton. Original black boards, spine lettered in silver, patterned endpapers with design after Ed Kluz, dustwrapper with design after Kluz, not price-clipped. (Light spotting on top edges of book block.) A very good copy in a bright dustwrapper.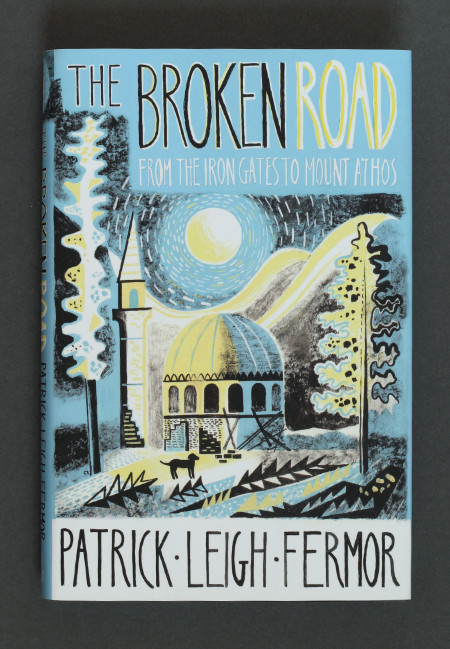 First edition, signed 'Artemis Cooper' on the title. The final, posthumous volume, which marked the completion (as far as was practicable) of Patrick Leigh Fermor's remarkable trilogy narrating his journey on foot through pre-war Europe from the Hook of Holland to Constantinople. A Time of Gifts, the first volume, was published in 1977 and described the author's decision to relinquish his enjoyable (albeit fruitless) bohemian existence in pre-war Mayfair, for a journey through Holland, Germany, Austria, Hungary, and Czechoslovakia, living as a mendicant dependant upon the kindnesses of those he encountered. It enjoyed a remarkable (and continuing) success, as did the second volume, Between the Woods and the Water (1986), which recorded the journey from the 'Middle Danube to the Iron Gates' and confirmed Fermor's position as one of the leading post-war travel writers. However, 'there, at the Iron Gates, Leigh Fermor's remembered journey hung suspended. Impatient readers gathered that he had succumbed to writer's block, frozen by failed memory or the task of equalling his own tremendous style. But on his death in 2011 he left behind a manuscript of the final narrative whose shortcomings or elusiveness had tormented him for so many years' (pp. xi-xii).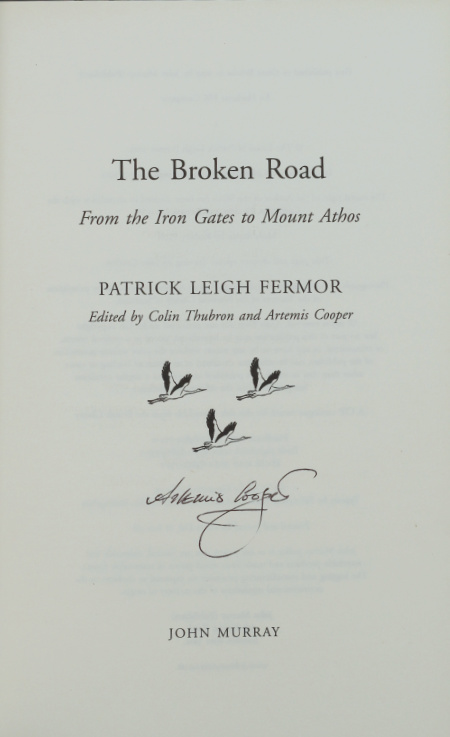 From this manuscript, and other sources, the editors Colin Thubron and Artemis Cooper – the author of Patrick Leigh Fermor. An Adventure (2012) and her subject's literary executor – produced this text: '[t]here is scarcely a phrase here, let alone a sentence, that is not his. In attempting to preserve his distinctive style, we have respected the structure of his often elaborate sentences, with their train of subordinate clauses. We have retained his characteristic punctuation, his occasional lists and his long paragraphs. […] Finally, we must take responsibility for the book's title. The Broken Road is an acknowledgement that Paddy's written journey never reached its destination. (It stops short at the Bulgarian town of Burgas, fifty miles from the Turkish frontier.) The title recognizes, too, that the present volume is not the polished and reworked book that he would have most desired: only the furthest, in the end, that we could go' (p. xviii).
£45
· · · · · · · · · · · · · · · · · · · · · · · · · ·
UK Orders
To order this book post-free within the UK, either use the button below to pay using PayPal or a credit card (using PayPal Guest Checkout), or email us: enquiries@typeandforme.com.
Postage

UK: FREE for items above £45 (otherwise £3.95 per item, added at checkout)

Rest of World: please contact us for a quote: enquiries@typeandforme.com

Multiple orders: we may be able to reduce postage costs! Please enquire: enquiries@typeandforme.com
Our Terms & Conditions apply.