THE SECOND VOLUME OF PATRICK LEIGH FERMOR'S CELEBRATED TRILOGY, RECOUNTING HIS JOURNEY FROM THE HOOK OF HOLLAND TO CONSTANTINOPLE, SIGNED BY THE AUTHOR
FERMOR, Sir Patrick Michael Leigh. Between the Woods and the Water. On Foot to Constantinople from The Hook of Holland: The Middle Danube to the Iron Gates. London: The Bath Press for John Murray, 1986.
Octavo (215 x 136mm), pp. [2 (blank)], 248, [2 (blank)]. One double-page map printed on green paper. Title-vignette and illustration after John Craxton. (A couple of light marks.) Original blue boards, decorated in gilt on the upper board with design after Craxton and titled in gilt on the spine, original pictorial dustwrapper after John Craxton, not price-clipped. (Light offsetting on upper pastedown, a few light spots on top edges, extremities slightly rubbed and faded, dustwrapper very lightly marked (as often) on lower panel, faded on spine, and with slight creasing and short tears on edges.) A very good, clean copy.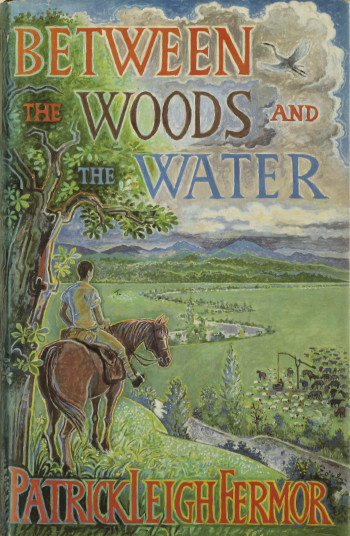 First edition, signed 'Patrick Leigh Fermor' on the title-page. After he was expelled from the King's School, Canterbury – whose headmaster believed that his student was 'a dangerous mixture of sophistication and recklessness' (quoted in A. Cooper, Patrick Leigh Fermor. An Adventure (London, 2012), p. 27) – Patrick Leigh Fermor (1915-2011) moved to London, to prepare for entrance into the Royal Military Academy, Sandhurst. In London Fermor lived in the Bohemian enclave of Mayfair's Shepherd Market, where he moved in literary and artistic circles, and became disenchanted with the prospect of a career of peacetime soldiering. Instead, he determined in the winter of 1933 to undertake a journey across Europe, from the Hook of Holland to Constantinople, with the ambition of publishing an account of his experiences.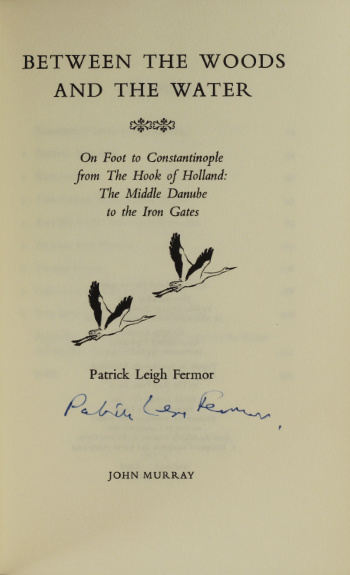 'Leigh Fermor's travels, which took more than a year, were (forty years later) to become the subject of his best-loved and most widely read books. He was crossing Europe on the tightest of budgets, collecting a few pound notes sent from home at various consulates and post offices as he went. Much of the time he was sleeping rough, in barns or hay-ricks or under the stars, and eating in whatever hostelry or inn he could afford. But he displayed an ability to make friends with tramps and simple fellow-travellers, who often made him their guest. As he progressed into Germany and Austria, following the route of the Danube, he acquired – almost by chance – introductions to a grander world of aristocrats who lived in sometimes decrepit and sometimes luxurious castles, who were charmed by his good looks, his intellectual curiosity, his latent erudition, and his good manners, and who passed him on to their friends; so he found himself sometimes sleeping alternately in cow-sheds and in four-poster beds. This enabled him to acquire – from the libraries and the conversations of his benefactors – a remarkable insight into the history and lifestyle of a fading world in a part of Europe which was just beginning to fall under the influence of Hitler and the Nazi movement. When he reached Constantinople, he did not tarry there, but visited the monasteries of Mount Athos in northern Greece, and then very briefly took part – joining some friends in a cavalry charge – on the royalist side in Greek internal uprisings. He then settled in Romania, having fallen in love with a local princess, the painter Balasha Cantacuzène […], sixteen years older than himself, with whom he lived for several years, to the dismay of his family' (ODNB).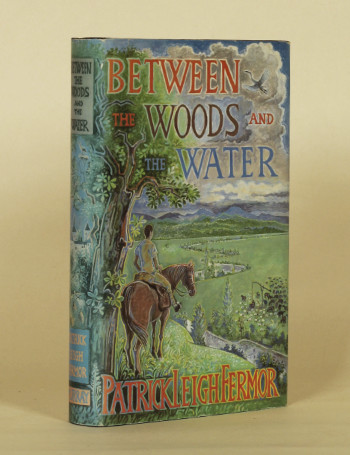 The first volume of Leigh Fermor's account of his travels was published four decades later as A Time of Gifts. On Foot to Constantinople: From the Hook of Holland to the Middle Danube (London, 1977), and enjoyed a wide and immediate success with both critics and readers. This success was, however, counter-productive in some ways, since it 'had created the one thing he could never cope with: a sense of expectation' (Cooper, p. 370), and writing the second volume of the projected trilogy was a difficult and laborious process. In 1982 Leigh Fermor travelled through Hungary and Romania to refresh his memory, and Between the Woods and the Water was eventually finished in 1985. In the autumn of that year he returned to Hungary, where he visited old friends and revised the typescript with their assistance. Between the Woods and the Water was illustrated by John Craxton (who had also illustrated A Time of Gifts), and was published in October 1986: '[i]t begins with a rout of parties and nightclubs with the fast set in Budapest, before Paddy sets of on horseback to cross the Great Hungarian Plain. Then comes the series of friendly castles and manor houses he stayed in that summer, with their eccentric owners – Count Lajos Wenckheim and his bustards, Count Józsi Teleki, the passionate entomologist, whose Scottish nanny had left his English peppered with Scottish phrases. […] The country-house life reaches its climax with the high summer idyll at Guraszáda with Elemér [von Klobusitzky], and Paddy's affair with Xenia Csernovits, now disguised as "Angela". To soothe the ache of parting, he leaves the road when walking south to lose himself for a while in the forested wilderness of the central Carpathians – one of the most hauntingly beautiful and timeless passages of descriptive prose he ever wrote. The book ends with a meditation on the little Turkish island of Ada Kaleh, now submerged under thousands of cubic metres of water, created by a huge dam across the Iron Gates of the Danube' (Cooper, pp. 375-376).
Between the Woods and the Water was widely judged the equal of its successor, and it won the Thomas Cook Travel Book Award and the International PEN/Time Life Silver Pen Award. Its closing words – 'To be concluded' (p. 238) – anticipated a final volume which did not appear in its author's lifetime, but was completed from his papers by his literary executors Colin Thubron and Artemis Cooper, and published as The Broken Road. From the Iron Gates to Mount Athos in 2013. This copy has been signed by the author, but does not include the photocopied errata slip (listing corrections to pp. 13, 217 and 218), which is occasionally found in some (presumably later) copies. Due to its ephemeral nature, this paper errata slip is very rarely found with the book.
£195 – SOLD
· · · · · · · · · · · · · · · · · · · · · · · · · ·
Our Terms & Conditions apply.