THE CATALOGUE OF AN IMPORTANT COLLECTION OF HEMINGWAY DRAFTS, CORRECTED PROOFS, AND LETTERS OF THE 1930S, PREVIOUSLY UNKNOWN TO SCHOLARSHIP
HEMINGWAY, Ernest Miller – CHRISTIE'S. Recently Discovered Manuscripts by Ernest Hemingway. The Property of Antony Mason. … Friday, 19 May 2000 … Lots 286-302 in the Sale: Printed Books and Manuscripts Including Americana and Recently Discovered Manuscripts by Ernest Hemingway. New York: Christie's International Media Division for Christie's, 2000.
Quarto (267 x 210mm), pp. 44, [2 ('Absentee Bids Form', imprint)]. Colour-printed illustrations in the text, some full-page. Original printed wrappers. (Extremities minimally rubbed.) A very good, clean copy.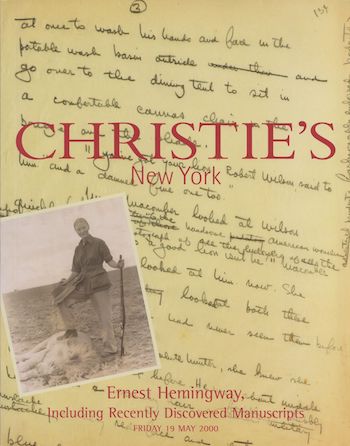 First edition, offprint issue. A separate offprint catalogue of a group of previously unknown Hemingway manuscripts, which were sold at Christie's New York in 2000. The catalogue has an introduction by the Hemingway scholar and biographer Michael Reynolds, who explains that 'Hemingway met the beautiful 22-year-old Jane Mason (1909-1981) in 1931 when returning to the United States on the Ile de France. The two were attracted to each other, though both were married: he to Pauline (his second wife), she to the wealthy Grant Mason, head of Pan American Airways in Cuba. As can be seen from his letters (all unpublished) the Hemingways and the Masons became fast friends, partying in Havana and Key West and fishing together in the Gulf Stream. The Ernest-Jane relationship may have developed into an affair, but there is no direct evidence and the matter is still open to speculation. What is known to Hemingway scholars is that the fascinating Jane Mason provided the model of two of his "dangerous" female characters: the deadly wife Margot in the story "The Short Happy Life of Francis Macomber" (1936) and the promiscuous Helene Bradley in To Have and Have Not (1937)' (p. 7).
Although by the end of the twentieth century it was believed that – with the exception of the famous 'lost' manuscripts of 1922 – the manuscripts of Hemingway's novels and non-fiction works were known, as were the first drafts of most of the short stories, apart from those of 'The Short Happy Life of Francis Macomber' and 'The Light of the World' (1933). Jane Mason's collection of Hemingway material contained not only the first drafts of these two important stories, but also corrected typescripts of Hemingway's introduction to Kiki's Memoirs (c. 1929), inscribed sets of galley proofs for the glossary and appendices for Death in the Afternoon (1932), inscribed galley proofs for Winner Take Nothing (1933) and Green Hills of Africa (1935), a manuscript and typescript draft of 'Marlin off Cuba' (1934), and autograph letters to Jane Mason. This trove of material had been unknown to Hemingway scholars until the end of the twentieth century, when Alane Salierno Mason (Jane Mason's granddaughter) discovered them in steamer trunks; a group of ten of the Hemingway-Mason letters were sold at Christie's New York on 10 December 1999, followed by these 17 lots, which were sold on 19 May 2000 (lots 286-302). The latter group formed part of the auction of Printed Books and Manuscripts Including Americana and Recently Discovered Manuscripts by Ernest Hemingway and, as is often the case with highly important collections included within larger sales, this separate offprint catalogue was also produced. These offprint catalogues (which often included additional material or images) were typically issued in smaller print runs than the catalogue they were derived from, so are usually quite scarce on the market. This catalogue is of the greatest interest to students of Hemingway's work for its numerous illustrations of the manuscripts and proofs, and the extensive and carefully researched descriptions of the material.
£19.50
· · · · · · · · · · · · · · · · · · · · · · · · · ·
UK Orders
To order this catalogue within the UK, either use the button below to pay using PayPal or a credit card (using PayPal Guest Checkout), or email us: enquiries@typeandforme.com.
Postage

UK: FREE for items above £45 (otherwise £4.50 per item, added at checkout)

Rest of World: please contact us for a quote: enquiries@typeandforme.com

Multiple orders: we may be able to reduce postage costs! Please enquire: enquiries@typeandforme.com
Our Terms & Conditions apply.