FIRST EDITION, EARLY ISSUE OF ALDINGTON'S CONTROVERSIAL BIOGRAPHY, FROM THE LIBRARY OF JEREMY WILSON
ALDINGTON, Richard. Lawrence of Arabia: A Biographical Enquiry. London: Collins Clear-Type Press for Collins, 1955.
Octavo (208 x 137mm), pp. 448. Erratum slip tipped onto fore-margin of p. 332 (first state). Half-tone portrait frontispiece after Howard Coster, 9 half-tone plates, 3 full-page maps and one genealogical table in the text. (Some light browning and offsetting, heavier on half-title, a few light marks.) Original black cloth, spine lettered and decorated in gilt, dustwrapper, not price-clipped. (Extremities lightly rubbed and bumped, dustwrapper slightly darkened on spine, rubbed, and with tears causing some losses.) A very good copy. Provenance: Jeremy Michael Wilson (1944-2017, ownership signature on front free endpaper).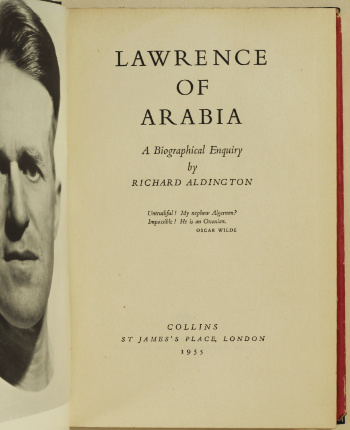 First English edition, early issue. Aldington's desire to explode the 'Lawrence myth' in Lawrence of Arabia produced one of the most controversial accounts of its subject, and was the well-spring of a series of biographies which appeared in the following fifty years and sought to explore further shortcomings in Lawrence's character. As Jeremy Wilson wrote, '[i]n retrospect, Richard Aldington's debunking biography seems to have been an inevitable reaction to the twenty-year accumulation of uncritical adulation which had built up since Lawrence's death. The book might, however, have been more valuable and successful if it had not been written in so venomous a tone. Today, its interest is mainly literary, since the documentary sources now available dispose of the contentious issues Aldington discussed' (T.E. Lawrence: Lawrence of Arabia (London, 1988), no. 361 (v)).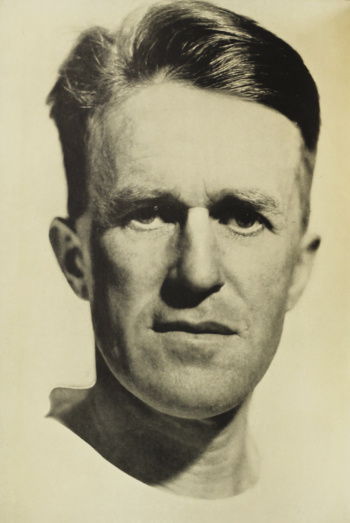 Due to efforts to prevent its publication, Aldington's biography was first published in France as Lawrence l'imposteur (Paris, 1954) and then in English in 1955 as Lawrence of Arabia: A Biographical Enquiry, for which 'some passages were altered' (O'Brien, p. 301). This copy has the first state of the errata slip (120 x 24mm, printed on whiter paper than the book) and the sheets bulk 27mm, identifying it as an early issue of the first edition. The present copy was previously in the collection of the distinguished Lawrence scholar Jeremy Wilson, the editor of T.E. Lawrence's Minorities (London, 1971), the author of the National Portrait Gallery catalogue T.E. Lawrence: Lawrence of Arabia and the authoritative biography Lawrence of Arabia: The Authorised Biography of T.E. Lawrence (London, 1989), which discusses Aldington's book in the prologue 'Sense and Nonsense in the Biography of T.E. Lawrence' (cf. p. 8).
O'Brien E192.
SOLD
· · · · · · · · · · · · · · · · · · · · · · · · · ·
Our Terms & Conditions apply.