FROM DAME JULIANA BERNERS TO J.K. ROWLING –
THE SCARCE CATALOGUE OF THE ANTIQUARIAN BOOKSELLERS ASSOCIATION'S EXHIBITION WOMEN AND THE BOOK
JAMES, Mark and Camilla SZYMANOWSKA (editors). Women and the Book. ABA Summer Exhibition 2008. London: Antiquarian Booksellers Association, 2008. 
Octavo (240 x 164mm), pp. 178, [2 (final blank l.)]. 4 plates with colour-printed illustrations recto-and-verso (included in the pagination), and numerous half-tone illustrations in the text. Original printed wrappers. (Extremities minimally rubbed and bumped.) A very good, clean copy.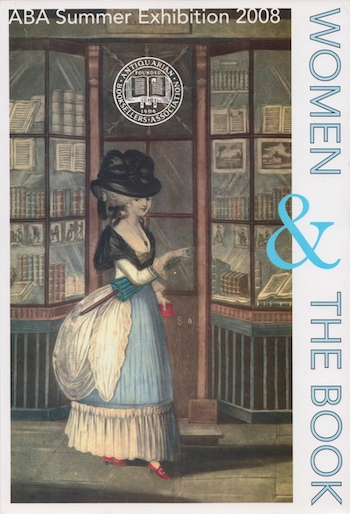 First and only edition. Women and the Book was published to accompany the exhibition of the same name held by the Antiquarian Booksellers Association (ABA), between 8 August 2008 and 20 August 2008, with the support of The Women's Library: 'Women and the Book is a major selling exhibition of fine and rare books, manuscripts and prints by and about women. Remarkable in their span – the earliest is Dame Juliana Berners' Boke of St Albans, printed by Caxton's successor Wynkn de Worde at Westminster in 1496, and the most recent, published in 1997, is a proof of J.K. Rowling's first Harry Potter novel – these items are offered for sale by members of the Antiquarian Booksellers' Association […] and serve to demonstrate the breadth, interest, and variety of the material available in the booktrade today. There are works by household names without whom no exhibition on this subject would be complete (for example, the first editions of Jane Austen's Emma and Pride and Prejudice or Charlotte Brontë's Jane Eyre found in the first section of the catalogue, together with Virginia Woolf's original manuscript pocket diaries), and the less familiar but illuminating and instructive works, such as Barbara Earl's Trekking in Kashmir with a Family – Or Without One (1930; now, quite inexplicably, out of print). The prices, like the dates, range widely; the works presented here are deliberately chosen to appeal to both novice and established collectors' (p. 5).
Some 370 works by or about women are described in the catalogue, which is divided into nine sections: '"Reader, I Married Him": Fiction, Poetry and Drama'; 'Hogwarts and Before: Children's Books'; 'Where no Man has Gone Before: Women Travellers'; 'Leading Ladies: Women's Lives in Fact and Fiction'; 'The Woman Question: Politics and the Role of Women'; 'Womanly Accomplishments: Domestic and Professional Skills'; 'Women and Science and Medicine'; and '"A Printer as well as a Bookseller, and the Daughter of One": Women and the Book Trade'. The catalogue concludes with an index and a list of the 51 members of the ABA who contributed to the exhibition, which was organised by Tim Bryars (Tim Bryars Ltd) and Angus O'Neill (Omega Bookshop), and held at Bernard Quaritch Ltd, London.
The catalogue was edited by Mark James (Henry Sotheran Ltd) and Camilla Szymanowska (Sokol Books Ltd), and designed by Paul Lawrence (Marchpane Ltd), and only appeared in this edition. Although it is not known how many copies were printed, the print-run was not large and the catalogue is uncommon (Library Hub Discover only locates four copies in UK libraries).
£12.50
· · · · · · · · · · · · · · · · · · · · · · · · · ·
UK Orders
To order this book within the UK, either use the button below to pay using PayPal or a credit card (using PayPal Guest Checkout), or email us: enquiries@typeandforme.com.
Postage

UK: FREE for items above £45 (otherwise £4.50 per item, added at checkout)

Rest of World: please contact us for a quote: enquiries@typeandforme.com

Multiple orders: we may be able to reduce postage costs! Please enquire: enquiries@typeandforme.com
Our Terms & Conditions apply.