'A FIRST CLASS, WELL-SUSTAINED WORK OF HISTORY AND A MASTERPIECE OF BIOGRAPHY' (ANDREW ROBERTS)

– SIGNED BY THE AUTHOR IN THE MONTH OF PUBLICATION –
CHURCHILL, Sir Winston Spencer Leonard – Roy Harris JENKINS, Baron JENKINS OF HILLHEAD.Churchill. London: Mackays of Chatham plc for Macmillan, 2001.
Octavo (233 x 148mm), pp. xxi, [1 (blank)], 1002. 4 colour-printed plates with illustrations recto-and-verso and 16 half-tone plates with illustrations recto-and-verso. Original black boards, spine lettered and decorated in gilt, dark-blue endpapers, dustwrapper, not price-clipped. (Small mark on upper joint, extremities minimally bumped, dustwrapper slightly faded on spine and slightly creased.) A very good copy.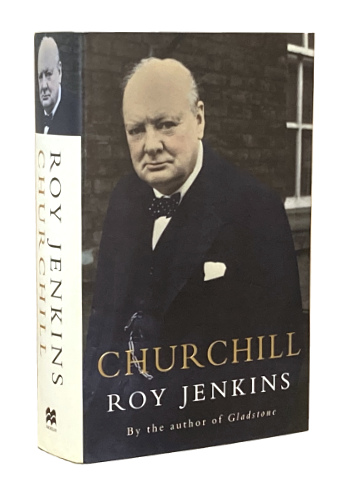 First edition, signed by the author '10:X:01. Roy Jenkins' on the title-page. The politician and author Roy Jenkins (1920-2003) was introduced by his father, Arthur Jenkins MP, to Churchill in 1941 'when, the old chamber having been destroyed by bombs, the House of Commons was meeting in its temporary home of Church House in Dean's Yard, Westminster' (p. [xiii]), and '[s]even years after that brief encounter […] I became a young MP and sat in the House of Commons with him for the next sixteen years. With varying degrees of appreciation – I was of course in the opposite party – I observed his performance, first in opposition, then as head of his second government, and finally during the nine years of his parliamentary somnolence. I was aware of witnessing something unique, but also remote and somewhat unpredictable' (loc. cit.). Before entering politics the young Jenkins served in the Royal Artillery and at Bletchley Park during World War II, and, like Churchill, was a long-serving parliamentarian (Churchill was a Member of Parliament for some 63 years, while Jenkins sat as a Labour MP from 1948 to 1976 and as an SDP MP from 1982 to 1987), who held two of the great offices of state: Home Secretary and Chancellor of the Exchequer.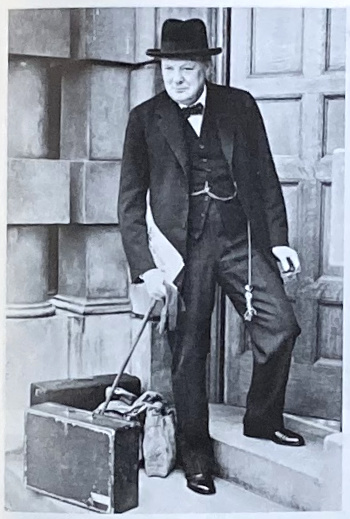 Jenkins's first book had been Mr. Attlee: An Interim Biography (1947) – a biography of the Labour Prime Minister Clement Attlee and friend of the Jenkins family – and was followed by a number of political biographies, including his highly regarded Gladstone (1995), which won the Whitbread Prize. Churchill was similarly very well received, and Andrew Roberts, the historian and future biographer of Churchill, praised it as 'a first class, well-sustained work of history and a masterpiece of biography […]. Although it is in no sense a hagiography, Churchill emerges largely unscathed from this book, even during the General Strike when Jenkins's own father was imprisoned and Churchill was popularly thought in Labour circles to have been unacceptably reactionary. The anti-Churchill side of each controversy is always put succinctly, but nine times out of 10 Jenkins comes down on his hero's side, with a judicious summing up.', before concluding that in this biography 'the greatest British political story of the 20th century is presented in a more elegant engaging, and consistently fair way than ever before. Of all the very many biographies of Winston Churchill that have been written, this one is the best' (The Sunday Telegraph, no. 2104 (7 October 2001), 'Review', p. 13).
Churchill appears to have been published in early October 2001 (Roberts's review appeared on 7th October, while The Observer reviewed it on 14th October), and this copy was signed by Jenkins at or shortly after publication on 10 October 2001.
£39.50
· · · · · · · · · · · · · · · · · · · · · · · · · ·
UK Orders
To order this book within the UK, either use the button below to pay using PayPal or a credit card (using PayPal Guest Checkout), or email us: enquiries@typeandforme.com.
Postage

UK: FREE for items above £45 (otherwise £4.50 per item, added at checkout)

Rest of World: please contact us for a quote: enquiries@typeandforme.com

Multiple orders: we may be able to reduce postage costs! Please enquire: enquiries@typeandforme.com
Our Terms & Conditions apply.