'SHE GAVE ACUTE PLEASURE IN NEW WAYS, SHE PUSHED THE LIGHT OF THE ENGLISH LANGUAGE A LITTLE FURTHER AGAINST DARKNESS'
FORSTER, Edward Morgan. Virginia Woolf. The Rede Lecture 1941. Cambridge: Cambridge University Press, 1942.
Octavo (183 x 124mm), pp. [2 (upper wrapper)], [1]-[28] (text), [2 (lower wrapper)]. (Some spotting and foxing.) Original plain self-wrappers with printed dustwrapper tipped onto spine, not price-clipped. (Dustwrapper a little spotted, creased at edges, spine with small losses and splits causing upper panel to detach). A very good copy of a work produced under wartime conditions. Provenance: H. Llwyd-Jones (early ownership signature on upper wrapper).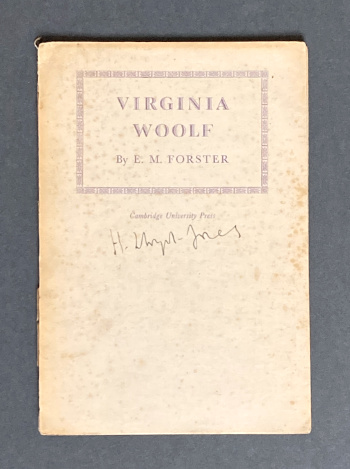 First edition. Forster's Rede Lecture was delivered at Cambridge on 29 May 1941, and was devoted to his friend, literary associate, and publisher Virginia Woolf, who had taken her own life two months earlier on 28 March 1941. Forster explores the complexities and character of Woolf, her writing and her character as a writer, and her political beliefs, with the caveat that 'ours is not a good vintage year for judgments' (p. 27), concluding with the words: '[l]ike all her friends, I miss her greatly – I knew her ever since she started writing. But this is a personal matter, and I am sure that there is no case for lamentation here, or for the obituary note. Virginia Woolf got through an immense amount of work, she gave acute pleasure in new ways, she pushed the light of the English language a little further against darkness. Those are facts. The epitaph of such an artist cannot be written by the vulgar-minded or by the lugubrious. They will try, indeed they have already tried, but their words make no sense. It is wiser, it is safer, to regard her career as a triumphant one. She triumphed over what are primly called "difficulties," and she also triumphed in the positive sense: she brought in the spoils. And sometimes it is as a row of little silver cups that I see her work gleaming. "These trophies," the inscription runs, "were won by the mind from matter, its enemy and its friend" (pp. 27-[28]).
Virginia Woolf – which is dedicated to Woolf's widower Leonard Woolf – was first published on 22 May 1942 in an edition of 5,000 copies at 1s. 6d., and a second impression of a further 5,000 copies was issued in June 1942. The lecture was later collected in Forster's Two Cheers for Democracy (1951).
Kirkpatrick, Forster (1985) A24a.
£19.50
· · · · · · · · · · · · · · · · · · · · · · · · · ·
UK Orders
To order this book within the UK, either use the button below to pay using PayPal or a credit card (using PayPal Guest Checkout), or email us: enquiries@typeandforme.com.
Postage

UK: FREE for items above £45 (otherwise £4.50 per item, added at checkout)

Rest of World: please contact us for a quote: enquiries@typeandforme.com

Multiple orders: we may be able to reduce postage costs! Please enquire: enquiries@typeandforme.com
Our Terms & Conditions apply.