FROM THE LIBRARY OF JEREMY WILSON, WHO DESCRIBED THIS ACCOUNT AS 'ONE OF THE MOST IMPORTANT SOURCES OF INFORMATION [ABOUT LAWRENCE] FOR THIS PERIOD'
SMITH, Clare Sydney. The Golden Reign. The Story of my Friendship with "Lawrence of Arabia". London: Wyman & Sons, Ltd. for Cassell & Co. Ltd., 1949.
Octavo in 16s (173 x 109mm), pp. 190, [2 (blank l.)]. Series-title and title with decorative borders printed in red. One half-tone plate and three full-page facsimiles after Lawrence in the text. (A few light marks, a few ll. lightly creased.) Original printed cloth, lettered in gilt on the upper board and spine, green endpapers, dustwrapper, price-clipped. (Spine slightly leant, corners lightly rubbed and bumped, dustwrapper faded on spine, torn at edges causing small losses.) A very good copy. Provenance: pencilled correction on p. 111 in an early hand – Jeremy Michael Wilson (1944-2017, vide infra).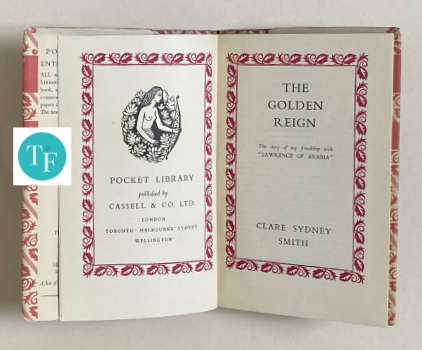 Second English edition. Clare Sydney Smith was the wife of Wing Commander Sydney Smith, Lawrence's Commanding Officer at the flying-boat station RAF Mount Batten, which was Lawrence's final posting from 1929 until his retirement in 1935. Clare and her husband came to know Lawrence well during that period, and their friendship is described in the present work, which takes its title from the inscription in a copy of Lawrence's translation of The Odyssey, which he gave to her.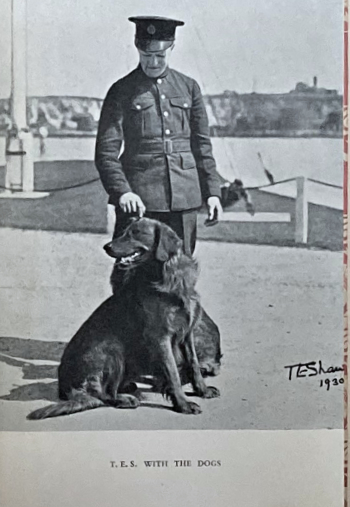 The Golden Reign was first published by Cassell in 1940 and then re-issued in the 'Pocket Library' series in the present edition. Although not marked as such, this copy was formerly in the library of the distinguished Lawrence scholar Jeremy Wilson, the editor of T.E. Lawrence's Minorities (London, 1971), the author of the National Portrait Gallery catalogue T.E. Lawrence: Lawrence of Arabia (London, 1988) and the authoritative biography Lawrence of Arabia: The Authorised Biography of T.E. Lawrence (London, 1989), and the co-founder, with his wife Nicole, of the Castle Hill Press, which has published scholarly editions of works by Lawrence and the definitive series of Lawrence's letters.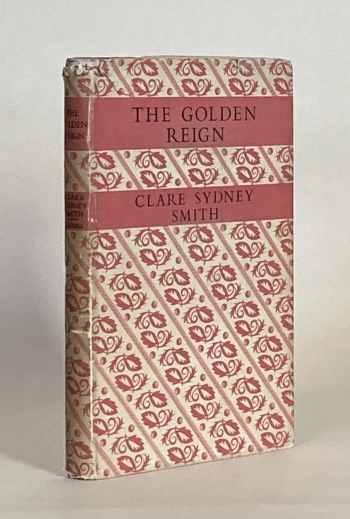 A copy of the first edition of The Golden Reign was included in T.E. Lawrence: Lawrence of Arabia, where Wilson described it as 'one of the most important sources of information [about Lawrence] for this period. It contains fifty otherwise unpublished letters to Wing Commander Sydney Smith and his wife' (no. 361, iii). Wilson would later assist with the publication of the Fleece Press's edition of the work, which was issued in 2004 as The Golden Reign. The Story of my Friendship with "Lawrence of Arabia". With a Foreword by Mrs. S. Lawrence, and a New Introduction by Malcolm Brown. Newly Illustrated by Vintage Photographs (cf. p. 26).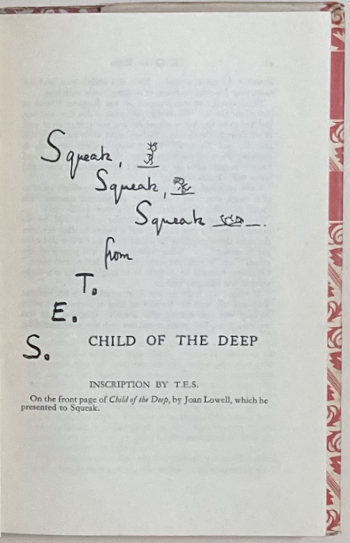 O'Brien E139.
SOLD
· · · · · · · · · · · · · · · · · · · · · · · · · ·
Our Terms & Conditions apply.