A PRESENTATION COPY, INSCRIBED BY BOTH AUTHORS TO THE LAWRENCE SCHOLAR LILITH FRIEDMAN,

AND SUBSEQUENTLY BEQUEATHED BY HER TO JEREMY WILSON
KNIGHTLEY, Phillip and Colin SIMPSON. The Secret Lives of Lawrence of Arabia. London: The Pitman Press for Nelson, 1969.
Octavo (222 x 150mm), pp. [i]-ix (half-title, verso blank, title, imprint on verso, contents, plates, copyright note, acknowledgements, epigraph), [1]-293, [1 (blank)]. 8 half-tone plates with illustrations printed recto-and-verso, 2 full-page maps in the text. (Very light marginal browning, a few light spots on edges of bookblock and margins.) Original black boards, spine lettered in metallic blue, illustrated endpapers, dustwrapper, not price-clipped. (Dustwrapper slightly marked and darkened, edges rubbed, and with small chips and tears). A very good copy. Provenance: Lilith Friedman (presentation inscription on half-title from Knightly 'To Dr Lilith Friedman for her help' with further inscription below 'With best wishes Colin Simpson', and further signed below 'Phillip Knightley'; pencilled ownership signature 'L. Friedman' on title, and pencilled annotation and correction on p. 52; bequeathed by Friedman to:) – Jeremy Michael Wilson (1944-2017, vide infra).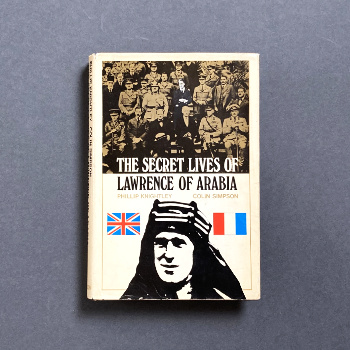 First edition. An important biography, for which the authors were given access to Lawrence's private papers by his younger brother and literary executor A.W. Lawrence: '[t]he year 1969 saw the appearance in book form of an earlier version of the text which had appeared in serial form in the Sunday Times (1968) […] [:] The Secret Lives of Lawrence of Arabia. The foreign rights were readily snapped up. This book appeared in more translations than all other Lawrence books except, perhaps, Lawrence's own Seven Pillars and Revolt. The book did not include quite all of the material contained in newspaper articles' (O'Brien p. 381). Subsequent biographers have, however, questioned the value of the biography, among them the noted Lawrence scholar Jeremy Wilson, who felt that the authors' lack of experience led to inaccurate or uninformed statements and interpretations, which 'were presented with a tremendous veneer of research and authority' (T.E. Lawrence's Minorities; An Editor's Postscript (Fordingbridge, 2006), p. 5).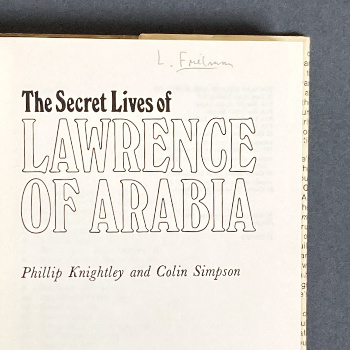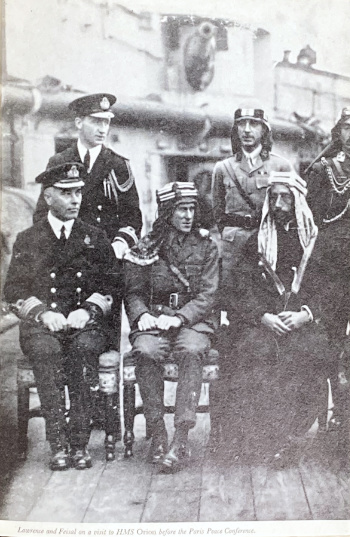 This copy was inscribed to the Lawrence scholar Lilith Friedman, who had evidently assisted Knightley and Simpson, and would go on to work with John Mack on his biography A Prince of our Disorder: The Life of T.E. Lawrence (Boston, 1976).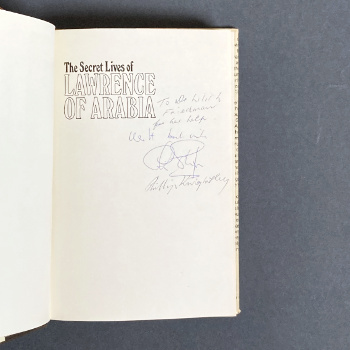 Friedman also worked with Jeremy Wilson for some twenty years on numerous projects, including his National Portrait Gallery catalogue T.E. Lawrence: Lawrence of Arabia (London, 1988) – in which he wrote that '[s]pecial thanks […] are due to Dr. Lilith Friedman and to my father, Professor Clifford Wilson, for all their help' (p. vii) – and the authoritative biography Lawrence of Arabia: The Authorised Biography of T.E. Lawrence (London, 1989). In the latter, Friedman's assistance is acknowledged with the words, '[t]his book would not have been completed, even now, without the years of work contributed by Dr Lilith Friedman. She has patiently and painstakingly followed up thousands of queries and has remained cheerful even when the search proved fruitless' (p. 1157). After Friedman's death this volume was bequeathed, with many of her books on Lawrence, to Jeremy Wilson.
O'Brien E302.
SOLD
· · · · · · · · · · · · · · · · · · · · · · · · · ·
Our Terms & Conditions apply.