A HOLIDAY GREETING CARD FROM ROTHMÜLLER WITH A FACSIMILE OF MUSIC FROM BERG'S WOZZEK, THE TITLE ROLE OF WHICH ROTHMÜLLER HAD PREMIERED IN ENGLAND
ROTHMÜLLER, (Aron) Marko. Printed greetings card with autograph manuscript inscription 'Seasons Greetings from Marko Rothmuller'. 61 Gloucester Rd., S.W.7, [?December 1953].
3pp. on a bifolium, oblong octavo (150 x 235mm), manuscript inscription and address on first page, inner pages with facsimile of manuscript music dated 24 October 1953, final page blank. (Slightly creased and darkened or marked at edges.) In very good condition. Provenance: Gritta Weil (1924-2009).
A holiday greeting card from Marko Rothmüller (1908-1993), with a manuscript greeting, containing within a facsimile of the piano and string parts for 'Wir arme Leut' from Alban Berg's Wozzeck, in which Rothmüller took the title-role in its first British stage performance in the previous year.
The Croatian baritone and composer Rothmüller – who is remembered for his 'magnetic stage presence and a voice of incisive and individual timbre' (Grove) – studied in Zagreb and Vienna (where he would join the Staatsoper in 1946), with Regina Weiss, Franz Steiner and Alban Berg. 'Having made his London début in 1939 as Krušina (The Bartered Bride) at Covent Garden, in 1947 he sang Rigoletto with the New London Opera Company at the Cambridge Theatre and John the Baptist (Salome) during the Vienna Staatsoper's season at Covent Garden. He was a member of the Covent Garden company from 1948 to 1952, singing a wide variety of roles including Amonasro, Rigoletto, Scarpia, Gunther, Tomsky (The Queen of Spades) and the title role in Wozzeck in its first British stage performance (1952). He appeared with the Glyndebourne company (1949-55) as Guglielmo, Count Almaviva, Don Carlo (La forza del destino), Macbeth and Nick Shadow. He made his New York début with the New York City Opera (1948) and later sang at the Metropolitan (1959-65), making his début as Kothner. From 1955 to 1979 he taught at Indiana University, Bloomington. […] Interested in Jewish music, he wrote Die Musik der Juden (Zürich, 1951; Eng. trans., 1953 […])' (op. cit.).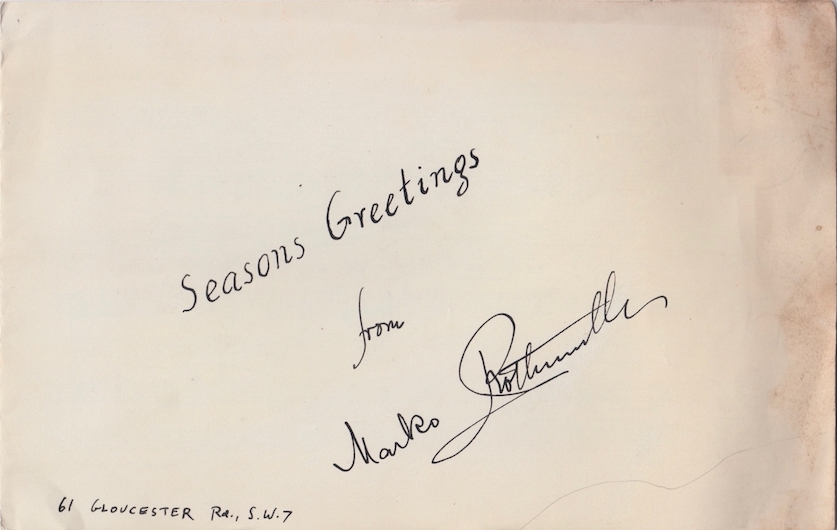 This card is from the collection of Gritta Weil, a refugee from Nazi Germany who came to England on a Kindertransport in 1939 and, following a series of jobs, became the Senior Secretary to the foreign writers' desk at The Observer from 1945 until 1984, where she was known affectionately as the 'Mother Superior'. Weil was a lifelong opera enthusiast and her friends included Carl Ebert, a co-founder of the Glyndebourne Festival and its Artistic Director from 1934 to 1939 and 1947 to 1959, while Rothmüller was a member of the company. It seems likely that Weil met Rothmüller through Ebert, and the music within the card is dated 'London, October 24, 1953', indicating that this card was given in December 1953, the year that the English translation of Rothmüller's book was published in London under the title The Music of the Jews. A Historical Appreciation.
£95
· · · · · · · · · · · · · · · · · · · · · · · · · ·
UK Orders
To order this card post-free within the UK, either use the button below to pay using PayPal or a credit card (using PayPal Guest Checkout), or email us: enquiries@typeandforme.com.
Postage

UK: FREE for items above £45 (otherwise £4.50 per item, added at checkout)

Rest of World: please contact us for a quote: enquiries@typeandforme.com

Multiple orders: we may be able to reduce postage costs! Please enquire: enquiries@typeandforme.com
Our Terms & Conditions apply.