THE PENGUIN MODERN CLASSICS EDITION OF THE MINT, WITH A NEW PREFACE BY JEREMY WILSON, FROM WILSON'S LIBRARY
LAWRENCE, Thomas Edward. The Mint. The Complete Unexpurgated Text. London: Richard Clay (The Chaucer Press) Ltd for Penguin Books, 1984.
Octavo (198 x 127mm), pp. 232, [8 (publisher's advertisements)]. (Lightly browned, a few light marginal marks.) Original printed wrappers with illustration after Augustus John on upper wrapper. (Extremities lightly rubbed and creased.) A very good copy. Provenance: Jeremy Michael Wilson (1944-2017, ownership signature on p. [1]).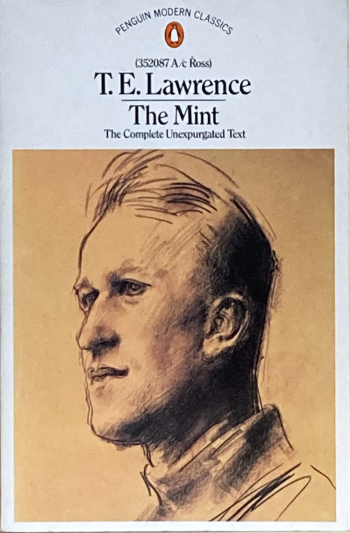 Fourth British edition, third printing. 'One of Lawrence's avowed purposes in joining the RAF, though not the only one, was to write of the ranks from the inside. He began immediately making notes when he enlisted in 1922. With his dismissal in January 1923, because of unfavourable publicity, the project was set aside, not to be taken up again until he was posted to India in 1927. […] While in India he edited the text of his earlier notes and began revisions. In March 1928 he sent a clean copy of the revised text to Edward Garnett. Garnett had copies typed which were circulated to a small circle, among them Air Marshal Trenchard. […] Trenchard's concerned response led Lawrence to guarantee that it would not be published at least until 1950. Later revisions were made by Lawrence in the last months of his life with a possible view to publication in a private edition on a handpress' (O'Brien, pp. 119-120). 
An American edition was printed in 1936 to forestall a possible piracy, but the first British edition was published in 1955 in two issues: a limited issue and a trade issue 'which had all objectionable words lifted out of the text, leaving blank spaces. In 1973 a definitive edition, including the objectionable words and names as they appeared in the manuscript, was published by Cape. These names had been changed in some cases due to fear of libel suits' (loc. cit.). The 1973 text was used as the basis of this fourth British edition, which appeared in the 'Penguin Modern Classics' series and retained the 'Note by A.W. Lawrence to the First Edition' (pp. 9-[13]), but published for the first time the 'Preface by J.M. Wilson to the Penguin Edition' (pp. 15-27). Jeremy Wilson had edited Lawrence's Minorities in 1971 and in 1975 A.W. Lawrence appointed Wilson the authorised biographer of T.E. Lawrence (this would appear in 1989 as Lawrence of Arabia: The Authorised Biography of T.E. Lawrence). Wilson was also the co-founder, with his wife Nicole, of the Castle Hill Press, which has published scholarly editions of works by Lawrence – including 'The Mint' and Later Writings about Service Life (2009) – and the definitive series of Lawrence's letters.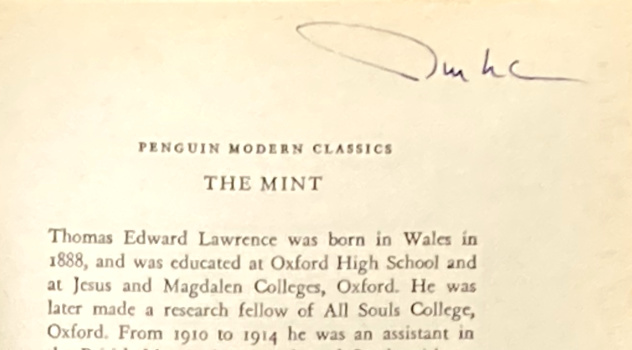 O'Brien records the first printing of the fourth British edition in 1978 and a larger-format 1987 issue in a re-designed binding, which matches this edition, published three years earlier.
Cf. O'Brien A178 (4th British ed.).
£39.50
· · · · · · · · · · · · · · · · · · · · · · · · · ·
UK Orders
To order this book within the UK, either use the button below to pay using PayPal or a credit card (using PayPal Guest Checkout), or email us: enquiries@typeandforme.com.
Postage

UK: FREE for items above £45 (otherwise £4.50 per item, added at checkout)

Rest of World: please contact us for a quote: enquiries@typeandforme.com

Multiple orders: we may be able to reduce postage costs! Please enquire: enquiries@typeandforme.com
Our Terms & Conditions apply.