'OF THE VULGARITY OF FOOLS' – A WOODCUT ATTRIBUTED TO DÜRER FROM SEBASTIAN BRANT'S NARRENSCHIFF
[?]DÜRER, Albrecht. 'De turpiloquio stultorum'. A woodcut by Dürer on f. 82r of Sebastian Brant's Stultifera navis: narragonice perfectionis nunquam satis laudata navis per Sebastianum Brant … per Iacobum Locher, cognomento philomusum: suevum: in latinum traducta eloquium … [Basel]: Johann Bergmann of Olpe, [1 August] 1497.
116 x 86mm (woodcut) on recto of quarto sheet (197 x 139mm), with partial watermark [Meder Wz. 15] and gilt fore-edge. (A few very light marks, margins trimmed causing small loss of foliation at head). Verso of sheet hinged onto modern mount. Provenance: late 15th/early 16th-centurymanicule and manuscript annotation on verso of sheet – [?Maggs Bros, London, Early Presses and Monastic Libraries of North-West Europe, catalogue 890 (1964), item 160 (loosely-inserted photocopy listing other woodcuts from this edition)] – modern pencilled note about woodcut on mount – Stephen John Keynes OBE, FLS (1927-2017).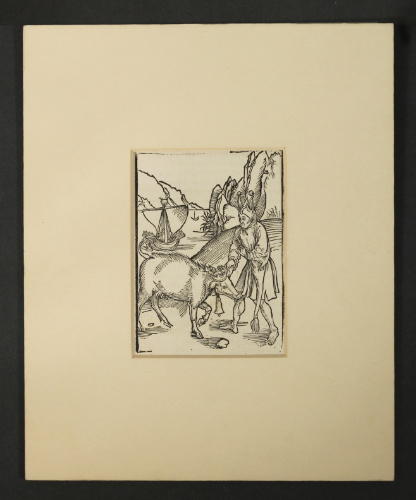 Fourth impression. This woodcut by Dürer illustrates chapter 72 'De turpiloquio stultorum' ('Of the vulgarity of fools') in Sebastian Brant's famous and immensely popular moral satire Narrenschiff. Brant invented a 'Saint Grobian', who was the patron saint of 'Grobians' – coarse, ill-mannered, and foul-mouthed people – and the woodcut depicts a pig wearing a crown and a bell around his neck. The recto and verso of the sheet contains the text of the entire chapter, which explores the theme further; an early reader has indicated the verse 'Obsceni mores: & turpia verba: colendos / Efficiunt homines: nil pudor ipse valet' with a manicule and annotated it 'de turpi loquio' ('of vulgar speech').
The poet and publisher Sebastian Brant (1458-1521) studied and taught law at the University of Basel, and wrote on politics and morals mostly in reworkings of classical themes – his vernacular masterpiece Narrenschiff (The Ship of Fools) is a combination of the tradition of carnival, of motifs and maxims drawn from folklore, and adaptations of quotations from antiquity and the Bible. The first edition was published by Johann Bergmann of Olpe on 11 February 1494 at Basel and was illustrated with a series of 114 woodcuts (including some repeats), of which 73 were firmly attributed to the young Dürer (1471-1528) by Friedrich Winkler in Dürer und die Illustrationen zum Narrenschiff (Berlin, 1951). Dürer had lived in Basel between 1492 and 1493, working as a journeyman woodcutter. The woodcuts he produced for the first edition of Narrenschiff were used by Bergmann in the first and second German editions of 1494 and 1495 respectively; the first Latin edition (1 March 1497), which was translated by Brant's student, the humanist and playwright Jakob Locher; and the second editions of Locher's Latin text (1 August 1497), from which the present leaf comes.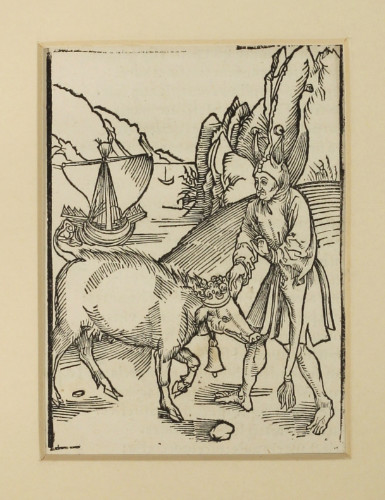 This example is from the collection of the noted bibliophile Stephen Keynes, a great-grandson of Charles Darwin and a member of the Roxburghe Club, who assembled extensive collections which were particularly rich in prints, illuminated manuscripts, and printed books.
Meder, Dürer-Katalog, III, VII, 1497b; Schoch, Mende and Scherbaum, Albrecht Dürer. Das druckgraphische Werk, III, 266.47 (woodcut) and 266.III (volume); cf. BSB-Ink. B-817; GW 5054; ISTC ib01090000.
£750
· · · · · · · · · · · · · · · · · · · · · · · · · ·
UK Orders
To order this woodcut post-free within the UK, either use the button below to pay using PayPal or a credit card (using PayPal Guest Checkout), or email us: enquiries@typeandforme.com.
Postage

UK: FREE for items above £45 (otherwise £4.50 per item, added at checkout)

Rest of World: please contact us for a quote: enquiries@typeandforme.com

Multiple orders: we may be able to reduce postage costs! Please enquire: enquiries@typeandforme.com
Our Terms & Conditions apply.