A BIBLIOGRAPHY OF THE CELEBRATED AMERICAN ZOOLOGIST AND OCEANOGRAPHER WILLIAM BEEBE
FROM THE LIBRARIES OF QUENTIN KEYNES AND STEPHEN KEYNES
BEEBE, (Charles) William – Tim M. BERRA. William Beebe: An Annotated Bibliography. Hamden, CT: Archon Books/Shoe String Press Inc., 1977.
Octavo (214 x 139mm), pp. 157, [1 (blank)], [2 (final blank l.)]. Half-tone portrait frontispiece, half-tone and line illustrations in the text, some full-page. (Some light spotting on fore-edges.) Original green cloth, spine lettered and ruled in gilt, endpapers reproducing 2 of Beebe's bookplates, dustwrapper, not price-clipped. (Extremities very lightly rubbed and bumped, dustwrapper darkened on spine, slightly marked and slightly rubbed and creased at edges.) A very good copy. Provenance: John Johnson Natural History Books, North Bennington, VT (loosely-inserted invoice addressed to:) – Quentin George Keynes, Pound Ridge, NY, 20 March 1983 (1921-2003; by descent to his brother:) – Stephen John Keynes OBE, FLS (1927-2017).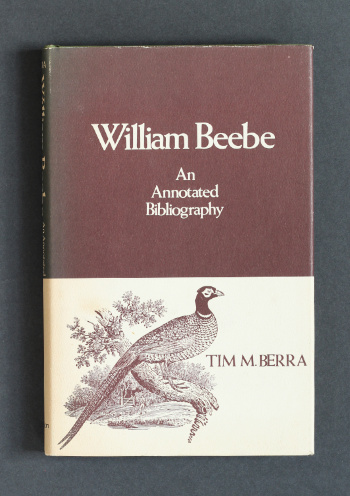 First edition. The American natural historian, oceanographer, traveller, and writer Beebe (1877-1962) was born in Brooklyn, grew up in New York and New Jersey, and studied natural history at Columbia University between 1896 and 1899, which he left before graduating. Following posts as Assistant Curator and then Curator at the New York Zoological Society's Zoological Park, Beebe undertook a series of travels for research, publishing the results in more than 800 articles and 21 books, often intended for a popular audience, and 'Beebe's work and his many publications unquestionably exemplified the work of the Zoological Society for many Americans, particularly young people, from the 1920s to the early 1940s' (American National Biography). Beebe led more than fifty scientific expeditions, described 87 new species of fish and one new species of bird (at least 64 species were named for him), and one of his greatest contributions was to the area of deep-sea oceanography, particularly using a weighted copper helmet in the Galapágos Islands in 1925. These researches led the development of the bathysphere by Beebe and the American engineer Otis Barton (also an alumnus of Columbia) in 1930, and their 1934 dive to 3,028 feet off Nonsuch Island, Bermuda established a record that would stand until 1949, when Barton broke it.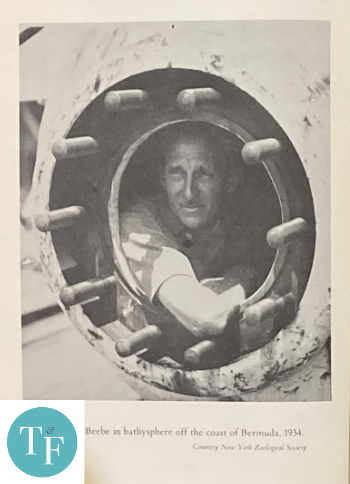 Berra's bibliography was published to commemorate the centenary of Beebe's birth, and provides a 'Biographical Sketch of William Beebe' (pp. 15-20), an 'Annotated Bibliography of William Beebe' (divided into two parts covering articles and books respectively), and, as an appendix, 'A Personal Sketch of William Beebe by Charles G. Shaw' (pp. 133-137). The volume concludes with 'Index of Book Reviewers', 'Index of New Fish Species Described by Beebe', and 'Index of Periodicals', followed by a 'General Index'. This copy was previously in the library of the explorer and bibliophile Quentin Keynes, who was (like his father Sir Geoffrey Keynes) a member of the Roxburghe Club and whose collection was notable for the remarkable range and quality of books and manuscripts relating to travel and natural history, and also the works of his great-grandfather, Charles Darwin (Quentin Keynes' library was sold by Christie's at a series of four sales in 2004, and part IV included signed limited editions of Beebe's Galápagos: World's End and The Arcturus Adventure in lot 29). This copy then passed to Quentin Keynes' younger brother, the bibliophile and founder of the Charles Darwin Trust, Stephen Keynes, who was also a member of the Roxburghe Club and would have doubtless found the work particularly interesting for its coverage of Beebe's work in the Galápagos Islands.
£29.50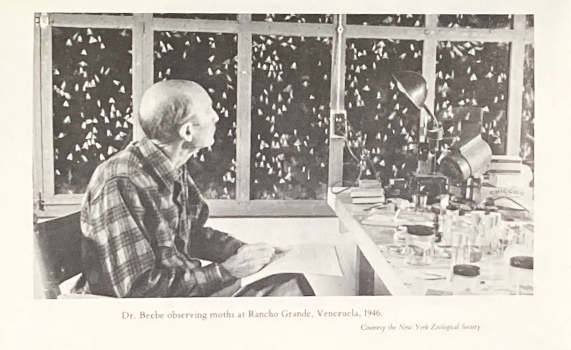 · · · · · · · · · · · · · · · · · · · · · · · · · ·
UK Orders
To order this book within the UK, either use the button below to pay using PayPal or a credit card (using PayPal Guest Checkout), or email us: enquiries@typeandforme.com.
Postage

UK: FREE for items above £45 (otherwise £4.50 per item, added at checkout)

Rest of World: please contact us for a quote: enquiries@typeandforme.com

Multiple orders: we may be able to reduce postage costs! Please enquire: enquiries@typeandforme.com
Our Terms & Conditions apply.