THE FIRST TRADE EDITION OF SEVEN PILLARS OF WISDOM, WITH THE SCARCE DUSTWRAPPER,
FROM THE LIBRARY OF JEREMY WILSON
LAWRENCE, Thomas Edward. Seven Pillars of Wisdom. A Triumph. [Edited by A.W. Lawrence.] London: The Alden Press for Jonathan Cape, 1935.
Quarto (251 x 190mm), pp. 672. Frontispiece and 47 photogravure plates by John Swain & Son after Augustus John, Eric Kennington, Lawrence, and others, 4 folding maps printed by The Chiswick Press, Ltd in red and black and bound to throw clear, and 7 illustrations in the text, 3 full-page. Original brown buckram gilt by A.W. Bain & Co., Ltd, upper board blocked in gilt with text and crossed sword design, spine lettered in gilt, top edges brown, others uncut, entirely unopened except where top edges cut or plates inserted (as issued), original beige dustwrapper printed in black, not price-clipped. (Extremities minimally rubbed, dustwrapper with a few light marks, some creasing and tears causing some losses, reinforced on the verso with adhesive tape.) A very good, unopened copy with the scarce dustwrapper. Provenance: Ireland & Allan, Ltd., Vancouver (bookseller's ticket on lower pastedown) – Jeremy Michael Wilson (1944-2017, vide infra).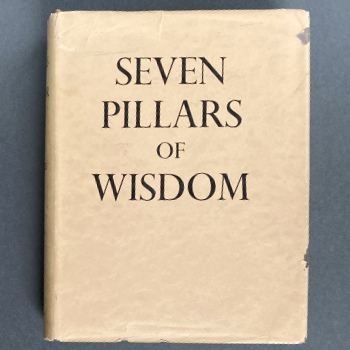 Third English and first published edition, first issue with the illustrations on pp. 304 and 305 incorrectly located in 'Illustrations'. Lawrence began making notes on his role in the Arab Revolt towards the end of World War I, and much of the first draft of his celebrated account of his experiences was written during the Paris Peace Conference in early 1919. Much to Lawrence's dismay, this draft was lost at Reading railway station in November 1919, and a second draft, based on his recollection of the lost manuscript, was completed in 1920, and then, following corrections and revisions, a third draft was prepared, which was printed in 1922 on the presses of the Oxford Times in an edition of eight copies intended for Lawrence's use (the 'Oxford Edition'), of which only six copies survive intact (four in institutional collections). On the basis of criticism from literary friends and comments from former comrades, Lawrence edited the text heavily, and in 1926 he published the 'Subscribers' or 'Cranwell' edition, a private edition of circa 211 copies, which was, as Lawrence wrote to the bookseller Henry Sotheran Ltd on 24 April 1925, 'being given only to my friends and their friends. No copies are for sale'. After Lawrence's death in May 1935 the text was finally published in a trade edition by Jonathan Cape in July 1935 in tandem with a limited edition of 750 copies. Such was the book's popularity that the first impression was quickly exhausted and second, third and fourth impressions were printed in the following month (August 1935). Although the print run of the trade edition was large, relatively few copies survive with the original dustwrapper, and fewer still in such fine condition as this copy, with all the quires unopened.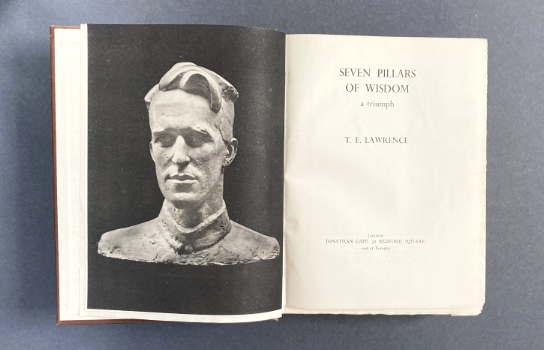 This copy is not marked as such, but was previously in the collection of the distinguished Lawrence scholar Jeremy Wilson, the editor of T.E. Lawrence's Minorities (London, 1971), and the author of the National Portrait Gallery catalogue T.E. Lawrence: Lawrence of Arabia (London, 1988) and the authoritative biography Lawrence of Arabia: The Authorised Biography of T.E. Lawrence (London, 1989). Jeremy Wilson was also the co-founder, with his wife Nicole, of the Castle Hill Press, which has published scholarly editions of works by Lawrence and the definitive series of Lawrence's letters. The Castle Hill Press' first publication was Seven Pillars of Wisdom. A Triumph. The Complete 1922 Text. Edited by Jeremy Wilson (Fordingbridge, 1997), which was the first publication of the text of the 'Oxford Edition', and this was followed by further editions of the 1922 text as well as a parallel text edition of the 1922 and 1926 texts.
O'Brien A042.
£750
· · · · · · · · · · · · · · · · · · · · · · · · · ·
UK Orders
To order this book post-free within the UK, either use the button below to pay using PayPal or a credit card (using PayPal Guest Checkout), or email us: enquiries@typeandforme.com.
Postage

UK: FREE for items above £45 (otherwise £4.50 per item, added at checkout)

Rest of World: please contact us for a quote: enquiries@typeandforme.com

Multiple orders: we may be able to reduce postage costs! Please enquire: enquiries@typeandforme.com
Our Terms & Conditions apply.