'THE BEST CRITICAL EDITION OF THE CLASSIC ACCOUNT OF EL DORADO'
RALEIGH, Sir Walter. The Discoverie of the Large and Bewtiful Empire of Guiana by Sir Walter Ralegh. Edited from the Original Text, with Introduction, Notes and Appendixes of Hitherto Unpublished Documents by V.T. Harlow. London: Walter Lewis at The University Press, Cambridge for The Argonaut Press, 1928.
Quarto in 8s (256 x 191mm), pp. [2 (blank)], cvi, 182, [2 (colophon, blank)]. Engraved portrait frontispiece after George Vertue, retaining tissue guard, colour-printed woodcut title-vignette by and after William Monk, 2 folding maps, one with route in red, and full-page facsimile illustration of the title-page of the first edition. (Some scattered light spotting, one map slightly creased at edge.) Original vellum-backed brown buckram, Raleigh's arms in gilt on upper board, spine lettered in gilt, silk marker, uncut and unopened, except where necessary to insert frontispiece and maps. (Some slight fading and very light marking, corners very lightly rubbed and bumped, small mark on rear endpapers.) A very good, unopened copy. Provenance: Madge Moody, November 1941 (ownership inscription on front free endpaper).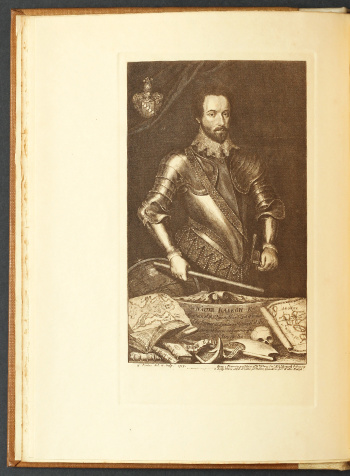 First edition thus, no. 664 of 975 copies on japon vellum. Sir Walter Raleigh undertook his 1595 expedition to Guiana to win favour with Elizabeth I and, with the support of William Cecil and others, left Plymouth in February 1595 to find the fabled 'El Dorado', which was believed to be somewhere in modern Venezuela. Raleigh explored South America and sailed up the Orinoco, but his endeavours were in vain and he returned to England in September 1595 empty-handed, 'to face the indifference of queen and privy council' (ODNB). In an attempt to restore his reputation, Raleigh wrote the present account of the expedition, which was dedicated to Cecil and Charles Howard, Baron Howard of Effingham, and was 'an elegant and memorable piece of travel writing, at once a self-justification and a call to exploit his discoveries' (op. cit.). The book enjoyed an enthusiastic reception in Britain and overseas –Latin, German, and Dutch editions all appeared within five years – but Raleigh's 'tales of distant marvels failed to move the Cecils or the queen' (op. cit.).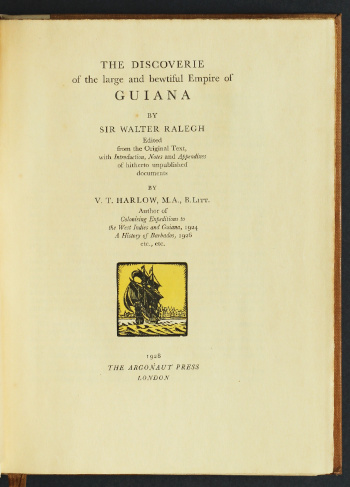 The present text was edited by the noted historian Vincent Todd Harlow (1898-1961), and provides not only Raleigh's original text but also translations of Spanish documents which shed light on the episode. Hill judges that Harlow's is 'the best critical edition of the classic account of El Dorado, the lost empire of the Incas, and Raleigh's attempt to find it. The introduction deals with the Elizabethan period in England and is of interest in a study of that era. This edition embodies much new material and includes an appendix of documents hitherto unpublished'. The Discoverie of the Large and Bewtiful Empire of Guiana was the fifth Argonaut Press publication.
Cox II, p. 254; Hill I, pp. 246-247; NMM I, 290; Palau 246451.
£95
· · · · · · · · · · · · · · · · · · · · · · · · · ·
UK Orders
To order this book post-free within the UK, either use the button below to pay using PayPal or a credit card (using PayPal Guest Checkout), or email us: enquiries@typeandforme.com.
Postage

UK: FREE for items above £45 (otherwise £4.50 per item, added at checkout)

Rest of World: please contact us for a quote: enquiries@typeandforme.com

Multiple orders: we may be able to reduce postage costs! Please enquire: enquiries@typeandforme.com