FIRST PUBLISHED EDITION, LIMITED TO 500 COPIES, OF A COLLECTION OF MEMOIRS
SPANNING HOUSMAN'S LIFE FROM CHILDHOOD TO DEATH
HOUSMAN, Alfred Edward – THE HOUSMAN MEMORIAL TRUST (publishers). Alfred Edward Housman. Recollections by Katharine E. Symons, A.W. Pollard, Laurence Housman, R.W. Chambers, Alan Ker, A.S.F. Gow, John Sparrow. A.E.H. Bromsgrove School 1870-1877. Bromsgrove: 'printed by the "Messenger" Co., Ltd.' and 'published at Bromsgrove School for The Housman Trust', November 1936.
Quarto (249 x 180mm), pp. 60. 5 plates after William Rothenstein, Francis Dodd, et al., all included in the pagination, one printed in ochre. One full-page illustration in the text. (A few light spots or marks, some ll. slightly creased, a few with short, marginal tears.) Original green buckram, upper board and spine lettered in gilt, imprint on rear free endpaper. (Spine and parts of boards slightly faded, extremities a little rubbed and bumped, upper hinge cracked, spine with small loss at foot and small hole.) A very good copy. Provenance: J.W. Manson (early ownership signature on front free endpaper).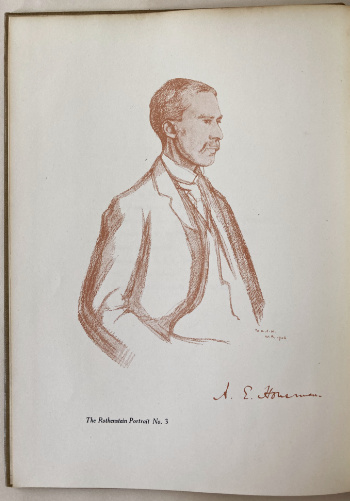 Second (first published) edition, limited to 500 copies. The poet and classical scholar A.E. Housman (1859-1936) entered Bromsgrove School in 1870 as a Scholar on Sir Thomas Cookes' New Foundation, and followed in the footsteps of two (or possibly three) earlier generations of his family who had been students at the school. As his sister Katharine E. Symons wrote in 'Boyhood' (the first piece in this work), '[w]ithout doubt, Bromsgrove School moulded the direction of his afterlife; but deeper influences within himself and in his home surroundings both drove and checked him in the exact path he took' (p. 7). In 1877 – his final year at the school – Housman won a number of prizes, culminating in a scholarship to St John's College, Oxford, worth £100 a year. Alfred Edward Housman was published by Bromsgrove School to commemorate the death of its famous alumnus and comprises eight contributions spanning Housman's life, commencing with 'Boyhood' and continuing with 'Some Reminiscences' by his Oxford friend A.W. Pollard; '"Shropshire Lad" Year – and After' by his brother Laurence Housman; 'A London Memoir' by R.W. Chambers, who had been a student of Housman's at University College, London; 'Scholar' by Alan Ker, a fellow of Trinity College, Cambridge; 'Cambridge' by the classicist A.S.F. Gow, who was a fellow of Trinity College, Cambridge, Housman's literary executor, and the author of A.E. Housman, A Sketch. Together with a List of his Writings and Indexes to his Classical Papers(Cambridge, 1936); 'Poet' by John Sparrow, the co-author of A.E. Housman: An Annotated Hand-List (London, 1952); and 'Farewell to A.E.H.', an extract from a letter written by the poet's nephew N.V.H. Symons, which describes Housman lying in repose in the chapel of the nursing home where he died.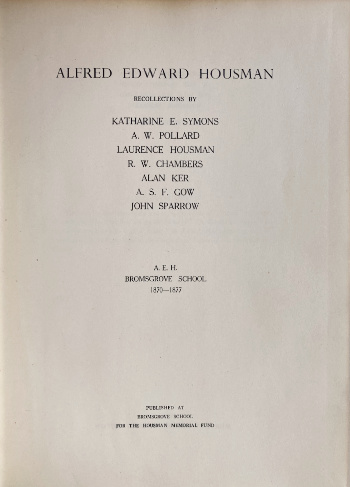 Alfred Edward Housman includes a number of Housman's verses, some of which were first published in this work, and the book was first printed in a limited edition of 250 copies for private circulation in October 1936, which was followed by the present, first published edition of 500 copies and an unlimited edition in November 1936.
Carter, Sparrow, and White, A.E. Housman, A50.
£29.50
· · · · · · · · · · · · · · · · · · · · · · · · · ·
UK Orders
To order this book within the UK, either use the button below to pay using PayPal or a credit card (using PayPal Guest Checkout), or email us: enquiries@typeandforme.com.
Postage

UK: FREE for items above £45 (otherwise £4.50 per item, added at checkout)

Rest of World: please contact us for a quote: enquiries@typeandforme.com

Multiple orders: we may be able to reduce postage costs! Please enquire: enquiries@typeandforme.com
Our Terms & Conditions apply.