FIRST PUBLICATION (AFTER A 25-YEAR EMBARGO) OF LAURENCE HOUSMAN'S ESSAY ON HIS BROTHER'S LOVE FOR MOSES JACKSON
HOUSMAN, Alfred Edward – Laurence HOUSMAN. 'A.E. Housman's "De Amicitia". Annotated by John Carter', in Melvin J. LASKY and Nigel DENNIS (editors). Encounter XXIX, No. 4 (October 1967), pp. 33-41. London: William Clowes and Sons, Limited for Encounter Ltd., 1967.
Quarto (248 x 180mm), pp. 96. Illustrations in the text. (Some light creasing.) Original colour printed wrappers. (Minor marking and creasing, extremities lightly rubbed, small chip at head of spine.) A very good copy.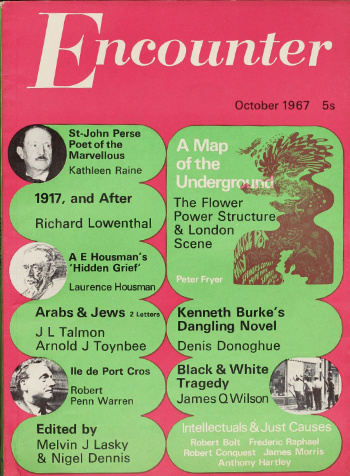 First publication. The poet and classical scholar Housman (1859-1936) was educated at Bromsgrove School and St John's College, Oxford, where he met and fell in love with Moses Jackson (1858-1923). Housman and Jackson shared lodgings with their friend A.W. Pollard during Housman's final year at Oxford, and in 1882 Housman followed Jackson into employment at the Patent Office in London. Housman shared a house in Bayswater with Moses Jackson and his younger brother Adalbert Jackson from 1883 until 1885, when Housman left the house under dramatic circumstances, and in 1887 Moses Jackson took up a teaching position in India, which meant that the two men would only meet occasionally during the remainder of their lives.
After Housman's death, his papers passed to his younger brother and literary executor, the writer and artist Laurence Housman (1865-1959), who wrote that once they 'came into my hands […], I was confronted with the fact that he had left me to discover in them certain matters of a very intimate character about himself, of which previously he had never spoken to me, although I had reason to think that he was aware both of my knowledge of what had so deeply affected his life, and of my sympathy for the unhappiness which it had caused him' (p. 34). These events caused Laurence Housman to compose 'A.E. Housman's "De Amicitia"', which discussed his brother's love for Moses Jackson. In 1942 Laurence Housman deposited the manuscript of his essay at the British Museum, with the stipulation that it was not to be opened for 25 years, at which point it was to be made available to the Council of the Society of Authors for publication.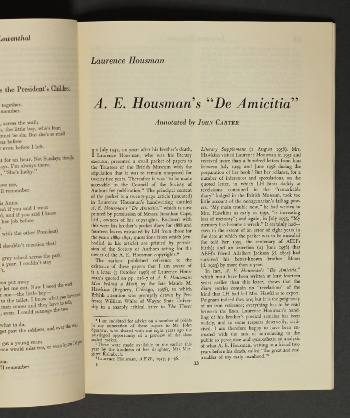 The embargo was lifted in 1967 and 'A.E. Housman's "De Amicitia"' (which included extracts from A.E. Housman's diaries for 1888-1891), was first published in the present issue of Encounter, with an introduction, annotations, and appendices by the bibliographer John Carter, who was the co-author of A.E. Housman. An Annotated Hand-List (London, 1952). In the closing paragraph of his essay, Laurence Housman (who was also gay), wrote 'though, in their treatment of the homosexual problem, "the precious balms of the righteous" have broken many heads, and many hearts, and ruined many lives, I have a hope that, twenty-five years hence, their day of evil power will be gone; and that society may, at long last, have acquired sufficient common-sense to treat the problem less unintelligently, less cruelly, more scientifically' (pp. 39-40) – as Carter commented, this hope 'was fulfilled almost exactly on time. These papers were unsealed on 11 July 1967: the Sexual Offences Act (1967) [the first legislation to legalise homosexuality in Britain] went on to the Statute Book on 27 July' (p. 34). Some thirty years after this essay was first published, the relationship between A.E. Housman and Moses Jackson would form a central theme of Tom Stoppard's celebrated play The Invention of Love (1997).
Carter, Sparrow, and White, A.E. Housman, 92.
£19.50
· · · · · · · · · · · · · · · · · · · · · · · · · ·
UK Orders
To order this book within the UK, either use the button below to pay using PayPal or a credit card (using PayPal Guest Checkout), or email us: enquiries@typeandforme.com.
Postage

UK: FREE for items above £45 (otherwise £4.50 per item, added at checkout)

Rest of World: please contact us for a quote: enquiries@typeandforme.com

Multiple orders: we may be able to reduce postage costs! Please enquire: enquiries@typeandforme.com
Our Terms & Conditions apply.