A SCARCE COPY OF TED HUGHES AND JÁNOS CSOKITS'S TRANSLATIONS OF AN IMPORTANT HUNGARIAN POET,
PUBLISHED IN AN EDITION OF 1,000 COPIES
HUGHES, Edward ('Ted') James (translator) – János PILINSZKY. Selected Poems. Translated by Ted Hughes and János Csokits. Manchester: W & J Mackay Limited for Carcanet New Press Limited, 1976.
Octavo (215 x 134mm), pp. 67, [1 (blank)]. (Some light spotting, heavier on fore-edges of bookblock.) Original light-blue boards, spine lettered and decorated in gilt, dustwrapper designed by Carol Reeves, not price-clipped. (Some light fading at extremities, dustwrapper slightly faded on spine and slightly creased at edges, small indentation on upper panel). A very good copy.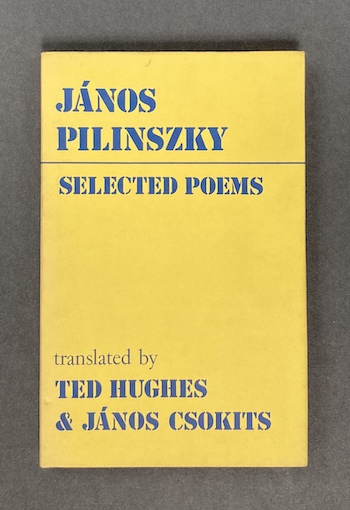 First edition, British issue. The Hungarian poet Pilinszky (1921-1981) 'was an important poet to [Hughes] because he was a survivor of horrors. His own suffering lay in what he had been forced to witness. Wartime Hungary had been in alliance with Germany. In 1944 Pilinszky was conscripted for military service, just in time to be scooped up by the retreating German armies, and he had to spend the last year of the war in a series of prison camps. What he saw there scarred his mind with images of men waiting to be shot or being beaten to death and thrown on a refuse heap. The poems that Pilinszky wrote about this experience were torn from him. As he said, "I would like to write as if I had remained silent"' (E. Feinstein, Ted Hughes: The Life of a Poet (London, 2002), pp. 229-230). Hughes's translations were undertaken with the poet János Csokits, and Hughes wrote in his introduction that 'this translation is really every bit as much his as mine' (p. 13); '[i]nevitably, I felt I got a better grip on some poems than on others. Where I realised I could not capture any whole aspect of the poem, I let it remain simply literal. Wherever I took a liberty, [Csokits] corrected me with infinite pains and lexicographical toil. These translations, then, in the sense of being word for word are close to the originals, and will have served their purpose if they serve as pointers, to help a reader re-imagine the original thing' (p. 14).
Sagar and Tabor note that 1,000 copies of Pilinszky's Selected Poems were printed and that 'Persea Books distributed part of this printing without change in the United States at $8.95'; this copy was part of the British issue and bears the British price of £2.25 on the dustwrapper and no indication of either a dollar price or Persea Books imprint. A revised and enlarged edition of Selected Poems was published in 1989 as The Desert of Love. This British issue of the first edition of Pilinszky's Selected Poems is uncommon on the market.
Sagar and Tabor, Ted Hughes, B79.
£49.50
· · · · · · · · · · · · · · · · · · · · · · · · · ·
UK Orders
To order this book post-free within the UK, either use the button below to pay using PayPal or a credit card (using PayPal Guest Checkout), or email us: enquiries@typeandforme.com.
Postage

UK: FREE for items above £45 (otherwise £4.50 per item, added at checkout)

Rest of World: please contact us for a quote: enquiries@typeandforme.com

Multiple orders: we may be able to reduce postage costs! Please enquire: enquiries@typeandforme.com
Our Terms & Conditions apply.