'An awful ruffian'!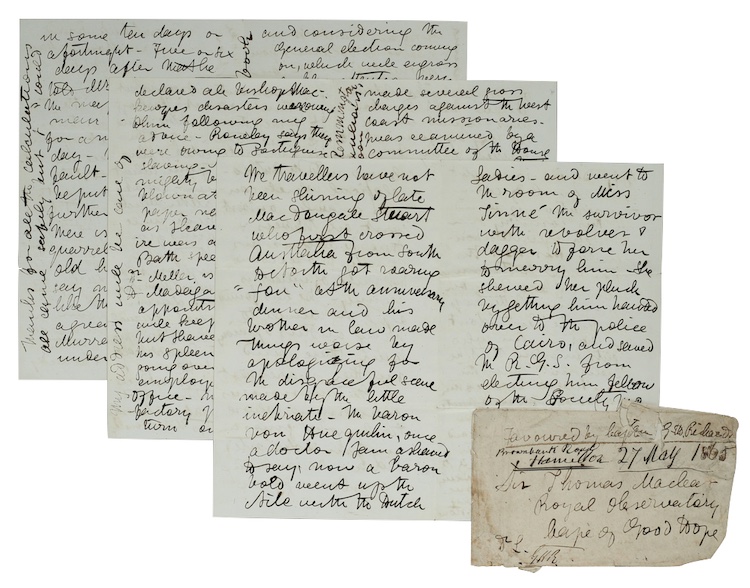 David Livingstone on Richard Burton, Africa, & the source of the Nile:

a letter from the collection of Quentin Keynes, now at the National Library of Scotland
Top among the remarkable objects we had the pleasure of placing into new homes in the past five years, this letter came to us directly from the estate of the explorer and bibliophile Quentin Keynes – a provenance whose relevance will become clear soon.
This is one of the final letters Livingstone wrote from Scotland, before departing on the expedition in search of the source of the Nile from which would not return. It is addressed to Sir Thomas Maclear, a medic-turned-astronomer, who taught Livingstone how to make observations with a sextant and chronometer when they met in Cape Town in 1852. The two men became very good friends and shared an interest in African exploration and travellers.
The letter revolves around the theme of African exploration – although it also covers others, including the American Civil War – and the question of the source of the Nile, which had been debated between Sir Richard Burton and John Hanning Speke (who had sadly died in September of the previous year) – Livingstone, who disliked and distrusted Burton, here proclaims: 'Burton is an awful ruffian … I don't believe that Burton was at Mecca' – a remarkable attack based on unsubstantiated claims.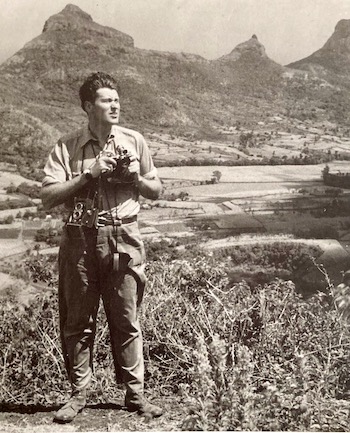 The provenance of this letter is especially notable: alongside his extensive travels through Africa, Quentin Keynes (1921-2003) collected a remarkable library of books and manuscripts, with a focus on the 19th-century exploration of Africa. His collection not only informed his bibliophile research,* but also his own travels in Africa: in 1958, the centenary of Livingstone's expedition up the Zambezi River, Keynes retraced Livingstone's route and was the first person to find Livingstone's baobab tree, the tree into which Livingstone had carved his initials on 16 September 1858. The tree is now a historical monument in honour of Livingstone, declared such by the Portuguese government of Mozambique soon after its rediscovery Keynes.
We were very happy to place this significant letter into the collections of the National Library of Scotland, where it can now be consulted by scholars.
· · · · · · · · · · · · · · · · · · · · · · · · · ·
David Livingstone, Autograph letter signed to Sir Thomas Maclear, Burnbank Road, Hamilton, [Lanarkshire], 27 May 1865.
* Keynes' Roxburghe Club book was published in 1999, and was titled The Search for the Source of the Nile: Correspondence between Captain Richard Burton, Captain John Speke and Others, from Burton's Unpublished East African Letter Book; together with Other Related Letters and Papers for his own travels in Africa.
Photo: 'Quentin Keynes in search of the dodo, Mauritius, 1952', from the dustwrapper of Simon Douglas Keynes, ed., Quentin Keynes. Explorer, Film-Maker, Lecturer and Book-Collector 1921-2003. Cambridge: Lecturis BV for Simon Keynes, 2004.