HANDSOME AND SCARCE: the two-volume set of DORIS LESSING's COLLECTED STORIES
2 volumes, octavos in 16s (215 x 136mm), pp. I: 336, II: 272 Original brown boards by William Brendon & Son Ltd, spines gilt with title and publisher's device, top edges brown (I) and orange (II), structured paper dustwrappers designed by Craig Dodd, lettered in gilt and white, not price-clipped. (Dustwrappers very slightly faded on spines and very slightly rubbed and creased at edges). A fine set in very good dustwrappers.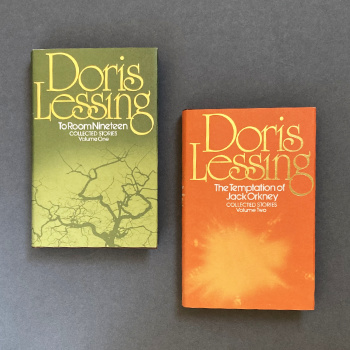 First edition. Doris Lessing (1919-2013) had an unusual childhood, during which her family moved from Persia and Tehran to England (via Russia, where she observed the devastation of the Russian Civil War), and thence to Southern Rhodesia, where the young Doris rejected any formal education or upbringing, as 'she saw how marriage undertaken for marriage's sake and the subsequent arrival of children had destroyed her mother as an independent-minded woman, and she tried to distance herself from a way of life trapped by the past' (ODNB), became a 'self-taught intellectual' through her extensive reading, and began writing and publishing stories even before taking up work as a telephone operator in Salisbury in 1937.
Following two marriages, the second of which ended in divorce in 1949, Lessing moved to South Africa – which provided the context for first novel, The Grass is Singing (1950) – and then to England. 'Lessing quickly made her mark in England, despite being a single mother with little money; she worked exceptionally hard. The short story would be a favourite vehicle throughout her writing career' (loc. cit.), even after the publication of The Golden Notebook (a work that, according to Lessing herself, changed her) in 1962 established her as a major writer of her time. She subsequently, in the search for an alternative to communism to form an ideal society, delved into psychiatric and Sufi theories, wrote experimental as well as realist fiction, composed Memoirs of a Survivor (1974), a 'vividly apocalyptic experiment in autobiography' (loc. cit.), and from 1979 onwards also wrote, among other things, science fiction. Lessing won a number of major prizes over the course of her varied career, and was finally awarded the Nobel prize for literature in 2007. 'The citation referred to her as "that epicist of the female experience, who with scepticism, fire and visionary power, has subjected a divided civilisation to scrutiny"' (loc. cit.).
This beautifully-produced set was the last collection of Lessing's stories published in her lifetime, and the two volumes comprise 34 short stories written between 1951 and 1957, and 1958 and 1972 respectively. Collected Stories 'shows the full range of Doris Lessing's formidable capacities and will stand beside the two volumes of her Collected African Stories [1973] as a classic. It presents a study of humanity that is illuminating, always satisfying, often from angles from which we have never before dared to view it' (dustwrapper blurb). The work is scarce as a two-volume set, and is rarely found in such bright and clean condition.
£49.50
· · · · · · · · · · · · · · · · · · · · · · · · · ·
UK orders
To order this set within the UK, either use the button below to pay using PayPal or a credit card (using PayPal Guest Checkout), or email us: enquiries@typeandforme.com.
Postage

UK: FREE for items above £45 (otherwise £4.50 per item, added at checkout)

Rest of World: please contact us for a quote: enquiries@typeandforme.com

Multiple orders: we may be able to reduce postage costs! Please enquire: enquiries@typeandforme.com
Our Terms & Conditions apply.