KENNINGTON, Eric Henri. 'Mahmas'. Fordingbridge: Castle Hill Press, 1997.
Colour print with calligraphic manuscript title and limitation, and printed artist's name and imprint below (338 x 257mm). Cardboard mount, as issued (500 x 400mm). A fine copy.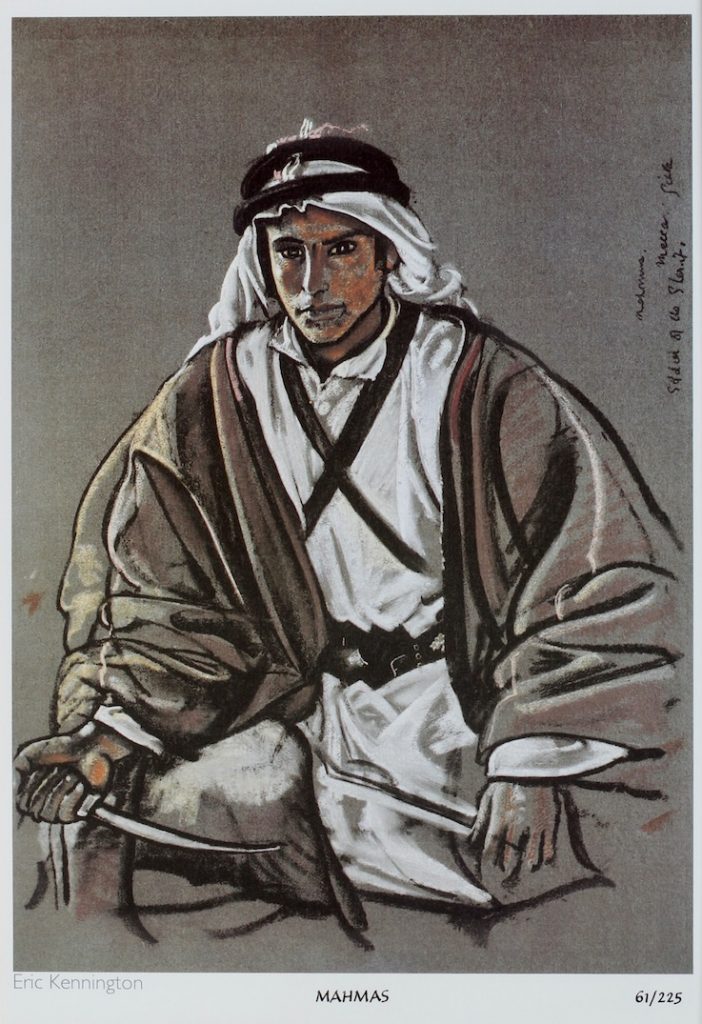 No. 61 of 225. A Haurani, of the clan of the Ateiba, a nomad tribe based inland of Medina, Mahmas was characterised by Lawrence as 'not properly of my guard, but a camel-driver; for his capacity fell far below his sense of it, and a constantly-hurt pride made him sudden and fatal in companionship' (Seven Pillars of Wisdom (London, 1935), p. 486). Lawrence gave an example of this to Kennington, when examining this portrait: 'Mahmas. That means coffee-spoon. Called so, probably, because the parents happened to notice one during his birth […] [he] cannot endure to be worsted in argument. When it happens he leans forward with his little knife and kills the other party. Three times he did it before people learnt to respect his convictions, however ill expressed' (E. Kennington, Drawing the R.A.F.: A Book of Portraits (London, 1942), p. 14).
Kennington had cause to recall this while drawing Mahmas, for he tried to wake his subject during a sitting and Mahmas sprang awake with a dagger in his hand: 'I turned away and began selecting chalks, thinking, "It will go in just above the collar bone". But nothing happened, so I soon asked him to sit down again. He did, but kept the dagger ready, and it came out so in the drawing' (op. cit., p. 16).
£95
Click here to read the introduction to Eric Kennington's Arab Portraits.
· · · · · · · · · · · · · · · · · · · · · · · · · ·
UK Orders
To order this print post-free within the UK, either use the button below to pay using PayPal or a credit card (using PayPal Guest Checkout), or email us: enquiries@typeandforme.com.
Postage

UK: FREE for items above £45 (otherwise £4.50 per item, added at checkout)

Rest of World: please contact us for a quote: enquiries@typeandforme.com

Multiple orders: we may be able to reduce postage costs! Please enquire: enquiries@typeandforme.com
Our Terms & Conditions apply.