KENNINGTON, Eric Henri. 'Matar'. Fordingbridge: Castle Hill Press, 1997.
Colour print with calligraphic manuscript title and limitation, and printed artist's name and imprint below (338 x 257mm). Cardboard mount, as issued (500 x 400mm). A fine copy.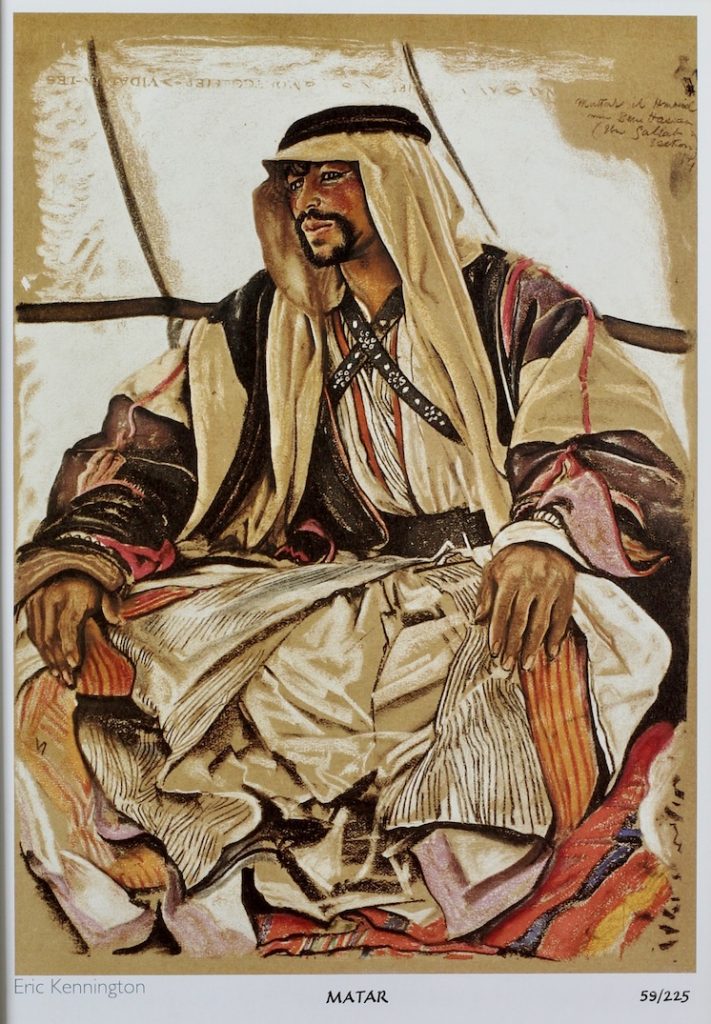 No. 59 of 225. Matar served in Lawrence's bodyguard (for which, cf. item 3) and was described by Lawrence as, 'a parasite fellow of the Beni Hassan, [who] attached himself to us. His fat peasant's buttocks filled his camel saddle, and took nearly as large a share in the lewd or lurid jokes which, on march, helped pass my guards' leisure. We might enter Beni Hassan territory, where he had some influence. His unblushing greed made us sure of him, till his expectations failed' (Seven Pillars of Wisdom (London, 1935), p. 391).
Kennington's original pastel drawing was given to the Tate Gallery by Lawrence in 1922.
£95
Click here to read the introduction to Eric Kennington's Arab Portraits.
· · · · · · · · · · · · · · · · · · · · · · · · · ·
To order this print and learn about the available delivery options, please contact us: enquiries@typeandforme.com. Our Terms & Conditions apply.