KENNINGTON, Eric Henri. 'Alayan'. Fordingbridge: Castle Hill Press, 1997.
Colour print with calligraphic manuscript title and limitation, and printed artist's name and imprint below (338 x 257mm). Cardboard mount, as issued (500 x 400mm). A fine copy.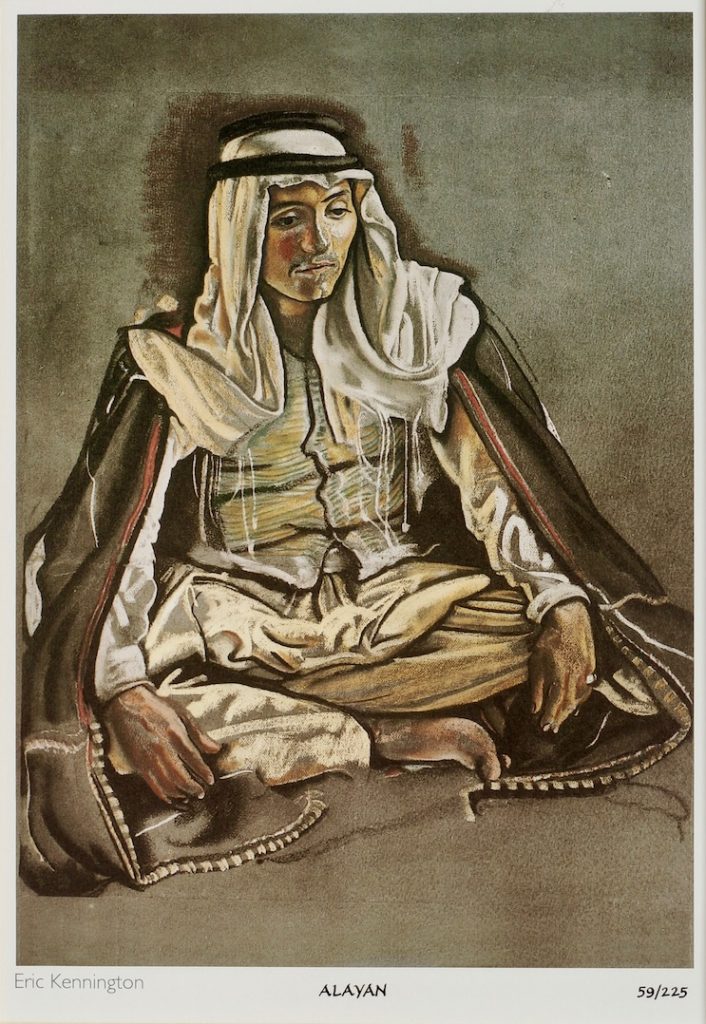 No. 59 of 225. In his preface to the Leicester Gallery's Catalogue of an Exhibition of Paintings, Pastels, Drawings and Woodcuts, Illustrating Col. T. E. Lawrence's Book "Seven Pillars of Wisdom" (London, 1927), Lawrence wrote of Kennington's portrait of Alayan that the subject 'was our most excellent informant in the War, but is looked down upon by his fellows because he took money for his work. He lost the money in a bad trading venture after the armistice, and now without either friends or substance must serve as a donkey-boy where he once walked free. His face shows his sense of the broken world about him: but when he was sent for to be drawn he ran home and put on his best clothing. It was not very good, but evidently he still has hope and self-respect' (Oriental Assembly (London, [1939]), p. 156).
£95
Click here to read the introduction to Eric Kennington's Arab Portraits.
· · · · · · · · · · · · · · · · · · · · · · · · · ·
To order this print and learn about the available delivery options, please contact us: enquiries@typeandforme.com. Our Terms & Conditions apply.