KENNINGTON, Eric Henri. 'Ghalib'. Fordingbridge: Castle Hill Press, 1997.
Colour print with calligraphic manuscript title and limitation, and printed artist's name and imprint below (338 x 257mm). Cardboard mount, as issued (500 x 400mm). A fine copy.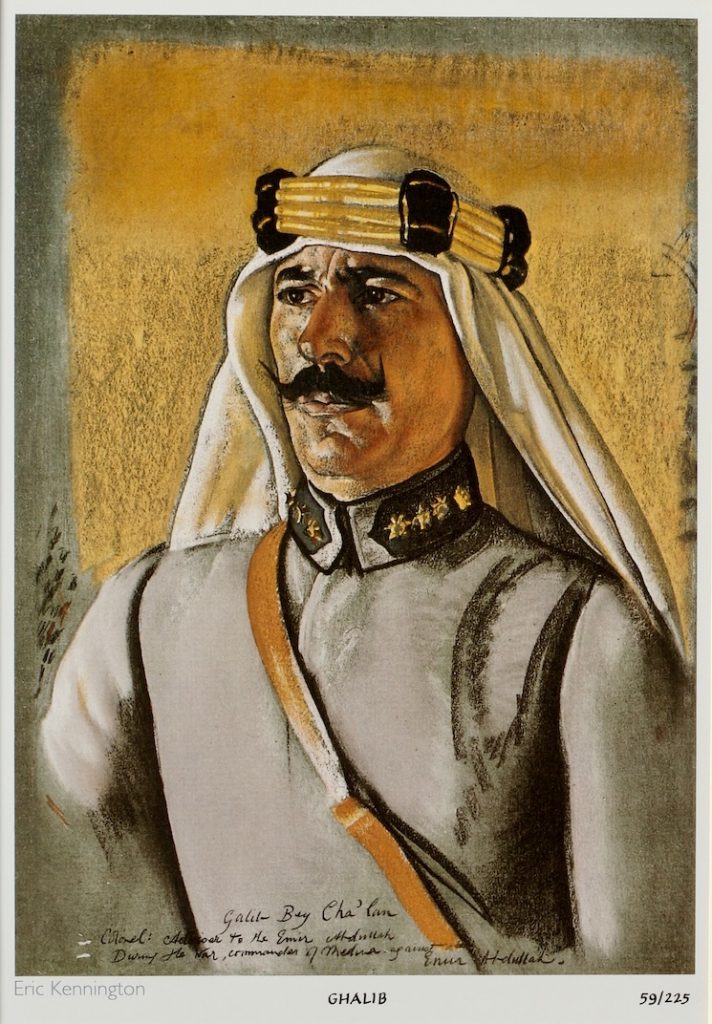 No. 59 of 225. Ghalib Bey has the distinction of being the only serving Turkish officer to be depicted in Seven Pillars of Wisdom (Jaafar Pasha had joined the Arab army in the course of the Arab Revolt). Ghalib Bey is mentioned twice by Lawrence in the text ofSeven Pillars of Wisdom (London, 1935): firstly as the commander of a Turkish force pursuing Arab forces in December 1916 (p. 119) and then in the description of an engagement between Arab forces under Feisal and the Turkish army, whose forces' 'command was in the hands of Ghalib Bey, who handled his troops with great keenness' (p. 127).
£95
Click here to read the introduction to Eric Kennington's Arab Portraits.
· · · · · · · · · · · · · · · · · · · · · · · · · ·
UK Orders
To order this print post-free within the UK, either use the button below to pay using PayPal or a credit card (using PayPal Guest Checkout), or email us: enquiries@typeandforme.com.
Postage

UK: FREE for items above £45 (otherwise £4.50 per item, added at checkout)

Rest of World: please contact us for a quote: enquiries@typeandforme.com

Multiple orders: we may be able to reduce postage costs! Please enquire: enquiries@typeandforme.com
Our Terms & Conditions apply.