PREPARED WITH WHITTIER'S ASSISTANCE AND CONTAINING 'ALL THAT I CARE TO PUBLISH'
WHITTIER, John Greenleaf. The Complete Writings … With Portraits, Illustrations, and Facsimiles. Boston and New York: The Riverside Press for Houghton Mifflin Company, 1892-1894.
7 volumes, octavo (189 x 126mm), pp. I: [1]-10, [2 (illustrations, verso blank)], [11]-435, [3 (blank)]; II: [2 (half-title, verso blank)], [1]-7, [8 (blank)], [2 (illustrations, verso blank)], [9]-347, [1 (blank)]; III: [2 (half-title, verso blank)], [1]-7, [8 (blank)], [2 (illustrations, verso blank)], [9]-376; IV: [2 (half-title, verso blank)], [1]-8, [2 (illustrations, verso blank)], [9]-453, [3 (blank)]; V: [2 (half-title, verso blank)], [1]-436, [2 (blank)]; VI: [3]-8 (half-title, verso blank, title, imprint, contents)], [2 (illustrations, verso blank)], [9]-437, [3 (blank)]; VII: [3]-8 (half-title, verso blank, title, imprint, contents)], [2 (illustrations, verso blank)], [9]-402. Portrait frontispieces retaining tissue guards in all volumes, 44 plates and one facsimile, all retaining tissue guards. (A few light spots or marks, some quires clumsily opened.) Original brown ribbed cloth, spines lettered in gilt and ruled in gilt at heads and tails, top edges gilt, others uncut, some quires partially unopened. (Extremities lightly rubbed and bumped, upper hinge of I cracking.) A very good, partially unopened set in the original cloth. Provenance: Clarence Griggs (engraved armorial bookplates on upper pastedowns).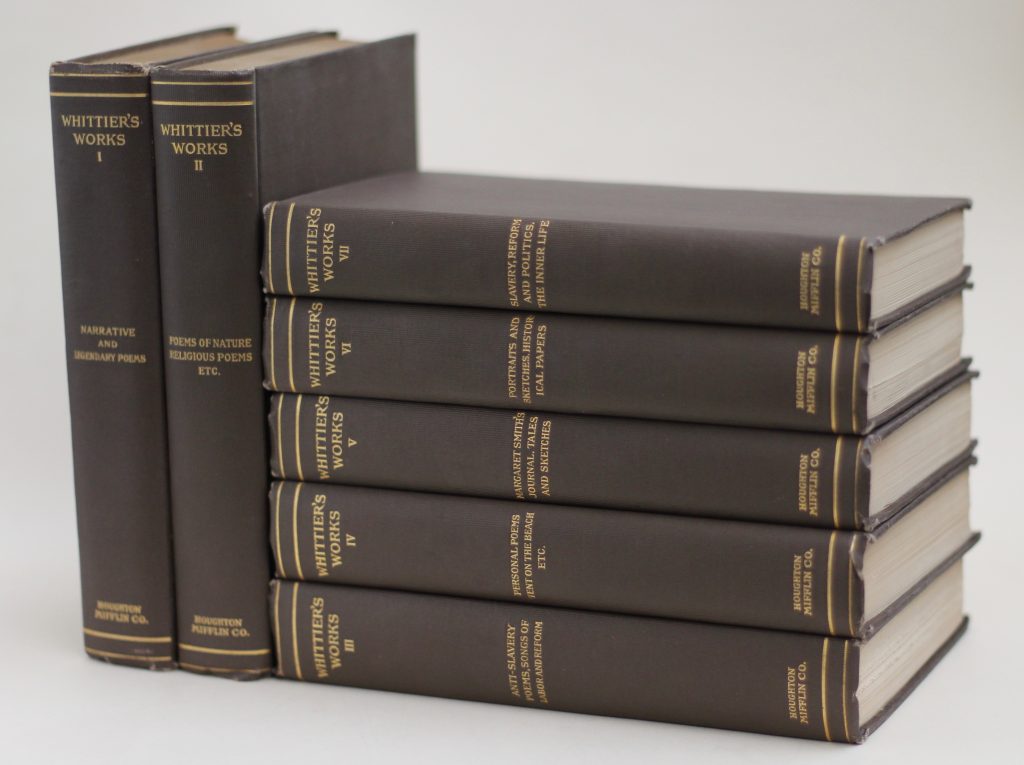 'Amesbury Edition'. The Amesbury Edition of the Complete Writings of Whittier (1807-1892) is divided into two sections: the first is 'The Poetical Works' (volumes I-IV) and the second is 'The Prose Works' (volumes V-VII). The text has a new introduction, but is essentially based upon the Riverside Edition of 1888, which was prepared with Whittier's assistance shortly before his death, and was intended to form a definitive edition of the works of the great American poet and abolitionist.
The text included a number of pieces which Whittier had not previously reprinted, and which he included with some reservations, as he explains in his introduction: 'Perhaps a word of explanation may be needed in regard to a class of poems written between the years 1832 and 1865. Of their defects from an artistic point of view it is not necessary to speak. They were the earnest and often vehement expression of the writer's thought and feeling at critical periods in the great conflict between Freedom and Slavery. They were written with no expectation that they would survive the occasions which called them forth: they were protests, alarm signals, trumpet-calls to action, words wrung from the writer's heart, forged at white heat, and of course lacking the finish and careful word-selection which reflection and patient brooding over them might have given. Such as they are, they belong to the history of the Anti-Slavery movement, and may serve as way-marks of its progress. If their language at times seems severe and harsh, the monstrous wrong of Slavery which provoked it must be its excuse, if any is needed. In attacking it, we did not measure our words. "It is," said Garrison, "a waste of politeness to be courteous to the devil." […] Grateful for the measure of favor which has been accorded to my writings, I leave this edition with the public. It contains all that I care to republish, and some things which, had the matter of choice been left solely to myself, I should have omitted' (I, pp. 14-15).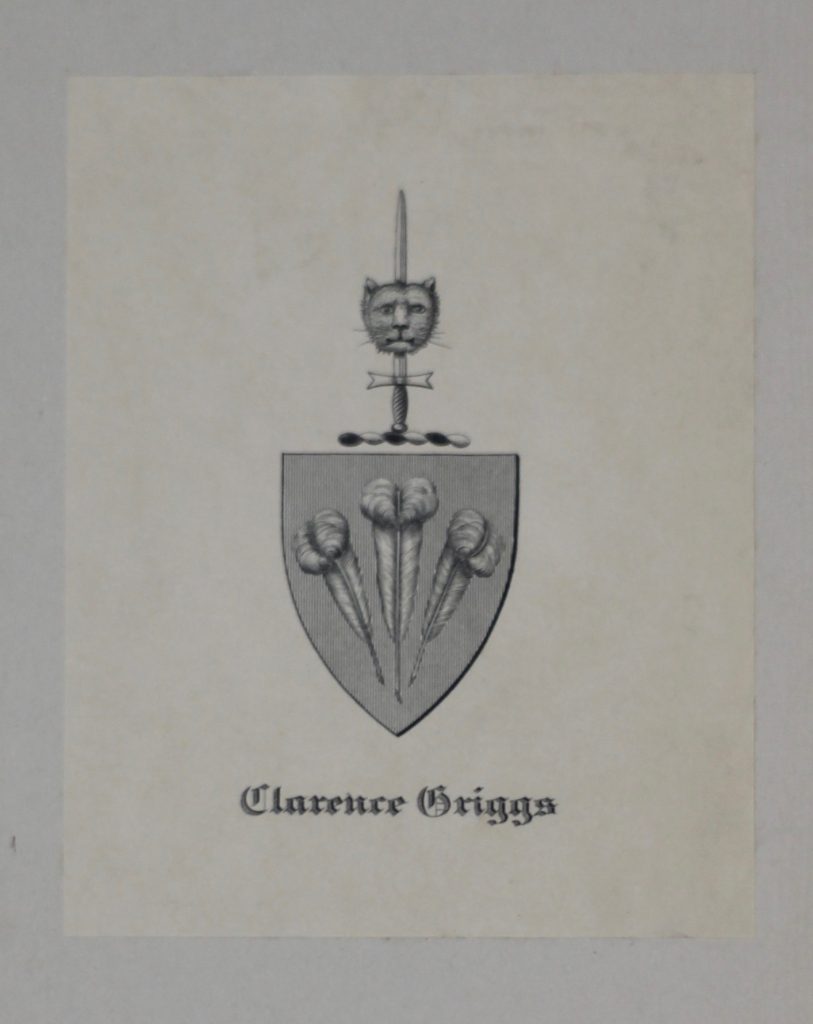 This set bears the late 19th-/early-20th-century armorial bookplates of one Clarence Griggs, likely the Clarence Griggs (1857-1939), who was born in Ottawa, Illinois and was educated at the University of Michigan. Griggs practised as a lawyer in Ottawa, and held the positions of Master in Chancery of the La Salle County Circuit Court (1898-1899) and County Attorney for La Salle County (1896-1910), and was also a director of the First National Bank of Ottawa. According to The National Cyclopædia of American Biography, Griggs 'was a gifted writer and orator and took a keen interest in literature' (vol. XXVIII, p. 63).
£175
· · · · · · · · · · · · · · · · · · · · · · · · · ·
UK Orders
To order this set post-free within the UK, either use the button below to pay using PayPal or a credit card (using PayPal Guest Checkout), or email us: enquiries@typeandforme.com.
Postage

UK: FREE for items above £45 (otherwise £4.50 per item, added at checkout)

Rest of World: please contact us for a quote: enquiries@typeandforme.com

Multiple orders: we may be able to reduce postage costs! Please enquire: enquiries@typeandforme.com
Our Terms & Conditions apply.