This article published by Dr Anke Timmermann (partner & co-owner of Type & Forme) in The Book Collector (Winter 2019) tells the story of the Glasgow chemistry professor John Ferguson (1838-1916), his remarkable chymical collections, and his claim to a place among the great historians of science.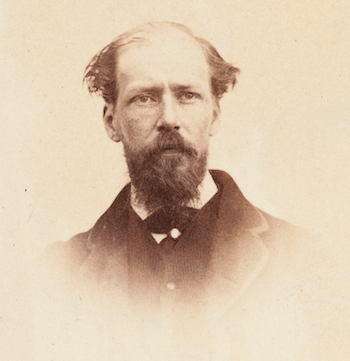 John Ferguson, photograph by John M. Thunsen, ca. 1869.
University of Glasgow Library Ferguson MS Photo A26, item 43
………………………….
Anke is a historian of science (PhD Cantab) and former Munby Fellow in Bibliography at the University of Cambridge, and at home in both the history of chemistry and rare book & manuscript collections. She has been familiar with the Ferguson collection of alchemical books and manuscripts since 2002, when she decided to pursue her MPhil by research at the University of Glasgow because of these exceptional alchemical collections.
In the article, research for which was generously supported by a University of Glasgow Library Fellowship, her experience as an antiquarian bookseller emerges (among other things) in a closer look at Ferguson's sources for his books and manuscripts, in Scotland, England, and abroad, from the mid-nineteenth century to his death in 1916. A tribute to a life lived in books and bibliography.