Update July 2020

The BITTOQ category has now been archived, but we continue our promise to deliver solace and entertainment in the form of books beyond the lockdown period:

Orders of books below £50 will continue to be shipped post-free within the UK, and can be ordered via PayPal or PayPal guest checkout. Simply click the button on any relevant book listing, follow the familiar order process from there, and we will look after the rest.
· · · · · · · · · · · · · · · · · · · · · · · · · ·
In a world of worrying news and in times of self-isolation, beautiful, historical, and interesting books can be a source of solace and entertainment. Therefore, we have introduced a new category of books: BITTOQ, Books In The Time Of Quarantine, are rare and collectible books below £50 that we will ship post-free within the UK to you, a dear friend, or loved one.
Simply go to our Books page and select 'BITTOQ' to browse.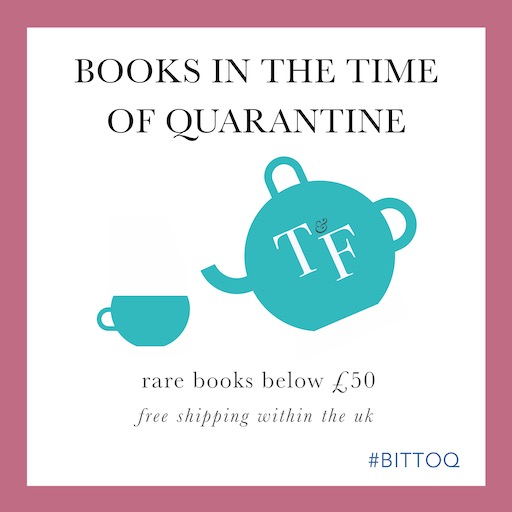 Wherever possible, we will pack books so that they will fit through a standard-sized mailbox. Any parcel worth £20 or more will be sent via Royal Mail signed-for services.
Please do not hesitate to email us with your wants, questions, or suggestions. We look forward to making your time a little more comfortable!

Anke & Mark of Type & Forme