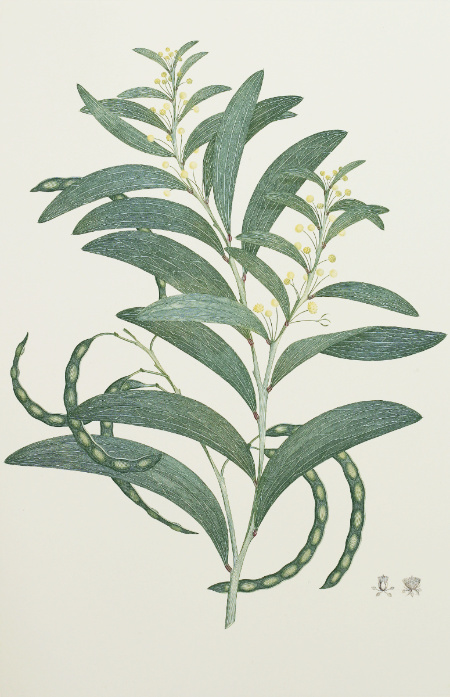 SYDNEY PARKINSON and FREDERICK POLYDORE NODDER (artists)
'Plate 89. Acacia Legnota, Pedley, Mimosa anceps (Leguminosae)'
London: Alecto Historical Editions in association with the British Museum (Natural History), 1980-1990
Engraving by Gerald Sibelius, printed à la poupée by Alecto Historical Editions
Limited to 116 impressions, this no. VIII of 10 hors de commerce and numbered 'HC VIII/X'
£510 inc. VAT
❧ ACACIA LEGNOTA, PEDLEY, MIMOSA ANCEPS (LEGUMINOSAE)
Species seen in Australia
17 June – 4 August 1770, see also below.
After the departure from Botany Bay, during the onward journey along Australia's east coast, HMB Endeavour struck a reef, and the necessary repairs – undertaken near the mouth of the Endeavour River, where modern-day Cooktown is located – delayed any further progress until August 1770. This second period spent on previously unexplored shores provided Banks and Solander with further opportunities to discover the flora of eastern Australia.

'As in New Zealand, the haul of plants was too great for Parkinson to do more than make sketches for elaboration later, by other hands, as it proved': Parkinson would not survive the journey back to England, so that others had to complete his work in England (Stearn, 'A Royal Society Appointment', p. 108).

This Acacia tree, which Banks and his team during one of their plant gathering campaigns in Australia, is now known by the common name of 'heath wattle'. The Acacia Legnota can be found on the Queensland coast, often along streams and in groves that are beautifully populated with its bright golden-yellow blossoms in June. Its flat seed pods are up to 12 cm long.

Interestingly, while the mount states (possibly in error) that Joseph Banks and his party saw this species at Endeavour River, the Natural History Museum, which holds both the original sketches and the finished drawings for Joseph Banks' Florilegium, notes the place of discovery as Botany Bay and Bustard Bay.
SPECIFICATIONS

The engravings are all of a very similar size, with platemarks of circa 457 x 305mm, and are printed on acid-free Somerset mould-made 300gsm paper manufactured by the Inveresk Paper Company. Each sheet is watermarked 'AHE', measures 724 x 556mm, and bears blind embossed stamps incorporating the publishers' and printer's chops, the copyright symbol, and date of publication; the initials of the individual printer, the plate number, and the edition number are recorded in pencil. The engravings are protected by a bifolium of acid-free Somerset mould-made 300gsm paper, cut to form a window mount on which is recorded the modern and Banksian names of the plant, the location and date of its collection and the name(s) of the artist and engraver.



© Type & Forme and Alecto Historical Editions/Trustees of the Natural History Museum 2020