'A FINE INTRODUCTORY TEXTBOOK NOT ONLY TO EVOLUTIONARY PSYCHOLOGY BUT ALSO TO MODERN PSYCHOLOGY IN GENERAL'
PLOTKIN, Henry. Evolution in Mind. An Introduction to Evolutionary Psychology. London: Clays Ltd, St Ives plc for Penguin Books, 1998.
Octavo (196 x 127mm), pp. ix, [1 (blank)], 276, [2 (advertisements)]. (Very lightly tones.) Original colour-printed wrappers. (Extremities slightly rubbed and bumped.) A very good copy. Provenance: Stephen John Keynes OBE, FLS(1927-2017).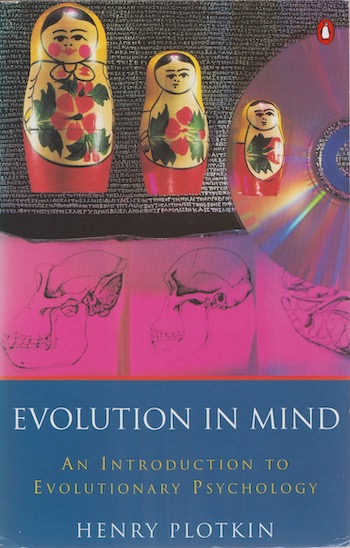 First wrappers edition, second printing. 'Evolutionary theory holds a vital key to understanding ourselves and is at the centre of modern biology. Yet, as Henry Plotkin shows in this brilliantly argued account, it has never been integrated into psychology, the very science that seeks to explain the processes of the mind' (blurb on rear wrapper). Massimo Piattelli-Palmarini considered Evolution in Mind 'terse and engaging, avoiding not only details and technicalities but also sensationalism and flippancy. It is, in a way, a concise encyclopaedia of psychology – if by psychology one means the natural science of the mind, with a strong emphasis on the word natural. […] By judiciously grafting selfish-gene theory, game theory, behavioural ecology and neural networks onto mainstream cognitive science, [Plotkin] provides a fine introductory textbook not only to evolutionary psychology but also to modern psychology in general' (Nature, vol. 391 (1998), pp. 138-139).
Evolution in Mind was first published in 1997 and this paperback edition appeared the following year.
£4.95
· · · · · · · · · · · · · · · · · · · · · · · · · ·
UK Orders
To order this book within the UK, either use the button below to pay using PayPal or a credit card (using PayPal Guest Checkout), or email us: enquiries@typeandforme.com.
Postage

UK: FREE for items above £45 (otherwise £4.50 per item, added at checkout)

Rest of World: please contact us for a quote: enquiries@typeandforme.com

Multiple orders: we may be able to reduce postage costs! Please enquire: enquiries@typeandforme.com
Our Terms & Conditions apply.