'FOR THE READER WHO LIKES TO ACCOMPANY A TRAVELLER TO FOREIGN SHORES': SEMON'S ACCOUNT OF HIS THREE-YEAR-LONG ZOOLOGICAL EXPEDITION THROUGH AUSTRALIA AND THE INDONESIAN ARCHIPELAGO
SEMON, Richard Wolfgang. In the Australian Bush and on the Coast of the Coral Sea. Being the Experiences and Observations of a Naturalist in Australia, New Guinea and the Moluccas. London: R. & R. Clark, Limited for Macmillan and Co., Limited, 1899.
Octavo (250 x 170mm), pp. xv, [1 (blank)], 552. Illustrations in the text after Semon and A. Giltsch, 35 full-page, and 4 folding maps by Stanford's Geographical Establishment printed in black and blue. (Occasional light spotting, some light, generally unobtrusive bumping or chipping of margins.) Original green cloth, boards with upper and lower borders of blind rules, spine lettered in gilt and ruled in blind, top edges gilt, others uncut. (Light offsetting on endpapers, a few light marks and bumps, extremities lightly rubbed, corners slightly bumped.) A very good copy in the original cloth. Provenance: The Times Book Club, London (bookseller's ticket on lower pastedown) – A.R. Partridge, 3 April 1914 (ownership inscription on front free endpaper) – Dorothy Geidt, 1934 (pencilled ownership inscription on front free endpaper).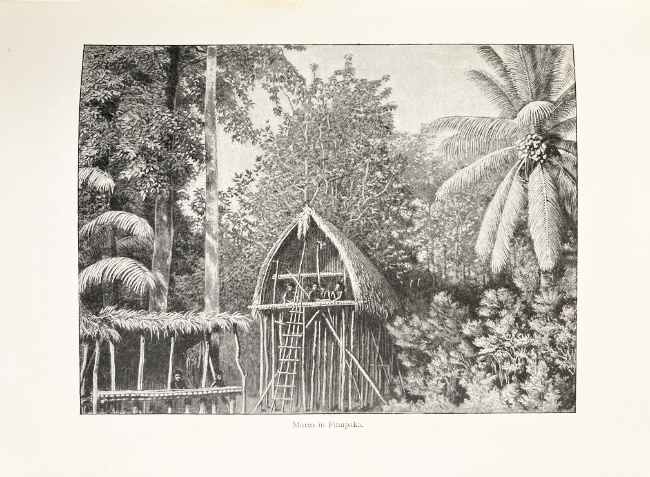 First English edition. The zoologist and traveller Semon (1859-1918) was born in Berlin and became interested in natural history through his reading of the works of Charles Darwin, Ernst Haeckel (Darwin's leading German disciple), and other naturalists. In 1879 Semon entered Jena University to study zoology under Haeckel and then in 1881 enrolled at Heidelberg University to study medicine, where he also attended lectures on zoology. He was awarded his doctorate at Jena for a thesis on 'Das Nervensystem der Holothurien' in 1883, and the following year he qualified as a medical doctor at Heidelberg. In 1885 Semon took part in Robert Flegel's last expedition to Africa but was forced to return home due to malaria; he instead spent 1885-1886 working at the Zoological Station in Naples with his compatriot Anton Dohrn (a scientific associate of both Darwin and Haeckel). Semon returned to Jena in 1886 to take up a position at the university. In 1891 he was appointed associate professor, but prior to commencing his new role he embarked on a scientific expedition to Australia and the Indonesian Archipelago (1891-1893).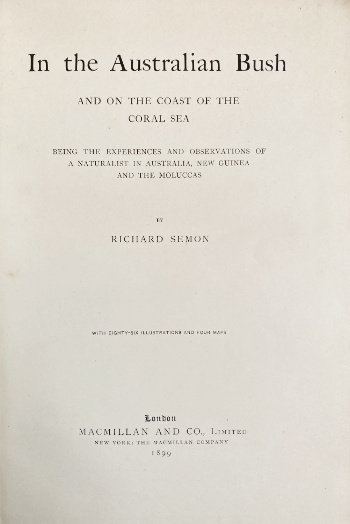 The results of his extensive travels through the area were published in four volumes as Zoologische Forschungsreisen in Australien und dem Malayischen Archipel (Jena, 1893-1913), which were 'important contributions to the vertebrate zoology of the explored regions' (Wood). Alongside these volumes detailing the scientific findings of the expedition, Semon published a popular narrative under the title Im australischen Busch und an den Küsten des Korallenmeeres. Reiseerlebnisse und Beobachtungen eines Naturforschers in Australia, New-Guinea und den Molukken (Leipzig, 1896; translated into English under the present title), since '[m]uch […] that I experienced and observed during my travels is ill-adapted to [Zoologische Forschungsreisen in Australien und dem Malayischen Archipel], which appeals exclusively to the professed naturalist. Many occasional observations concerning animals and plants, countries and their inhabitants, and the impressions produced by the sight of the Australian Bush, the Coral Islands of Torres Straits, the tropical charms of New Guinea, Java, and Amboyna, as well as a general picture of that far Australian world, its continents and islands, could only find expression in the freer and more popular form of a book of travel. Thus it is that this simple narrative, which perchance may offer some special interest to the naturalist, is intended for the reader who likes to accompany a traveller to foreign shores and nations; for him who does not mind entering into his labours and worries, but who, on the other hand, may perhaps find pleasure in sharing his delight in nature and in human life, a delight awaiting any one happy enough to behold those glorious regions with clear eyes and a responsive mind' (p. viii). In his 'Preface to the English Edition' (which is dated 'Summer 1898'), Semon states that the English text was 'written under my own superintendence' but 'its contents do not differ in any important particular from the German edition' (p. [ix]). Nonetheless, George Bond Howes, a distinguished English zoologist who saw the English edition through the press, 'improv[ed] it […] in various directions, particularly by some alterations made necessary by the progress of science since the commencement of the book' (loc. cit.).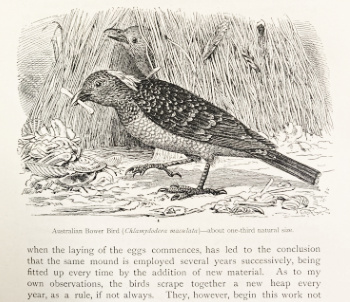 In the Australian Bush and on the Coast of the Coral Sea was well-received by critics, one reviewer writing that, following the publication of his scientific reports, 'Dr. Semon has given us further cause for gratitude, as he has narrated his varied experiences of travel, and has recorded numerous observations on the habits of animals that would either have been unrecorded or buried in the obscurity of a technical treatise. […] The author of "In the Australian Bush" […] is not only a trained laboratory student, but he is a field naturalist as well. He revels in the varied aspects of nature, whether it be the monotonous Australian bush or a glorious tropical jungle, and he is not ashamed to let the reader share his joy and enthusiasm' (Nature, vol. LX (1899), p. 169).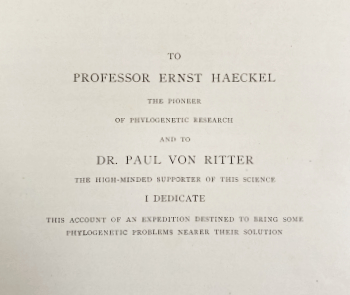 BM(NH) VIII, p. 1178; Ferguson 15574; A.S. Troelstra, Bibliography of Natural History Travel Narratives (Leiden, 2016), p. 398; Wood, p. 562.
£149.50
· · · · · · · · · · · · · · · · · · · · · · · · · ·
UK Orders
To order this book post-free within the UK, either use the button below to pay using PayPal or a credit card (using PayPal Guest Checkout), or email us: enquiries@typeandforme.com.
Postage

UK: FREE for items above £45 (otherwise £4.50 per item, added at checkout)

Rest of World: please contact us for a quote: enquiries@typeandforme.com

Multiple orders: we may be able to reduce postage costs! Please enquire: enquiries@typeandforme.com
Our Terms & Conditions apply.