MCINNES, Duncan. History of Co-operation in Lincoln 1861-1911. Manchester: Co-operative Wholesale Society's Printing Works, 1911.
Octavo (180 x 122mm), pp. 136. Title within decorative border, decorative tailpieces. Half-tone portrait frontispiece and 23 half-tone plates within the text. (A few light marks, a few ll. slightly creased at corners.) Original blue cloth, boards blocked in blind with border of broad and narrow rules enclosing foliate cornerpieces, upper board lettered and decorated in gilt. (Light offsetting on endpapers, spine slightly leant, upper board with a few light marks and slightly bowed at corners.) A very good, bright copy in the original cloth.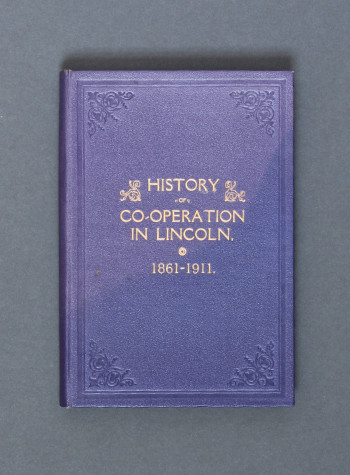 First edition. McInnes' work opens with an account of Lincoln's history down to the eighteenth century before discussing 'Early Organisations in Lincoln' – a history of the city's mediaeval guilds and other associations – and outlining the history of the co-operative movement in in the Midlands (whose claim to priority as pioneers above that of Rochdale is made strongly) and Lincoln. The Lincoln Co-operative Society 'began business in a humble way at No. 1, Napoleon Place, on July 17th, 1861' (p. 27) and soon established itself in the city, before expanding into the county with the foundation of branches at Welbourne, Owmby, Metheringham, Saxilby, Bardney, Horncastle, Sleaford, Market Rasen, Bassingham, Reepham, and Hackthorne. As the nineteenth century progressed, the Society broadened its aims, and McInnes devotes chapters to 'Housing of Members Begun, 1883', 'Corn Milling Begun, 1886', Free School Lane Extensions, 1888', 'Farming Begun, 1889', 'The Educational Department and Women's Guild', and 'The Building Department'.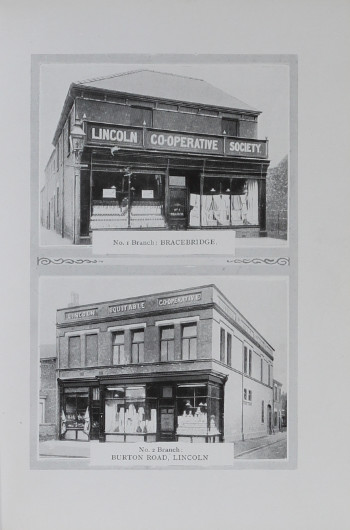 Chapter XIII, 'Conclusion', outlines the successes of the Society in a number of fields (while noting some setbacks and moribund periods), and closes with these words: '[the Society] is continually shedding the lustre of its intelligence and conferring its many benefits and advantages upon the struggling poor in the villages, where its borders are constantly being enlarged. Let us hope, then, that in the days to come the Society may continue to be actuated by this excellent spirit, which is promoting solidarity in the highest and best sense, and that it may never descend so low as to make mere materialism its god or to dissociate wealth from responsibility' (p. 131). The final two chapters provide a 'List of Presidents, Treasurers, and Secretaries from 1861 till 1910' and 'Statistics', which records the growth of the Society in five tables showing membership, capital, branches, etc.
History of Co-operation in Lincoln 1861-1911 is richly illustrated and documents the Society's buildings in Lincolnshire at the beginning of the twentieth century, many of which remain but have passed into new ownership (such as the Newport Arch branch, which is now a restaurant). It also provides a fascinating record of how the co-operative models developed in the industrial and urban settings of the Midlands and Lancashire were successfully adapted to the demands of a predominantly agricultural county.
£17.50
· · · · · · · · · · · · · · · · · · · · · · · · · ·
UK Orders
To order this book within the UK, either use the button below to pay using PayPal or a credit card (using PayPal Guest Checkout), or email us: enquiries@typeandforme.com.
Postage

UK: FREE for items above £45 (otherwise £4.50 per item, added at checkout)

Rest of World: please contact us for a quote: enquiries@typeandforme.com

Multiple orders: we may be able to reduce postage costs! Please enquire: enquiries@typeandforme.com
Our Terms & Conditions apply.