ROYAL BALLET MEETS FINE JEWELLERY – A RICHLY ILLUSTRATED LOVE LETTER TO TWO CRAFTS
BALLET – Charlie DAILEY and Edward EDWARDS (photographers). Pas de Deux. Inspired by The Royal Ballet. Photographs by Charlie Dailey. London: Pureprint Group for Condé Nast Publications Ltd., 2015.
Folio (296 x 209mm), pp. 135, [1 (blank)], [6 ('programme notes')], [2 (blank, imprint)]. 36 double-page, 14 full-page, and 25 half-page or smaller colour and monochrome photographic illustrations after Daley (Royal Ballet) and Edwards (jewellery), and 71 corresponding thumbnail photographs in the 'programme notes'. Original black-and-white photographically printed structured wrappers, printed on matte grey and glossy white paper stock. (Extremities very lightly rubbed and bumped, lower wrapper and part of book block slightly creased). A very good copy.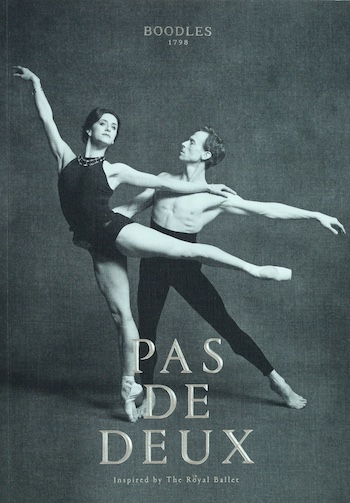 First and only edition. In 2015 the jewellers Boodles collaborated with the Royal Ballet in the creation of a jewellery collection inspired by dance, especially, as Rebecca Hawkins, Boodles' Director of Design, explains in the text, the dynamics, forms, tension, and embraces that form the shapes of the pas de deux. Richly illustrated with photographs – most in black-and-white, with selective use of colour – this book documents and showcases the collection, its inspiration, and history, and the images capture the movement of ballet, the craft of jewellery production, and the dynamic exchange between the two.
The six 'Acts' (i.e. chapters) are titled 'First Steps', 'Tour de Force', 'Pas de Deux', 'En Pointe', 'Rehearsals', and 'Backstage': 'First Steps: How Rebecca Hawkins […] finds her inspiration' was written by Luke Leitch, a writer on style, fashion and design for (among others) Vogue. 'Tour de Force' presents an interview with the director of the Royal Ballet, Kevin O'Hare, and places the techniques and uniqueness of the Royal Ballet into their historical context (with historic illustrations). 'Pas de Deux', by the award-winning historian and writer on jewellery Vivienne Becker, explains '[t]he high art of transforming gemstones into jewels'. The 'development and symbolism of classical ballet's famous dance duet' is explored by Sarah Crompton in 'En Pointe', and illustrated with historic images that show the duet's evolution through the centuries. 'Rehearsals' captures the working day of a dancer at the Royal Ballet 'from studio to stage', and 'Backstage' is a behind-the-scenes insight into the jewellery making at Boodles. A wonderfully rich and deep 'corps des textes et images' on ballet, the history of dance, the beauty of jewellery, and the skills and work that go into the creation of both.
£24.95
· · · · · · · · · · · · · · · · · · · · · · · · · ·
UK Orders
To order this book within the UK, either use the button below to pay using PayPal or a credit card (using PayPal Guest Checkout), or email us: enquiries@typeandforme.com.
Postage

UK: FREE for items above £45 (otherwise £4.50 per item, added at checkout)

Rest of World: please contact us for a quote: enquiries@typeandforme.com

Multiple orders: we may be able to reduce postage costs! Please enquire: enquiries@typeandforme.com
Our Terms & Conditions apply.