THE SIGNED LIMITED EDITION OF WILLIAMSON'S SHORT STORIES OF RURAL LIFE
WILLIAMSON, Henry William. The Village Book … Illustrated, Twice Only, by Sketches from the Original MS. London and Toronto: The Alden Press for Jonathan Cape, 1930.
Octavo (202 x 140mm), pp. [1-6 (blank, limitation, half-title, books by Williamson, title, imprint)], 7-8 (contents), [9-10 (prefatory note, blank)], 11-344, [2 (blank l.)]. Collotype portrait frontispiece, 2 illustrations after Williamson in the text, Williamson's wood-engraved owl device on final p. (A few light marginal spots or marks.) Original vellum-backed green cloth boards, upper board with Williamson's owl device in gilt, spine lettered in gilt, top edges gilt, others uncut and retaining all deckles, upper flap from dustwrapper pasted onto upper pastedown, lower flap loosely inserted, modern dark green cloth slipcase. (Some slight fading on boards, spine slightly discoloured and bumped at foot.) A very good copy. Provenance: G.A. Poynder Hunt & Co., Reading (bookseller's ticket on front pastedown with the address updated in manuscript, printed bookseller's promotional slip tipped onto inner margin of p. 309, address updated with red ink stamp) – Gatehouse Books, Settle (purchased by:) – Peter Danby-Smith (loosely inserted invoice).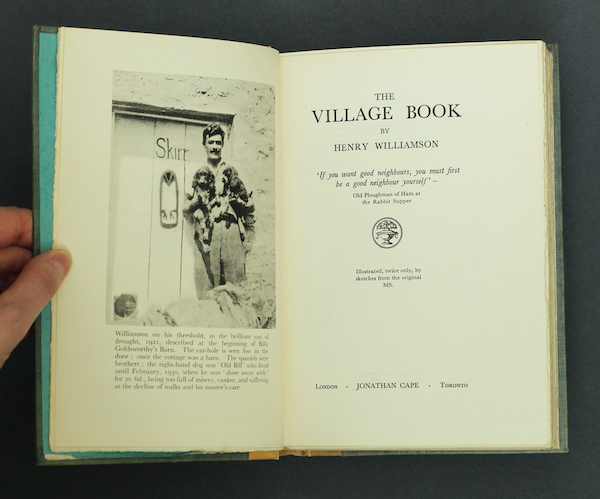 First edition, no. 72 of 504 copies signed by Williamson from the 'Special Signed Edition'. The Village Book presents 55 of Williamson's rural-themed short stories, written after his move to Georgeham ('Ham') in 1921 and covering the period of his residence there for the following nine years. It is divided into two sections: 'The Spirit of the Village: Winter and Spring' and 'Air and Light of the Fields and the Sea: Winter and Spring'. Several of the stories had been previously published elsewhere.
'The long [story] First Day of Spring which appears in The Village Book was submitted to Desmond McCarthy, editor of Life and Letters, under the pseudonym of John Barrowquail, accompanied by a letter which expressed the hope that the Editor would recognise original work and publish it. It shared the fate of the manuscript sent to another Editor […] and the inscribed copies of Dandelion Days […] sent to the late A.B. Walkley and the late Sir Edmund Gosse' (Girvan) – i.e. its receipt by McCarthy was never acknowledged, and hence it is uncertain whether it ever arrived.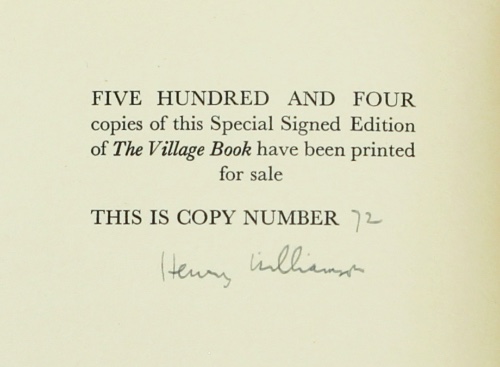 'The original contract [with Jonathan Cape] for the book is dated 1 June 1928, with a provisional title of "LIFE IN A WEST COUNTRY VILLAGE"' (Henry Williamson Society website), but Williamson missed the submission date at the end of the same month, and it would take two more years for the book to be published. The trade issue of the first edition of The Village Book 'consisted of between 2,000 and 3,000 copies' (Girvan), and was published simultaneously with this limited signed edition.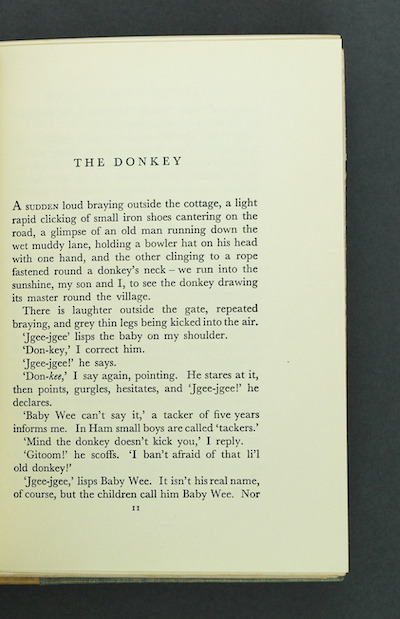 Williamson's book was generally very well received by the critics; indeed, the publication was so successful that, in 1945, most of the stories from both The Village Book and its successor, The Labouring Life (1932), were rearranged and revised to form the compilations published as Tales of a Devon Village and Life in a Devon Village by Faber and Faber Limited.
I. Waveney Girvan, A Bibliography and a Critical Survey of Henry Williamson, pp. 47-48; Hugoe Matthews, Henry Williamson. A Bibliography, A14 (1930a ii).
£95
· · · · · · · · · · · · · · · · · · · · · · · · · ·
UK Orders
To order this book post-free within the UK, either use the button below to pay using PayPal or a credit card (using PayPal Guest Checkout), or email us: enquiries@typeandforme.com.
Postage

UK: FREE for items above £45 (otherwise £4.50 per item, added at checkout)

Rest of World: please contact us for a quote: enquiries@typeandforme.com

Multiple orders: we may be able to reduce postage costs! Please enquire: enquiries@typeandforme.com
Our Terms & Conditions apply.