PHOTOGRAPHS OF LATE-NINETEENTH-CENTURY ITALY
BY FRATELLI ALINARI, SOMMER, AND OTHER LEADING STUDIOS
Oblong folio (250 x 350mm). 58 large (circa 200 x 255mm) and 8 small (circa 155 x 100mm) black-and-white photographic prints produced by various techniques mounted on the 30 guarded-in card leaves of the album and the front and rear flyleaves, one print circular, the remainder rectangular, many with a caption and order number in the negative or on white border below, 5 trimmed photograph captions and 2 manuscript slips with captions loosely inserted. (Occasional light browning and marking of mounts, some variable, mainly marginal fading of prints, short splits on a few guards, one loosely inserted caption torn in half.) Original late-19th-century Italian full vellum gilt by Olivieri (signed in gilt 'Olivieri Leg.' at the foot of the spine), boards with gilt roll-tooled borders within red rules, enclosing red-ruled panels with gilt floral cornerpieces, upper board titled in gilt, spine gilt in 5 compartments between multiple gilt rules enclosing ornamental central tools, endleaves of patterned green-and-yellow-printed woven silk, maroon fabric hinges, all edges red. (Light offsetting on free endleaves and flyleaves, extremities lightly rubbed and bumped, boards a little marked and slightly rubbed, small chip on spine.) Very good condition overall. Provenance: Late 19th-/early 20th-century [?retailer's] note of contents and price pencilled onto verso of front free endpaper ('30 fogl. L22') – two loosely inserted slips with manuscript captions in English in a late 19th-/early 20th-century hand.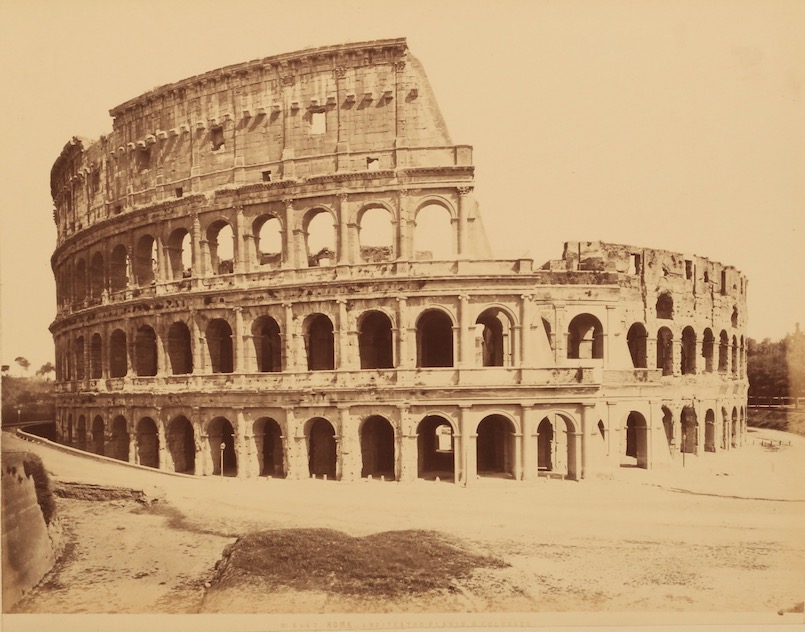 A handsomely bound collection of photographs of the architecture, art, and archaeological sites of Italy, prefaced by the portraits of King Umberto I of Italy (1844-1900, reg. 1878-1900) and his wife, Margherita of Savoy (1851-1926), and ending with two portraits of Italian women in regional costume (these four portraits mounted on the flyleaves). The cities and areas depicted are Naples, Bologna, Verona, Florence, Venice, Pompeii, Rome, Ercolano, Lugano, the Lago Maggiore, Pisa, and Genova, and the museums and artworks include the Uffizi, the Galleria Pitti in Florence, and Michelangelo's Last Supper from the Convent of Santa Maria delle Grazie in Milan.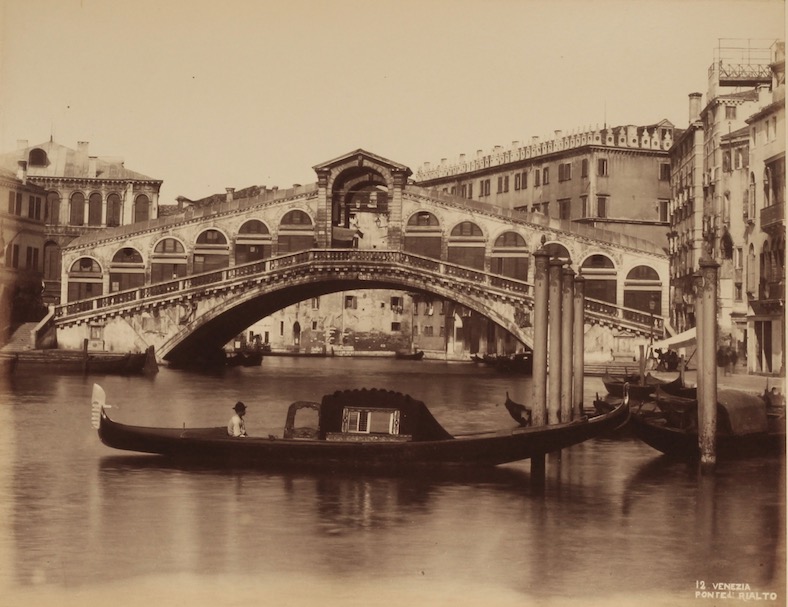 Late nineteenth-century English travel guides to Italy offered travellers advice on buying photographs of the scenes represented in this album, and these images were so popular that some Italian photographers sold prints internationally. This album, however, contains photographs from at least six different studios, so that it seems likely that the photographs were purchased from various studios or retailers by a tourist travelling through Italy, and then inserted into this album, which was acquired in Rome, most probably between 1881 (the date of the later Alinari photographs) and the death of Umberto I in 1900 (and likely before 1892, when Alinari began renumbering their library of images). The selection is discerning, and the majority of the images came from highly-regarded and well-known studios, suggesting that the album was compiled for a wealthy traveller with an informed and educated interest in the architecture, arts, and archaeology of Italy.
Sixteen of the photographs – nearly a quarter – are from the renowned studio Fratelli Alinari, which was established in Florence in 1854 by the brothers Leopoldo, Giuseppe, and Romualdo Alinari, and continues to the present day. The studio quickly acquired a reputation for its views of historic monuments and panoramas of cities, and its reproductions of works of art, winning second prize at the Exposition universelle in Paris in 1855 and a gold medal at the Brussels Exposition universelle de photographie of 1856, and enjoying the patronage of the Italian royal family. Their reputation grew in Britain after John Ruskin praised their work and Prince Albert commissioned photographs of Raphael's drawings from the studio, and by the end of the nineteenth century Fratelli Alinari were selling their photographs to 'a vast public, from the most eminent scholars, especially those of art history, to wealthy foreign tourists' (J. Hannavy (ed.), Encyclopaedia of Nineteenth-Century Photography (New York and London, 2008), p. 26).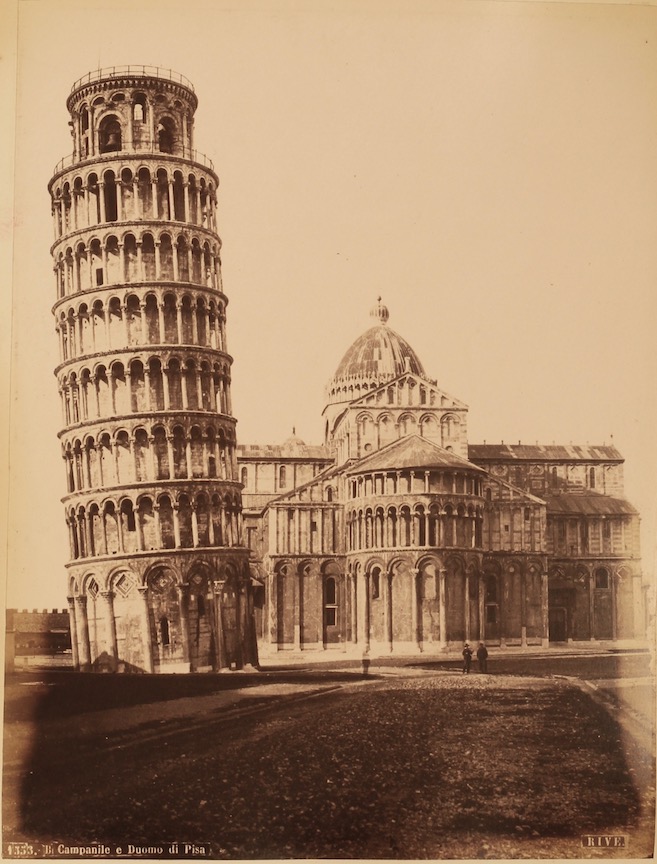 Alinari periodically published catalogues of their photographs, which enable the photographs in this album to be dated: the latest examples appeared in the 1881 catalogue and none of them use the new numbering system introduced in 1892, indicating that the album was compiled before that date. The album contains eight photographs listed in Alinari's 1873 catalogue, comprising: 'No 1958 Firenze, Piazza della Signoria Loggia dei Priori detta de Lanzi (Orcagna)', 'No 1949 Firenze, Palazzo Vecchio (Arnolfo di Lapo)', 'No 1822 Firenze, La Cattedrale (Vista dal P. Pretorio)', 'No 1862 Firenze, Chiesa di S Croce, Piazza e Monumento a D Alighieri', 'No 1892 Firenze, Chiesa di S Marco il Chiostro, Ora Museo', 'No 2593 Firenze, Galleria Uffizi La Visitatione (Mariotto Albertinelli)', 'No 2999 Firenze, Galleria Pitti, Madonna della Seggiola (Raffaello)', 'No 3289 Firenze, Galleria Pitti Ritratto di Leonardo da Vinci', 'No 6502 Roma, Castello e Ponte S. Angelo (con Veduta del Vaticano[)] e S. Pietro', 'No 6470 Roma, Basilica di San Pietro (Bramante, Michelangelo ed Altro Maestri)', 'No 6482 Roma, Campidoglio (Michelangelo)', 'No 6528 Roma, Foro Romano, Visto dal Campidoglio', and 'No 6533 Roma, Foro Traiano'; six photographs listed in the 1876 supplementary catalogue, comprising: 'No 6502 Roma, Castello e Ponte S. Angelo (con Veduta del Vaticano[)] e S. Pietro', 'No 6470 Roma, Basilica di San Pietro (Bramante, Michelangelo ed Altro Maestri)', 'No 6482 Roma, Campidoglio (Michelangelo)', 'No 6528 Roma, Foro Romano, Visito dal Campidoglio', 'No 6533 Roma, Foro Traiano', and 'No 6447 Roma, Anfiteatro Flavio o Colosseo'; and two photographs from the supplementary catalogue of 1881: 'No 9632 Bologna Le Torri Garisenda e Asinelli (del XII. Secolo)' and 'No 6328 Firenze, Panorama della Citta visto da S Miniato al Monte'.
The album also contains six images from the studio of the celebrated photographer Giorgio Sommer (1834-1914), who had been born in Frankfurt and established his own business in 1853. In 1857 he emigrated to Italy and set up studios in Naples and Rome, and the high standard of his work led to his appointment as official photographer to Victor Emmanuel II, the king of Italy. Sommer was mainly resident in Naples, and established a very beneficial relationship with Giuseppe Fiorelli, the director of excavations at Pompeii, which enabled him to create a celebrated series of images of the archaeological excavations in the area, two of which are present in this album. The images of Pompeii and the landscapes which he also produced ensured the popularity of Sommer's photographs amongst tourists, and his 'studio became something of a tourist attraction in its own right' (V.C. Gardner Coates, K.D.S. Lapatin, and J.L. Seydl, The Last Days of Pompeii (Los Angeles, 2012), p. 221). The photographs by Sommer are titled '7075 Lago Maggiore. Panorama da sopra Stresa', '7050 Lugano, Panorama da Monte S. Salvatore', '7031 Lago di Como, Cernobbio Panorama', '7021 Lago di Como, Bellagio dalla Villa [?]Giuseppe', 'No 1290 Panorama di Ercolano', and 'No 1293 Ercolano Casa d'Argo'.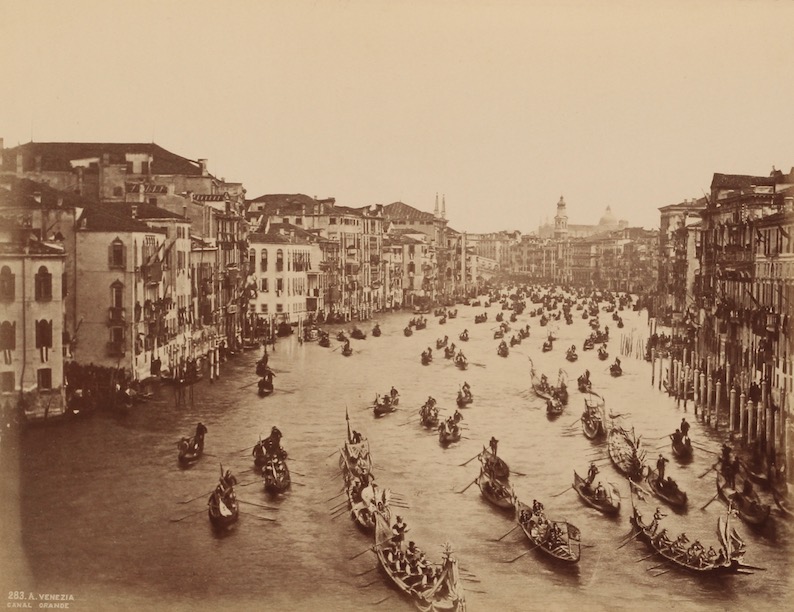 Venice is depicted in six photographs by the studio of the renowned Italian photographer Carlo Naya (1816-1882), who studied law at the University of Pisa, before travelling extensively for some years. In 1857 he established his studio in Venice, which was particularly noted for its views of the city's monuments and works of art, and his achievements were recognised by the Great Medal at the Universal Exhibition of London (1862), and gold medals at the exhibitions of Groningen (1869) and Dublin (1872). The six images are: '11 Venezia Canal Grande', '283. A. Venezia Canal Grande', '12. Venezia Ponte Rialto', '36. Venezia Canale di Canonica', '48. Venezia Piazza S Marco', and '6. A. Venezia Scala dei Giganti'.
Roberto Rive of Naples (fl. circa 1860-1890) is represented by eight photographs: 'Pozzuoli, Porto, Ponte Caligola e Capo Miseno No 103', 'Napoli, Pozzuoli, Tempio di Serapide, No 105', 'No 407, Veduta del Foro civile di Pompei', 'No 460, Casa di Diomede di Pompei', 'No A 414, La Basilica di Pompei', '1553 Il Campanile e Duomo di Pisa', 'No 2050 Genova, Scala dell' Università', and 'Genova veduta dalla Chiesa di S Maria di Carignano No 2017'. Of the other studios represented in the album, two views of Bologna ('No 268 Via Ugo Bassi' and 'No 295 Campo Santo, Sala Colombari') come from 'Fotografia dell'Emilia', the famous Bolgnese studio of Pietro Poppi (1833-1914), and another is from the Amodio studio in Naples ('Naples de Capodimonte').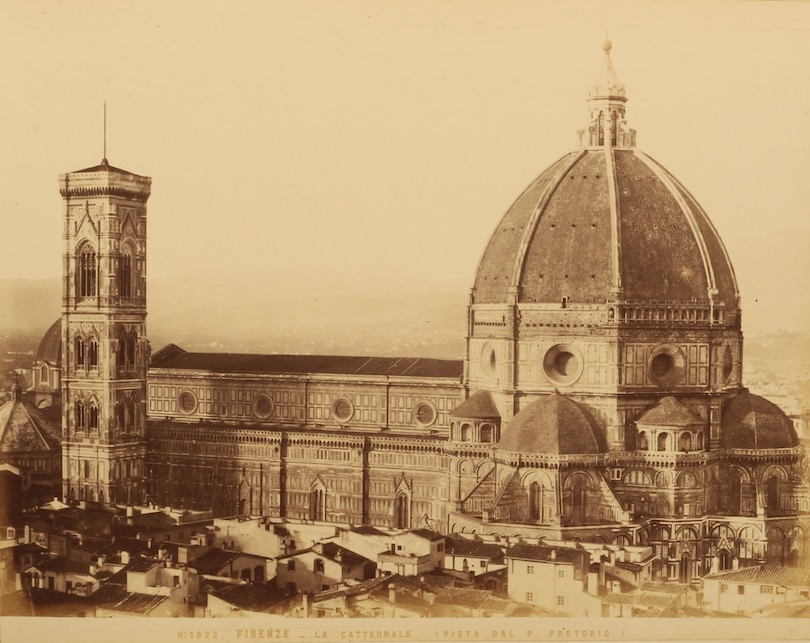 The album itself was made by Oliveri in Rome, a bindery famous for its decorated bindings in vellum and other materials, which were awarded a prize at the International Exhibition of 1862 in London and a bronze medal at the Exposition universelle in Paris in 1867. The contemporary Handbook of Rome and its Environs (10th edition, London: John Murray, 1871) offers this advice on bookbinders: 'Rome was formerly celebrated for its bindings in white vellum, but which has fallen off since the cessation of the manufacture of that article in the Abruzzi: the best are Olivieri, Piazza di Spagna, at the corner of Via Frattina, especially for ornamental bindings; Moschetti […]; Volpari […] and Bencini' (p. xxii).
SOLD
· · · · · · · · · · · · · · · · · · · · · · · · · ·
Our Terms & Conditions apply.