FIRST EDITION BOUND IN QUARTER BLACK CRUSHED MOROCCO
FLEMING, Ian Lancaster. On Her Majesty's Secret Service. London: The Alden Press for Jonathan Cape, 1963.
Octavo (188 x 120mm), pp. 288. (Light spotting on edges of bookblock, l. B10 lightly creased.) Modern black crushed morocco backed cloth, spine divided into compartments by silver rules and lettered directly in one, black endpapers, upper and lower pastedowns with 'ski-track' motif in silver. A very good copy.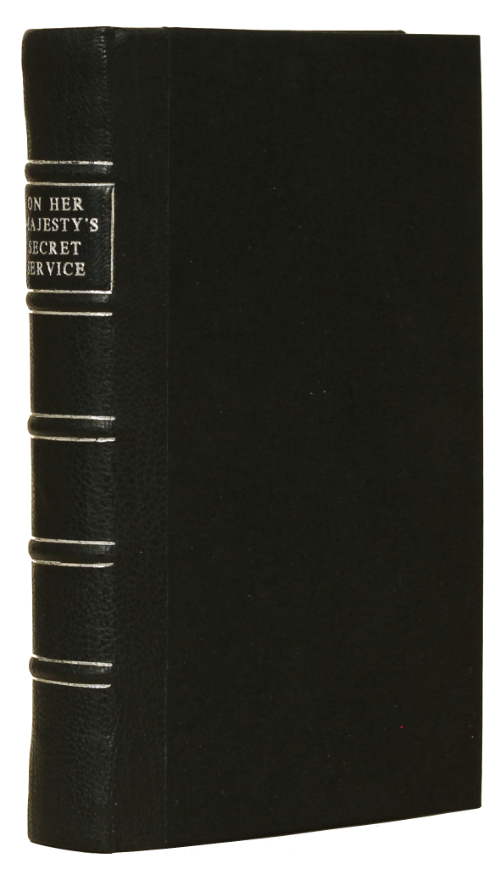 First edition. On Her Majesty's Secret Service was Fleming's eleventh James Bond book: '[a]fter the relative disappointment of The Spy Who Loved Me, Ian Fleming made a concerted effort to produce another James Bond novel adhering to the tried and tested formula, which was exactly what happened, being peppered with nods to his past glories. The reappearance of Blofeld and SPECTRE links the story with Thunderball, the last traditional Bond episode before the experimental novel, and we are reintroduced to the Deuxième Bureau headed by René Mathis. In Tracy, we find Fleming's most complex heroine since Vesper Lynd of Casino Royale, whose resting place is mentioned herein. Indeed, the opening scenes occur in and around Royale-les-Eaux and its famous casino, which was the setting for the earlier epic encounter with Le Chiffre, and Bond's old enemy SMERSH; his memorable foe, up until From Russia, With Love, is mentioned several times here. Bond's father-in-law Draco reminds us of 007's avuncular ally Darko in From Russia, With Love – even the names are virtually the same; and Irma Bunt is vaguely reminiscent of Rosa Klebb, both in name and hideousness. For a good period of the story James Bond needs to assume an alias, which was the case in most of the early novels including Live and Let Die and Dr No (as Mr Bryce), Moonraker (as Detective Sgt James) Diamonds are Forever (as Peter Franks) and From Russia, With Love (as David Somerset). Towards the end of the novel, Tracy accuses Bond of selfishness "the way you go on playing Red Indians", which was another explicit reference to Casino Royale' (Gilbert, p. 351).
Gilbert notes that 44,625 copies of the first edition were bound for publication. This copy has been attractively rebound in quarter black crushed morocco over black cloth, and the 'ski-track' motif blocked in white on the boards of the original binding has been reproduced in silver on the black endpapers.
Gilbert, Ian Fleming, A11a(1.1).
£175
· · · · · · · · · · · · · · · · · · · · · · · · · ·
UK Orders
To order this book post-free within the UK, either use the button below to pay using PayPal or a credit card (using PayPal Guest Checkout), or email us: enquiries@typeandforme.com.
Postage

UK: FREE for items above £45 (otherwise £4.50 per item, added at checkout)

Rest of World: please contact us for a quote: enquiries@typeandforme.com

Multiple orders: we may be able to reduce postage costs! Please enquire: enquiries@typeandforme.com
Our Terms & Conditions apply.