A COMPLETE SET OF MATRIX DOWN TO 2016,
FROM THE LIBRARY OF JEREMY WILSON, A CONTRIBUTOR & THE CO-FOUNDER OF THE CASTLE HILL PRESS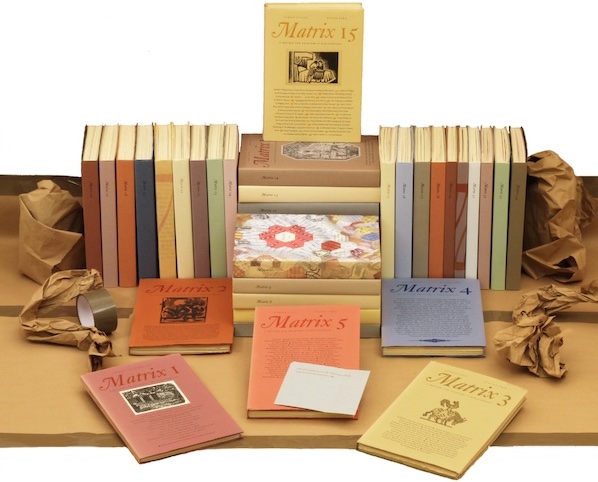 A Printer's Prayer

O Great Master Type-setter, set me straight upon my feet so that I may have strength in my body, lock me up in the forme of the world that I may fit well with my fellow types to become the good word, plane me down that I be not conceited, preserve my face that I may make a good impression for thee, and when I have served my utmost, let me at last go into the melting pot in content that I may be recast into a new and better type. Amen

from Book of Typefaces, colophon to Matrix 2

RANDLE, John (editor). Matrix. A Review for Printers & Bibliophiles. Issues 1-34. Andoversford and Risbury: The Whittington Press, 1982-2016.

£4,950

Physical description at bottom of page.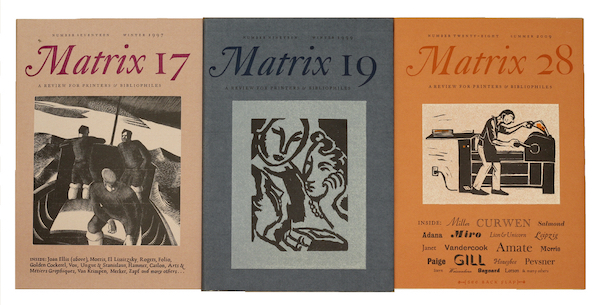 As 'almost certainly the last typographic journal to be printed by letterpress from metal type', Matrix is the acclaimed, finely produced journal of the Whittington Press. 'We estimated that when Matrix entered its fourth decade in 2011 it contained some "7000 pages, 800 articles, and innumerable broadsides, tip-ins and colour plates". It is this third-dimensionality that gives Matrix [. . .] its unique flavour' (Whittington Press website). Indeed, it was a success from the very beginning, and the first issue of Matrix – which had been produced in an edition of 350 copies in response to interest expressed by prospective subscribers to an advertisement in American Fine Print – was quickly sold out (this set includes the 1985 reprint of the rare first issue).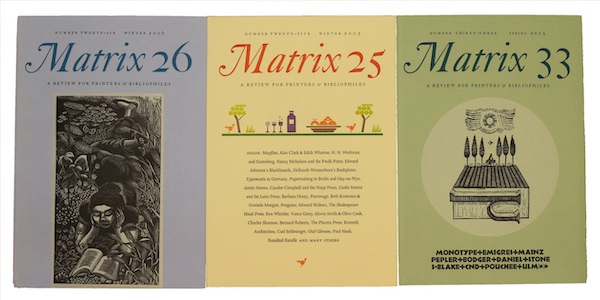 Matrix's contributors include Enid Marx, Sebastian Carter, Brooke Crutchley, Douglas Cleverdon, Richard Kennedy, Christopher Skelton, Leonard Baskin, George Ramsden, and a large number of other notable printers, illustrators, artists, engravers, paper makers, librarians, booksellers.
The articles discuss key figures in the history of private press, from Edward Bawden, Bruce Rogers, Reynolds Stone, and Eric Ravilious to Harold Curwen, Edward Johnston, Berthold Wolpe, and Enid Marx, and printing phenomena like Printing & the Mind of Man or Verve, to name but a few.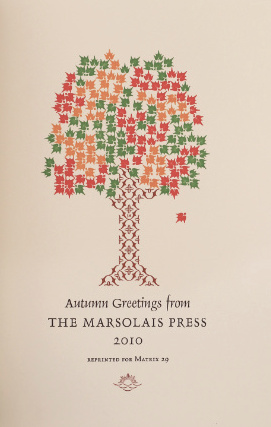 Both authors and subjects of Matrix cover all of the major private presses and a large number of the small presses, including the Alcuin Press, The Bodley Head, Clover Hill Press, Corvinus Press, Curwen Press, St Dominic's Press, Doves Press, Gregynog Press, Hogarth Press, Kelmscott Press, Nonesuch Press, Rampant Lions Press, Stinehour Press, Talbot Press, Trianon Press, and Westminster Press, and many others.
Women engravers, illustrators, collectors, and printers, among others, feature widely, see e.g. Maureen Richardson, 'Paper as an Art Form' (accompanied by a sample of her blind-stamped hand-made paper, (issue 6), a silk screen print of an illustrated poem by the actress-turned printer Gloria Stuart signed by Stuart (8), one of a series of four mezzotints printed by Shirley Jones in an edition of 300 sets of four copies for Matrix, signed in pencil (9), and Joanna Jamieson, O.S.B., 'Letters to a Ditchling Disciple' (i.e. letters from Desmond Chute, assistant to Eric Gill, to Sister (Dame) Werburg (Eileen Grace Welch), in Matrix 14, with illustrations of wood-engraving techniques and plates of wood-engravings).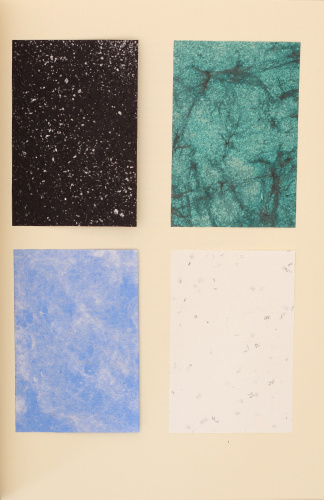 Papermaking and paper arts feature widely, e.g. in Matrix 3, where Maureen Richardson discusses 'Papermaking by Hand', and Anne Chambers' 'Techniques of Marbling Paper' (issue 11), which contains three samples of Compton marbled paper alongside the article by Solveig Stone (15). Maureen and Brian Richardson's 'Paper, Papyrus and Pseudo-Papyrus' includes one sheet of papyrus made by the Ragab Papyrus Institute, Cairo, and one of Richardson's vegetable (leek) papyrus. There are also samples of wallpapers in Olive Cook's article 'Peggy Angus and her Wallpapers' (16); and Musa Igrek discusses 'Mustafa Düzgünman's School of Turkish Marbling (Ebru)' (31).
Further noteworthy are the tipped-in samples of Curwen pattern papers designed by Albert Rutherston, Paul Nash, Eric Ravilious and Graham Sutherland (5), and samples of Curwen Papers designed by Elizabeth Friedlander (20).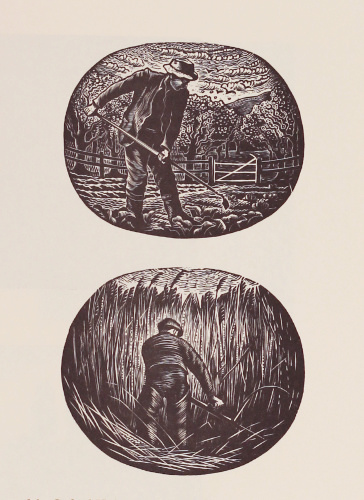 Matrix presents a number of personal accounts and correspondences of those working at the printing press, in the type foundry, at the engraver's table, in the bindery, and in other crafts and employments around the production of private press books, their materials, and their illustrations, generally otherwise unpublished – e.g. Richard Kennedy's account of 'My First Day at the [Hogarth] Press' illustrated with a line drawing of Virginia Woolf (issue 1), Brooke Crutchley on 'The Cambridge University Press in the Early '30s' (4), Joanna Selborne, 'Eric Ravilious and The Golden Cockerel Press: Correspondence with Robert Gibbings 1926-29' (14), Anne Ridler on 'Working for T.S. Eliot' at the OUP (21), or Peyton Skipwith, 'Correspondence with Edward Bawden, 1972-1989' (34).
Illustrations of types, proofs, presses, and workshops further bring the book production-related crafts of the past and present to life; fonts are often printed for Matrix from the original types, and other materials produced specifically in limited edition.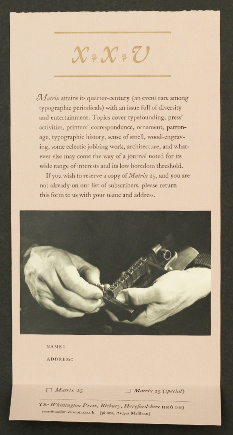 The bound-in booklets are numerous and varied, and include John O'Connor, 'Twins', with coloured linocuts (issue 11) and 'An Alphabet and Initials Engraved on Wood by Eric Gill' designed and printed for Matrix by Sebastian Carter at the Rampant Lions Press (15), among many others.
The loosely-inserted materials preserved with this set comprise, among others, finely produced advertisements for Christopher Skelton, The Engravings of Eric Gill (Skelton's Press Limited, 1983), 'Joseph Fry's Baskerville Revived!' (Fleece Press), The Whittington Press' projected Wallpapers at the Curwen Press with an introduction by David McKitterick, Miriam Macgregor's Midwinter, as well as a projected limited edition of The Black Figures of Edward Gordon Craig by Christopher Skelton, and others. A folding advertisement for the Whittington Summer Show 1985 by the Whittington Press with wood-engraving by John Lawrence, and a bifolium 'The Country Mouse and the Town Mouse, Illustrated by John R. Biggs' are particularly charming.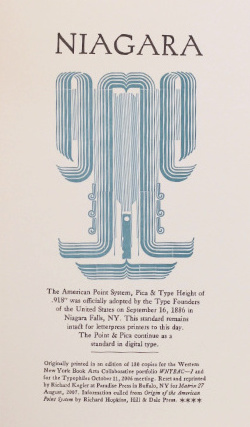 Finally, it is worth noting that Matrix is very international in its outlook. Numerous contributions on world private press printing include articles on South America (e.g. Catherine Dixon and Henrique Nardi, 'Letterpress from the Street: Gráfica Fidalga, São Paolo'), Taiwan (e.g. on modern Taiwanese sheets of cash and ceremonial papers), Japan (including articles on Japanese patterned papers and on 'Juzo Takaoka, Japanese Master-Craftsman' (Matrix 32)), and a number of articles discussing and featuring samples of Chinese woodblock prints, paper cuts, ceremonial papers, decorated papers, and prayer sheets.
Modern American private presses (and samples of their work, e.g. a Wayzgoose broadside, Matrix 19) and presses in Australia (e.g. the tipped-in 'Pattern for Plain Heart' by Sue Wootton, Ampersand Duck, 2012 (Matrix 31)) feature widely.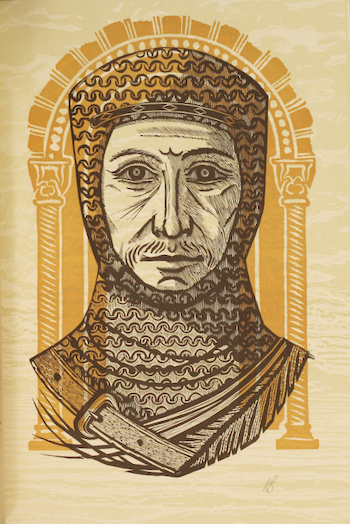 The Whittington Press was founded by John and Rosalind Randle in 1971 in the Gloucestershire village of Whittington. Its first book, Richard Kennedy's A Boy at the Hogarth Press (1972), was followed by a number of iconic publications, which included T.E. Lawrence's Letters to E.T. Leeds (1988), which was edited and introduced by the distinguished Lawrence scholar, Jeremy Wilson, who was the previous owner of this set. Wilson was also the editor of T.E. Lawrence's Minorities (London, 1971), and the author of the National Portrait Gallery catalogue T.E. Lawrence: Lawrence of Arabia (London, 1988) and the authoritative biography Lawrence of Arabia: The Authorised Biography of T.E. Lawrence (London, 1989). Jeremy Wilson was also the co-founder, with his wife Nicole, of the Castle Hill Press, which has published scholarly editions of works by Lawrence and the definitive series of Lawrence's letters.
In 1985 Wilson contributed 'T. E. Lawrence and the Printing of Seven Pillars of Wisdom' to Matrix 5 (pp. 55-69), and this and the following issue (which contains Michael Hutchin's article 'Memories of T.E. Lawrence, and Gregynog') are identified on the limitation pages as 'contributor's copies' (a loosely-inserted card from the Whittington Press also enquires about the possibility of further contributions).
· · · · · · · · · · · · · · · · · · · · · · · · · ·
RANDLE, John (editor). Matrix. A Review for Printers & Bibliophiles. Issues 1-34. Andoversford and Risbury: The Whittington Press, 1982-2016.
34 volumes, quarto (277 x 193mm), pp. I: [2 (blank l.)], 70, [2 (blank l.)], [7], [1 (blank)], [2 (blank l.)]; II: [2 (blank l.)], [6], 112, [2 (blank l.)], [1], [1 (blank)]; III: [2 (blank l.)], [6], 151, [1 (blank)]; IV: [2 (blank l.)], [6], 150, [1], [1 (blank)]; V: [2 (blank l.)], [6], 164, [1], [1 (blank)]; VI: [2 (blank l.)], [6], 182, [1 (blank)]; VII: [2 (blank l.)], [6], 166, [1], [1 (blank)]; VIII: [2 (blank l.)], [6], 191, [1 (blank)]; IX: [2 (blank l.)], [6], 200, [1], [1 (blank)], [2 (blank l.)]; X: [2 (blank l.)], [6], 237, [1 (blank)], [2 (blank l.)]; XI: [2 (blank l.)], [6], 207, [1 (blank)], [2 (blank l.)]; XII: [2 (blank l.)], [6], 222, [2 (blank l.)]; XIII: [2 (blank l.)], [6], 234, [2 (blank l.)]; XIV: [2 (blank l.)], [6], 236, [1], [1 (blank)], [2 (blank l.)]; XV: [2 (blank l.)], [6], 234, [1], [1 (blank)], [2 (blank l.)]; XVI: [2 (blank l.)], [6], 203, [2], [1 (blank)], [2 (blank l.)]; XVII: [2 (blank l.)], [6], 195, [1 (blank)], [1], [1 (blank)], [2 (blank l.)]; XVIII: [2 (blank l.)], [6], 236, [1], [1 (blank)], [2 (blank l.)]; XIX: [2 (blank l.)], [6], 245, [1 (blank)], [2 (blank l.)]; XX: [2 (blank l.)], [6], 234, [2 (blank l.)]; XXI: [2 (blank l.)], [6], 238, [2 (blank l.)]; XXII: [2 (blank l.)], [6], 198, [2 (blank l.)]; XXIII: [2 (blank l.)], [6], 203, [1 (blank)], [1], [1 (blank)], [2 (blank l.)]; XXIV: [2 (blank l.)], [6], 169, [2], [1 (blank)], [4 (blank ll.)]; XXV: [2 (blank l.)], [6], 196, [1], [1 (blank)], [2 (blank l.)]; XXVI: [2 (blank l.)], [6], 209, [2], [1 (blank)], [4 (blank ll.)]; XXVII: [2 (blank l.)], [6], 209, [2], [1 (blank)], [2 (blank l.)]; XXVIII: [2 (blank l.)], [6], 180, [1], [1 (blank)], [2 (blank l.)]; XXIX: [2 (blank l.)], [6], 118, [2 (blank l.)]; XXX: [2 (blank l.)], [6], 113, [2], [1 (blank)], [4 (blank ll.)]; XXXI: [2 (blank l.)], [6], 127, [4], [1 (blank)], [4 (blank ll.)]; XXXII: [2 (blank l.)], [6], 128, [5], [1 (blank)], [2 (blank l.)]; XXXIII: [2 (blank l.)], [6], 166, [2 (blank l.)]; XXXIV: [2 (blank l.)], [6], 168, [1], [1 (blank)], [2 (blank l.)]. Printed in a number of letterpress types on a variety of mould- and hand-made papers. Numerous illustrations and tipped-in plates in colour and black-and-white. Loosely-inserted advertisements and letterpress-printed, illustrated news-letters/accompanying letters from the Whittington Press retained for each issue, additionally one loosely-inserted autograph Christmas notecard from the Whittington Press to Wilson, signed by John Randle (18, Winter 1998). Decorated, coloured paper over printed wrappers or thin pasteboard, edges untrimmed, colour-printed dustwrapper, (mostly) coloured endpapers, 1-6 in plain coloured wrappers with printed wrap-around dustwrapper fixed to spine, 20 with additional protective glassine wrapper. (Early issues with occasional light foxing on upper edges, dustwrappers of 1-9 very lightly creased at edges and spines slightly faded and (for wrappers attached to spines) creased, 2 lightly bumped on one corner, dustwrapper of 8 with small cut without loss, 22 and 24 with small bump at foot of spine, very small mark on dustwrapper of XVII, final tipped-in illustration in 14 apparently omitted (no traces of glue, but caption printed onto page), a few of the loosely inserted prospectuses lightly creased.) A very good, clean set. Provenance: Jeremy Michael Wilson (1944-2017, bookplate inside upper cover of 1).
First editions of issues 2-34, with the 1985 reprint of issue 1, limited to 450 (nos 1-2), 475 (3), 590 (4), 630 (32), 660 (31 and 34), 700 (28), 715 (5 and 33), 725 (29-30), 750 (27), 760 (25-26), 800 (19 and 23-24), 825 (18 and 20-22), 850 (17), 900 (8), 925 (9-10 and 12-16), 950 (6-7 and 15), 955 (11), 975 (14) copies (issue no. 1 marked as copy no. 30; issue no. 2 as copy no. 266; issue no. 3 as 'Presentation Copy'; and issues nos 5 and 6 marked on limitation statements 'contributor's copy').
£4,950
· · · · · · · · · · · · · · · · · · · · · · · · · ·
To order this book and learn about the available shipping options, please email us: enquiries@typeandforme.com. Our Terms & Conditions apply.