A 19TH-CENTURY MANUSCRIPT OF POEMS
'H, W' [?William HOWARTH]. M.S. Poems [titled thus on spine]. [?Sheffield, c. 1866].
Quarto (246 x 185mm), manuscript on paper watermarked 'Towgood's Extra Super', pp. [3 (contents)], [1 (blank)], 269, [1 (blank)], [2 (blank l.)]. Written and paginated in one neat cursive hand of the nineteenth century with ornamental lines under titles and between poems, poems in the first part (pp. 1-112) signed 'WH' and some dated between 1855 and 1866. (Occasional very light offsetting from 3 loosely inserted dried plant leaves, light marking on pp. 129-134, first 2 ll. excised, some page numbers slightly cropped by binder's knife.) Contemporary green polished calf gilt, boards with gilt double rules and rose corner ornaments enclosing border of blind dots, spine richly gilt in 6 compartments divided by raised bands, gilt red morocco lettering-piece in one, others decorated with elaborate designs in gilt, board-edges roll-tooled in gilt, turn-ins roll-tooled in blind, all edges gilt, chocolate-brown endpapers, green silk marker. (A little rubbed and scuffed causing small losses at extremities and cracking on lower joint, skilfully re-cornered, upper board skilfully rejointed.)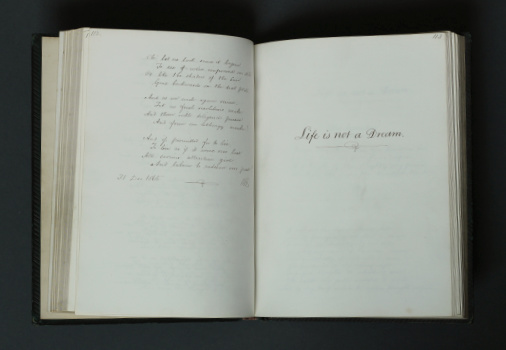 A manuscript volume of apparently original and unpublished poems from the Victorian era, which contains 49 poems signed with the initials 'WH', some dated between June 1855 and January 1866, as well as one long poem titled 'Life is Not a Dream' in four books totalling 431 stanzas (pp. 113-268). This manuscript volume was presumably created soon after the final poem was completed and contains fair copies of these poems written in an even hand of the nineteenth century (most probably the author's). The author appears to have lightly amended and annotated the poems with references over a period of time, demonstrating a continuing engagement with his own work.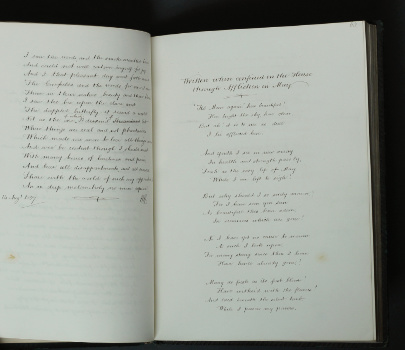 With faith and the Bible as constant points of reference, the poems seem to have provided a means of meditation and solace in their writer's life. Many address feelings of doubt or despair, record thoughts on history, and mark life events. Death is a recurring theme, whether defied in the rousing lines 'Written after Hearing One Say "There is Nothing now Worth Living for"' (pp. 16-19), lamented as avoidable in 'On a Culprit in his Cell the Night Previous to his Execution' (pp. 11-15), or anticipated in 'The Contemplation of a Suicide' (pp. 43-44). Historical themes abound, whether ancient ('The Fall of Pompeii', pp. 86-87), medieval (e.g. on the 11th-century Pope Gregory VII in 'Hildebrand', pp. 45-47), early modern ('Queen Mary II', beginning 'Illustrious Daughter of a bigot King…', pp. 88-89), or contemporary, like the poem 'Loss of "The London"' (dated January 1866, on pp. 99-102), commemorating the eponymous British steamship that sank in the Bay of Biscay on 11 January 1866.
Particularly touching are the poems relating to personal struggles, like that 'Written when Confined in the House through Affliction in May' (pp. 63-64), 'The Appearance of Morning after a Dream of Trouble' (p. 106), and the affecting 'Anxiety' (pp. 32-34), some central stanzas of which are clearly heartfelt:
What is it when a Patient lies
With look intent upon the eyes
Of his Physician? oh! twill be
A look of deep anxiety!

The Mother by her dying Child,
With clasped hands and aspect wild!
The look, the tear, we might imply
Us caused by stern anxiety!

When a loved Son's to battle gone
What is the most wish'd for to be known?
Why whether he will e'er return
Anxiety! Anxiety!
The most personal of the poems, 'Lines on the Death of Helen Howarth, who died 25th June 1865 (Aged 5 Weeks)' (p. 97) provides some clues as to the possible identity of the poet: the district of Ecclesall Bierlow in South Yorkshire recorded the death of one Helen Howarth on 25th June, giving her age as '5 weeks' and identifying her father as the 'edge tool manufacturer and merchant' James Howarth II of 291 Glossop Road, Ecclesall Bierlow, Sheffield. James was the son of the edge tool manufacturer, member of Sheffield Town Council, and Wesleyan lay preacher James Howarth I (1812-1891), whose obituary appeared in the Sheffield Independent on 31 July 1891. (The likelihood of the author being a native of Yorkshire is reinforced by the poem 'Written on the View of Fountains Abbey' (p. 21), while the religious sympathies expressed are clearly protestant and anti-Catholic.)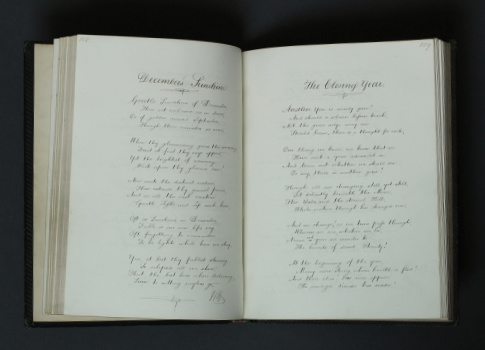 It seems likely that the author of these poems, who signed with the initials 'WH', was either William Howarth (1803-1869, the older brother of James Howarth I) or William Henry Howarth (1841-1904, the son of James Howarth I and brother of James Howarth II). The occasional use of a long 's' throughout the volume (for example, on pp. 42, 49, 59, 86, and 99) and the date of the latest poems falling within three years of his death makes it more probable that William Howarth was the author, and it is possible that the handsome binding was commissioned after the author's death (certainly, the cropping of the page numbers shows that the binding was executed after the manuscript was written). It would, moreover, seem likely that William Henry Howarth would have used the initials 'W.H.H.' to distinguish himself from his uncle and that there would be more progression evident between the poems of the fourteen-year-old William Henry Howarth written in 1855 and those of the twenty-five-year-old dated 1866; the similarity of style and subject in the poems across that thirteen-year span would be more likely in a poet in his fifties and sixties.
£495
· · · · · · · · · · · · · · · · · · · · · · · · · ·
To order this book and learn about the available shipping options, please email us: enquiries@typeandforme.com. Our Terms & Conditions apply.