In November 2020 The Grolier Club opened an exhibition of the collection of the plastic surgeon Douglas M. Monasebian, M.D., on the theme of the history of plastic surgery. This is Anke Timmermann's review of the accompanying exhibition volume, which was published in The Book Collector's spring issue of 2021.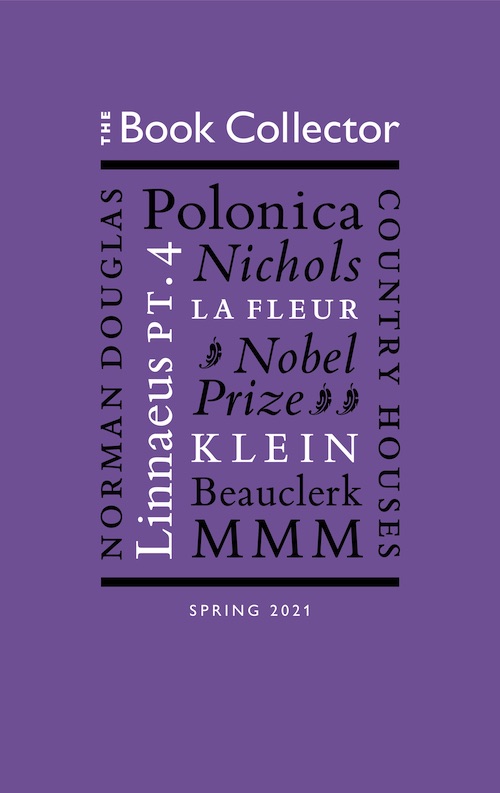 The History of Plastic Surgery: An Exhibition Held at the Grolier Club, November 19, 2020 – February 13, 2021
By Douglas M. Monasebian, M.D., D.M.D., F.A.C.S.
(New York: 'Printed in an edition of three hundred copies … at the Ascenius Press' for The Grolier Club, 2020. 75pp, illus, $30)
We restore, rebuild, and make whole those parts which nature hath given, but which fortune has taken away. Not so much that it may delight the eye, but that it might buoy up the spirit, and help the mind of the afflicted.
Gaspare Tagliacozzi
When World War I left millions of soldiers wounded, mutilated, and, at worst, faceless, the medical profession's endeavour to restore basic humanity to those who could no longer easily breathe, eat, or interact with others greatly accelerated advances in reconstructive facial surgery. While unarguably a turning point in medical history, these developments are relatively recent in the long and fascinating history of plastic surgery, which was the subject of a recent Grolier Club exhibition. This exhibition catalogue presents 97 landmark works on the subject, selected with an expert eye by the plastic surgeon Douglas M. Monasebian, M.D. from his own collection.
The first section titled 'The Dawn of Plastic Surgery' opens with the Compendiosa Totius Anatomie Delineatio (1545) by the Belgian-born London engraver, instrument maker, and printer Thomas Gemini, who famously copied illustrations from Vesalius' De fabrica humani corporis, much to the latter's chagrin. It also includes the above-cited De curtorum chirurgia per insitionem (1597, item 3) by Gaspare Tagliacozzi, which is generally considered the first book dedicated to the theme of plastic surgery. The next section focuses on corrective measures for defects caused by 'Illness and Disease', trauma and birth defect, and predominantly on the 19th century, when improved anaesthesia, instruments, and sepsis prevention enabled surgeons to develop procedures that would have been previously impossible, for example for skin grafts. Interestingly Dr Monasebian, like many of his historical predecessors, trained in dentistry before becoming a plastic surgeon – a professional path that clearly informed his book collection.
Particularly striking in the sections on 'Nasal Reconstruction' and 'Cleft Lip and Palate' is Victor von Bruns' Chirurgischer Atlas (1854), illustrated with a plate detailing different surgical steps around the scene of a young child sitting on a man's (presumably its father's) lap, swaddled tightly in bandages to prevent movement while a doctor seated opposite operates on its upper lip area – an illustration 'both exquisite and detailed' (item 43). The section on 'Surgery of the Breast', evolving around breast cancer-related mastectomies, contains the most modern article in the selection, on the ground-breaking breast reconstruction using a patient's own transverse abdominal muscle (1982, item 62) conceived by Carl Hartrampf, who passed away as recently as 2019. Books on 'Trauma, War, and Wound Healing' precede historically important works on 'Cosmetic Surgery and Facial Rejuvenation', which takes the exhibition firmly into the modern era. Finally, items related to 'Anaesthesia, Instrumentation, and Nursing' form a particularly moving closing section, celebrating the specialists and instruments that make a surgeon's work possible, ending with Florence Nightingale's Notes on Nursing (1860, item 97).
It is a particular irony of our times that due to the present medical challenges this exhibition will not have received the number of visitors it deserves. This catalogue alone, with its concise notes on the historical authors, works, and their significance, and illustrating 51 works with details of plates only, can merely provide a glimpse into a discipline so closely bound to what the eye sees. Bibliophiles with a bibliographical bent will miss edition statements and note some cosmetic errors, particularly in the transcription of German titles. For those who were unable to see The History of Plastic Surgery, a virtual version of this book is available on the Grolier Club's website at the time of writing.
To learn more about The Book Collector, read their news, and explore subscriptions, please visit the following website:

The Book Collector