NEWTON'S 'VERY INTERESTING WORK' ON HIS EXPEDITIONS AND EXCAVATIONS IN THE LEVANT
NEWTON, Sir Charles Thomas. Travels and Discoveries in the Levant. London: Cox and Wyman for Day & Son, Limited, '1865' [but c. 1869].
2 volumes bound in one, octavo (240 x 154mm), pp. I: [4 (half-title, verso blank, title, verso blank)], 360; II: [2 (title, verso blank)], [vii]-xii (contents), [2 (woodcuts and erratum)], 275, [1 (blank)]. Printed in Greek and roman types. Bifolia I, L2.7 and M2.6, and l. II, L2 marked as cancellantia. 8 engraved maps, plans, sections and elevations by J. & C. Walker et al. after Edward J. Powell et al., 4 folding. 11 etched and engraved plates by W. Severn, A. Severn, et al. after photographs by D.E. Colnaghi and B. Spackman, and drawings by Mary Newton, 1 folding. 7 aquatint plates by W.J. Alais after photographs by D.E. Colnaghi and B. Spackman, and drawings by A. Berg. Woodcut illustrations in the text. (Some light spotting, heavier around plates, occasional light marking, small marginal tear on l. II, M1, a few plates cropped slightly affecting imprint.) Original remainder binding of purple cloth gilt, boards with elaborate gilt borders, spine lettered and decorated in gilt, all edges gilt, chocolate-brown endpapers. (Extremities slightly rubbed and bumped, spine faded, skilfully rebacked retaining original spine.) A very good copy. Provenance: Frank Stephenson, 29 July 1869 (contemporary prize inscription '1st Class Latin Frank Stephenson Twickenham School July 29th 1869' on front free endpaper) – Jeremy Michael Wilson (1944-2017, booklabel on upper pastedown).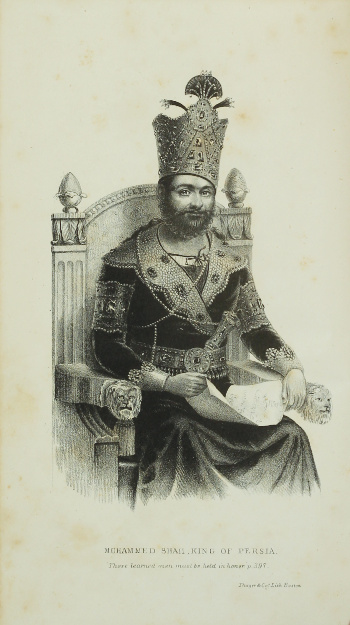 First edition, one-volume [?remainder] issue. The archaeologist C.T. Newton (bap. 1816, d. 1894) was educated at Shrewsbury School and Christ Church, Oxford, where he befriended John Ruskin. In 1840 he became an Assistant in the Department of Antiquities at the British Museum, where 'he took advantage of the opportunity to study at first hand a wide range of antiquities, including coins, and acquired a thorough training in curatorship. He was active in the Archaeological Institute, writing papers for their annual meetings and serving as one of the secretaries at the 1846 meeting. In 1848 he published an important article in the Classical Museum on the mausoleum at Halicarnassus. Other papers at this period show him already making an English contribution to the study of classical archaeology, which had been initiated on the continent by Winckelmann' (ODNB). In 1852 Newton resigned his position, to take up that of Vice-Consul at Mytilene, the capital of Lesbos, where he remained until 1859. In conjunction with his diplomatic role, Newton was also authorized to act on behalf of the British Museum and acquire antiquities for its collections, either through excavation or purchase.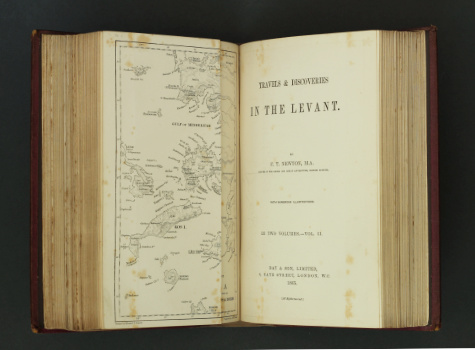 Travels and Discoveries in the Levant is based upon Newton's work in the Levant, and is 'a very interesting work' which 'is in the form of letters and begins with Newton's appointment as vice-consul […]. There are long notices on Mitylene, his life there, the local residents, and the archaeological sites. Newton also spent several months at Rhodes as acting consul (April 1852 to Jan. 1853), and in 1854-5 he carried out excavations at Kalymos. In 1856 he began the series of expeditions to the coast of Asia Minor which resulted in the excavations of the Mausoleum at Halicarnassus. Volume 2 of Travels contains a popular account of his discoveries at Halicarnassus' (Blackmer). The work is illustrated with views of Rhodes, Cos, Kalymos, and Mitylene, together with plates of antiquities, many engraved from photographs by Sir Dominic Ellis Colnaghi (1834-1908) – who had successively served as Consul in Corsica (1862), Cyprus (1864), and Turin (1865), and also provided an appendix to volume I narrating his tours in Lycia and Mitylene in 1854 – and Corporal B. Spackman RE, who had participated in the expeditions (Newton was one of the first archaeologists to include a photographer on his staff). One of the engravings reproduces a drawing by Newton's wife, the accomplished artist (Ann) Mary Severn (1832-1866), the daughter of the artist Joseph Severn, and a number of the engravings were produced by her brothers Walter Severn (1830-1904) and Arthur Severn (1842-1931).
Travels and Discoveries in the Levant first appeared in 1865 in two volumes bound in green cloth, and the sheets of the first edition appear to have been issued later in the present, one-volume form in what is presumably a remainder binding of purple cloth. The contents of the first issue of the sheets seems to have been reduced slightly for this issue: vol. I, pp. [v]-xiv (the preface, contents, lists of plates and woodcuts, and errata), vol. II half-title and pp. [xiii]-xiv (list of plates), and 15 of the plates from the work have been omitted from this copy (vol. I, nos 1 and 15; vol. II, nos 1-2, 4, and 8-17). None of the errata noted have been corrected and the cancellantia match those of the first issue, confirming that the one-volume issue uses the same sheets as the first, two-volume issue, and it seems likely the one-volume issue appeared shortly after the first issue and, on the basis of the inscription in this example, not later than 1869.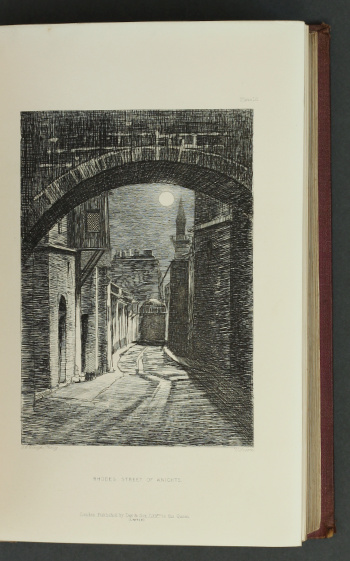 This copy was previously in the collection of the noted T.E. Lawrence scholar Jeremy Wilson, the editor of T.E. Lawrence's Minorities (London, 1971), and the author of the National Portrait Gallery catalogue T.E. Lawrence: Lawrence of Arabia (London, 1988) and the authoritative biography Lawrence of Arabia: The Authorised Biography of T.E. Lawrence (London, 1989). Jeremy Wilson was also the co-founder, with his wife Nicole, of the Castle Hill Press, which has published scholarly editions of works by Lawrence and the definitive series of Lawrence's letters.
Atabey 869 (first issue); Blackmer 1193 (first issue); Cox II, p. 518.
£495
· · · · · · · · · · · · · · · · · · · · · · · · · ·
UK Orders
To order this book post-free within the UK, either use the button below to pay using PayPal or a credit card (using PayPal Guest Checkout), or email us: enquiries@typeandforme.com.
Postage

UK: FREE for items above £45 (otherwise £4.50 per item, added at checkout)

Rest of World: please contact us for a quote: enquiries@typeandforme.com

Multiple orders: we may be able to reduce postage costs! Please enquire: enquiries@typeandforme.com
Our Terms & Conditions apply.