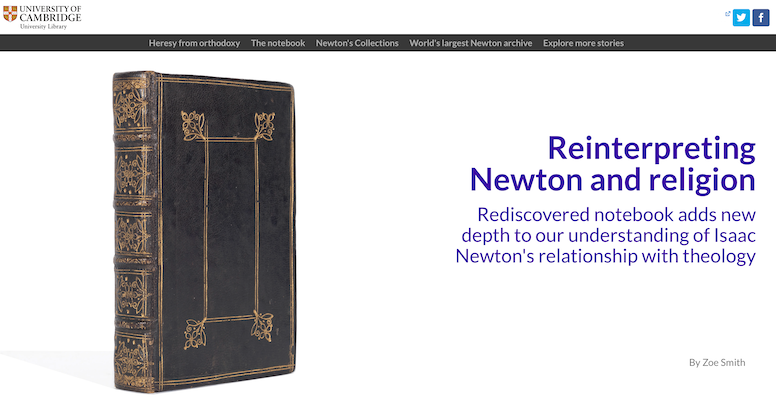 Photos: Cambridge University Library
For all book historians there are some particularly special moments of discovery. This year, Type & Forme's Dr Anke Timmermann had the pleasure of providing additional research for Cambridge University Library's investigation of an important 17th-century manuscript compiled by Isaac Newton's 'ever loving Chamber fellow' John Wickins.
[The notebook] was kept by Wickins while he was Newton's roommate at Trinity College, and presents the earliest datable evidence of Newton's theological writing. Containing 12,000 words in English and 5,000 in Latin, the notebook is the longest collection of Newtonian writing to be discovered in the last half a century.

The text was identified by Scott Mandelbrote, Fellow of Peterhouse College, Cambridge, and Editorial Director of The Newton Project, when the notebook came up for auction, with additional research by former Munby Fellow at the University Library, Anke Timmermann of Type & Forme, acting on behalf of the Library.
Cambridge University Library's news story provides further details:

Reinterpreting Newton and religion (by Zoe Smith)

· · · · · · · · · · · · · · · · · · · · · · · · · ·
You may also be interested in Anke's piece on Newton, alchemy & Trinity College Cambridge, which she wrote for Trinity College Library:

Alchemy at Trinity: Newton and the Library